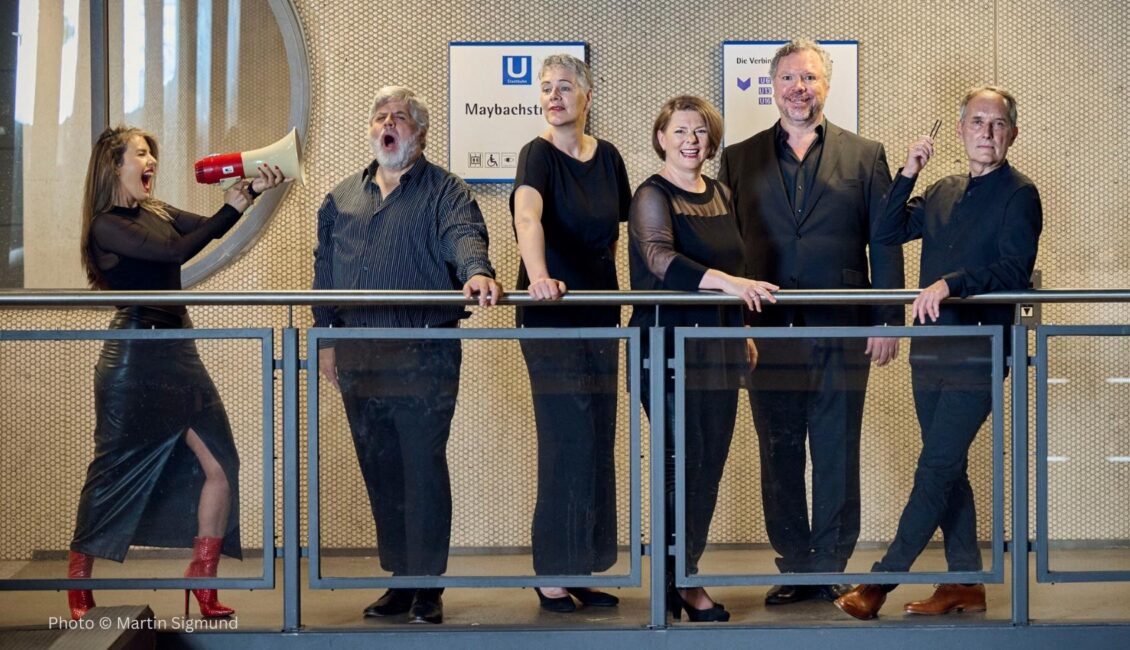 The seven singers of the Neue Vocalsolisten see themselves as explorers and discoverers: in exchange with composers, they are constantly searching for new forms of vocal expression. One focus is on collaboration with artists who virtuously exploit the possibilities of digital media, with an interest in networking, in playing with genres, in dissolving space, perspectives and functions. Thus, the projects of the Ensemble are characterised by idiosyncratic interdisciplinary formats between music theatre, performance, installation, and concert staging. Their work, with more than 30 premieres annually, is considered worldwide to be leading and unique in the field of contemporary vocal music. The Neue Vocalsolisten have been instrumental in shaping the genre of vocal chamber music theatre, with hundreds of works having been composed especially for them, and with collaborations with other top-class specialist ensembles and orchestras, international opera houses, independent theatre scenes, electronic studios, important festivals and concert series of new music all over the world.
Ten years after their debut in Cyprus, as part of the Pharos Contemporary Music Festival, they return to The Shoe Factory, joining forces with the leading clarinettist Gareth Davis, to perform an electrifying programme of masterly and theatrically vibrant works by Georges Aperghis, Evis Sammoutis, Zeynep Gedizlioglu and Carola Bauckholt. The concert is organised in collaboration with the Goethe-Institut Zypern.
---
Οι επτά τραγουδιστές του συνόλου Neue Vocalsolisten βλέπουν τους εαυτούς τους ως εξερευνητές και εφευρέτες: σε συνεργασία με συνθέτες, αναζητούν συνεχώς νέες μορφές φωνητικής έκφρασης. Μια πτυχή της δραστηριοποίησης τους είναι η συνεργασία τους με καλλιτέχνες που αξιοποιούν τις δυνατότητες των ψηφιακών μέσων, που εκφράζουν ενδιαφέρον στη δικτύωση, στο παιχνίδι των τεχνοτροπιών, στην κατάλυση του χώρου, των προοπτικών και των λειτουργιών. Συνεπώς, τα προγράμματα του συνόλου χαρακτηρίζονται από ιδιότυπα διεπιστημονικά σχήματα που ακροβατούν μεταξύ του μουσικού θεάτρου, της περφόρμανς, των εγκαταστάσεων και των συναυλιών. Με περισσότερες από 30 παγκόσμιες πρεμιέρες ετησίως, οι Vocalsolisten παράγουν έργο που θεωρείται κορυφαίο και απαράμιλλο στον τομέα της σύγχρονης φωνητικής μουσικής ανά το παγκόσμιο. Οι Neue Vocalsolisten συνέβαλαν καθοριστικά στη διαμόρφωση της τεχνοτροπίας της φωνητικής θεατρικής μουσικής δωματίου, με εκατοντάδες έργα να έχουν γραφτεί ειδικά για αυτούς, και με συνεργασίες με άλλα κορυφαία εξειδικευμένα σύνολα και ορχήστρες, διεθνείς λυρικές σκηνές, καθώς και ανεξάρτητες θεατρικές σκηνές, ηλεκτρονικά στούντιο, σημαντικά φεστιβάλ και σειρές συναυλιών νέας μουσικής σε όλο τον κόσμο.
Δέκα χρόνια μετά από το ντεμπούτο τους στην Κύπρο, στο πλαίσιο του Φεστιβάλ Σύγχρονης Μουσικής Φάρος, επιστρέφουν στο The Shoe Factory, ενώνοντας τις δυνάμεις τους με τον κορυφαίο κλαρινετίστα Gareth Davis, για να ερμηνεύσουν ένα συναρπαστικό πρόγραμμα απαράμιλλης γλαφυρότητας και θεατρικότητας με έργα των Ζωρζ Απέργη, Εύη Σαμμούτη, Zeynep Gedizlioglu και Carola Bauckholt. Η συναυλία οργανώνεται σε συνεργασία με το Ινστιτούτο Γκαίτε Κύπρου.
The concert is organized in collaboration with: