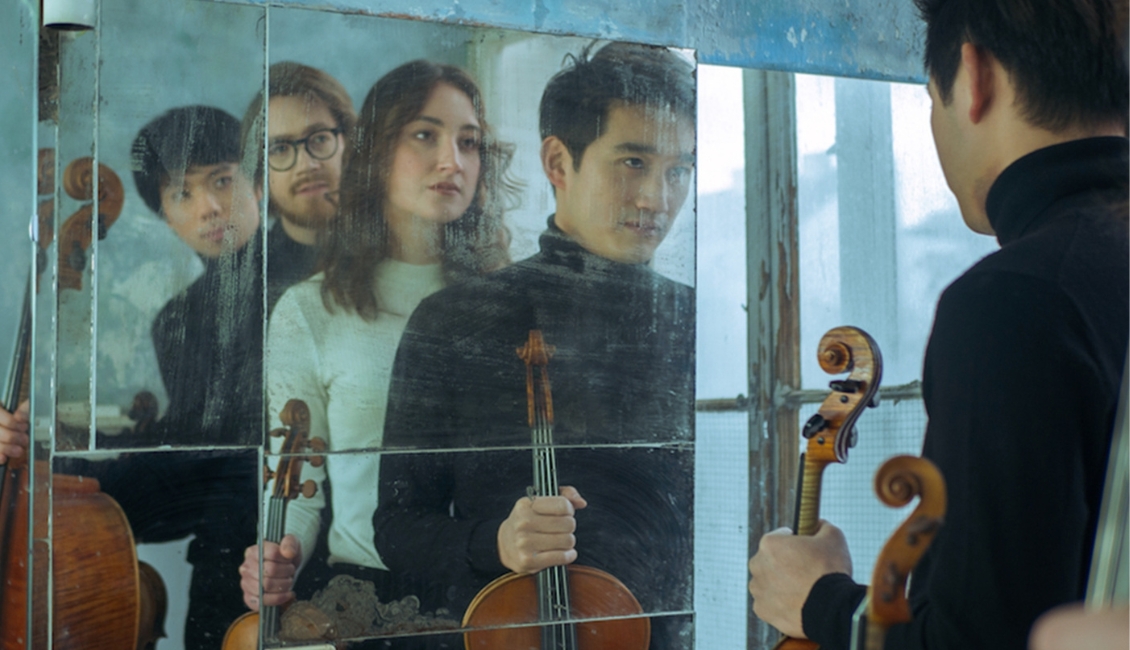 The Simply Quartet is fast becoming one of Europe's most distinguished young string quartets. The Vienna based Quartet is First-Prize winner at the renowned International Carl Nielsen Competition in Copenhagen, the Quatuor á Bordeaux (2019), the Franz Schubert and the Music of Modernity in Graz (2018), and the International Joseph Haydn Chamber Music Competition in Vienna (2017). The Simply Quartet appears in some of the world's major halls – including BOZAR Brussels, Concertgebouw Amsterdam, Palau de la Música Catalana, Elbphilharmonie Hamburg, Luxembourg and Paris Philharmonies, Wigmore Hall London, Konzerthaus Berlin, Alte Oper Frankfurt, Tonhalle Zurich – and is continuously searching for a deep understanding of the inherent language of music: from the early classical works to modern string quartet literature. For its debut in Cyprus, the Simply Quartet will perform an exciting programme of string quartets by Schumann, Haydn and Webern.
---
Το Simply Quartet εξελίσσεται γρήγορα σε ένα από τα πιο διακεκριμένα νεαρά κουαρτέτα εγχόρδων στην Ευρώπη. Έχοντας ως βάση του τη Βιέννη, το Κουαρτέτο έχει αποσπάσει Πρώτα Βραβεία στον Διεθνή Διαγωνισμό Καρλ Νίλσεν στην Κοπεγχάγη, στον Διαγωνισμό του Μπορντό (2019), στον Διαγωνισμό Φρανς Σούμπερτ και «Music of Modernity» στο Γκρατς (2018), και στον Διεθνή Διαγωνισμό Μουσικής Δωματίου Γιόζεφ Χάιντν στη Βιέννη (2017). Το Simply Quartet εμφανίζεται σε ορισμένες από τις σημαντικότερες αίθουσες συναυλιών ανά το παγκόσμιο – μεταξύ άλλων, Μποζάρ Βρυξελλών, Κοντσερτγκεμπάου του Άμστερνταμ, Παλάτι της Καταλανικής Μουσικής στη Βαρκελώνη, Φιλαρμονική του Έλβα στο Αμβούργο, Φιλαρμονική του Λουξεμβούργου, Φιλαρμονική του Παρισιού, Αίθουσα Wigmore του Λονδίνου, Κοντσέρτχαους του Βερολίνου, στην Παλαιά Όπερα της Φρανκφούρτης, Τονχάλε της Ζυρίχης – βρισκόμενο συνεχώς σε αναζήτηση της πιο εμβριθούς νόησης της εγγενούς γλώσσας της μουσικής: από τα πρώιμα κλασικά έργα έως τη σύγχρονη εργογραφία για κουαρτέτο εγχόρδων. Για το ντεμπούτο του στην Κύπρο, το Simply Quartet θα ερμηνεύσει ένα εντυπωσιακό πρόγραμμα με κουαρτέτα εγχόρδων των Σούμαν, Χάιντν και Βέμπερν.
The concert is kindly supported by the Embassy of Austria in Cyprus.