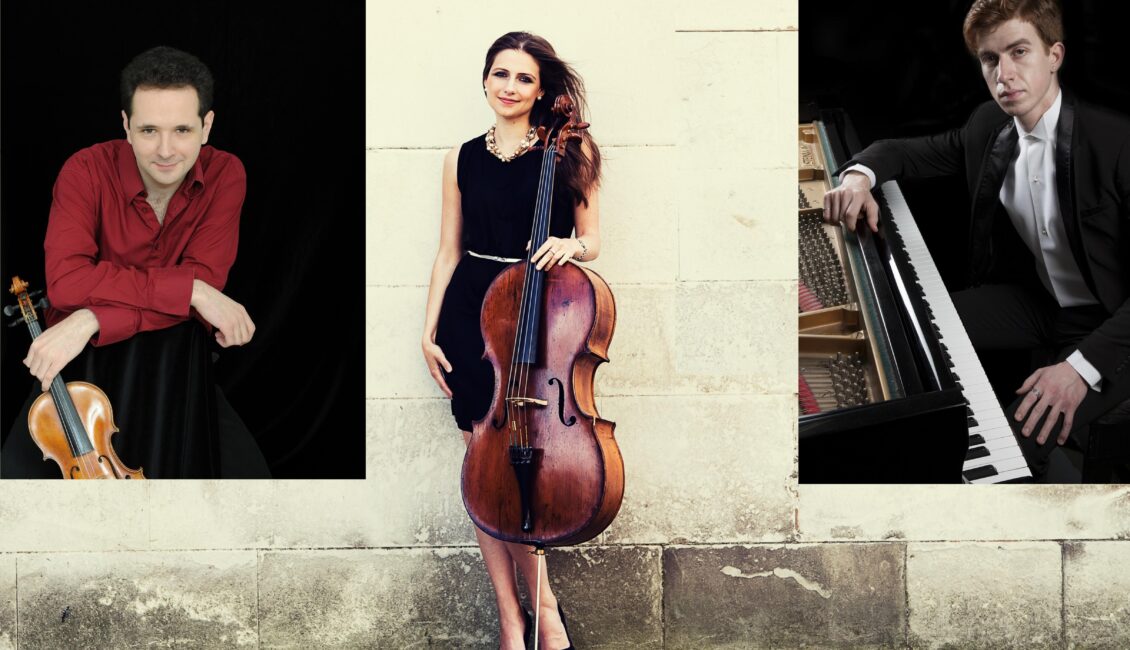 Described as "an open, imaginative and technically impeccable group that it would be folly not to follow", ChamberMusicBox was founded in 2016 when a group of leading international musicians came together from across Europe to perform a series of chamber music concerts in London. Its Artistic Directors, violinist Yuri Kalnits and cellist Julia Morneweg, had a vision to explore and perform a vast spectrum of chamber music repertoire with their like-minded and exceptionally talented friends, to promote mutual respect and empathy in the community through music-making of rare passion and generosity, and for audiences to be part of that shared experience. In the first four seasons, more than 50 artists from 20 different nations performed over 60 chamber works ranging from duos to nonets, with the impressive line-up including numerous principal players from top European orchestras, renowned soloists, and members of leading chamber music ensembles.
The arrival of the Covid-19 pandemic put an abrupt end to ChamberMusicBox's by then hugely popular London concert series. Rather than moving into the realm of online performance, they became one of the first UK arts organisations to resume live concerts as soon as lockdown restrictions were eased. Initially performing outdoors, this intrepid group of musicians sought out venues across the UK that would lend themselves to social distancing without compromising on the concert experience, and won plaudits for the huge success of their 2020 Autumn Series.
In 2021, ChamberMusicBox returned to the stage with their most ambitious project to date: having been stunned by the amount of musicians who used the enforced silence to turn their considerable talents to creating visual artworks instead, the group curated the 2021 Fermata Festival which brought together renowned musicians with an exhibition of over 100 artworks created exclusively by classical musicians during the pandemic. The festival received international acclaim, having been featured in publications such as The Strad, Pizzicato and Australia's Limelight Magazine.
For their concert in Nicosia, on 13 April 2022, at The Shoe Factory / 8:30pm, the exciting ChamberMusicBox (violinist Yuri Kalnits, cellist Julia Morneweg, and pianist Ilya Kondratiev) will perform two of the most seminal and impressive works ever written not only for the medium of the piano trio, but for the chamber music repertoire in general: Anton Arensky's Piano Trio No.1, Op.32 and Sergei Rachmaninov's Trio élégiaque No.2, Op.9.
---
Έχοντας περιγραφεί ως «ένα ελεύθερο, ευφάνταστο και τεχνικά άρτιο σύνολο, το οποίο θα ήταν απερισκεψία να μην ακολουθήσει κανείς», το ChamberMusicBox ιδρύθηκε το 2016 όταν μια ομάδα κορυφαίων διεθνών μουσικών από όλη την Ευρώπη συγκεντρώθηκε στο Λονδίνο για να πραγματοποιήσει μια σειρά από συναυλίες μουσικής δωματίου. Οι Καλλιτεχνικοί Διευθυντές του ChamberMusicBox – o βιολονίστας Yuri Kalnits και η τσελίστρια Julia Morneweg – είχαν ως όραμα να εξερευνήσουν και να εκτελέσουν ένα τεράστιο φάσμα ρεπερτορίου μουσικής δωματίου μαζί με τους ομοϊδεάτες και εξαιρετικά ταλαντούχους φίλους τους. Στόχος τους ήταν να καλλιεργήσουν στη μουσική κοινότητα τον αμοιβαίο σεβασμό και την ενσυναίσθηση μέσω μιας μουσικής διαδικασίας που διέπεται από απαράμιλλο πάθος και γενναιοδωρία, και προς ένα κοινό που θα αποτελεί μέρος αυτής της κοινής εμπειρίας. Κατά τις πρώτες τέσσερις σεζόν, περισσότεροι από 50 καλλιτέχνες από 20 διαφορετικές χώρες ερμήνευσαν πάνω από 60 έργα δωματίου, από ντουέτο έως νονέτο, με τον εντυπωσιακό κατάλογο να περιλαμβάνει πολλούς επιφανείς σολίστες, κορυφαίους οργανοπαίκτες σημαντικών ευρωπαϊκών ορχηστρών, και μέλη διακεκριμένων συνόλων μουσικής δωματίου.
Με το ξέσπασμα της πανδημίας του Covid-19, η εξαιρετικά δημοφιλής σειρά συναυλιών του ChamberMusicBox στο Λονδίνο αναγκάστηκε να διακοπεί απότομα. Αντί όμως να μεταφερθεί στην σφαίρα της διαδικτυακής συναυλιακής πλατφόρμας, το σύνολο έγινε ένας από τους πρώτους καλλιτεχνικούς οργανισμούς στο Ηνωμένο Βασίλειο που συνέχισε τις δια ζώσης συναυλίες του μόλις χαλάρωσαν οι περιορισμοί. Πραγματοποιώντας αρχικά εμφανίσεις σε υπαίθριους χώρους, αυτό το απτόητο σύνολο μουσικών αναζήτησε αίθουσες στο Ηνωμένο Βασίλειο που θα προσφέρονταν για κοινωνική αποστασιοποίηση χωρίς εντούτοις να συμβιβάζεται η συναυλιακή εμπειρία, και επευφημήθηκαν για την τεράστια επιτυχία της Φθινοπωρινής τους σειράς το 2020.
Το 2021, το ChamberMusicBox επέστρεψε στην σκηνή με το πιο φιλόδοξο έργο του μέχρι στιγμής: Το σύνολο συνειδητοποίησε πως ένας μεγάλος αριθμός μουσικών μετέτρεψαν την επιβεβλημένη σε αυτούς σιγή σε εικαστική δημιουργία. Ως εκ τούτου, το ChamberMusicBox επιμελήθηκε το Φεστιβάλ Φερμάτα 2021, το οποίο ένωσε τις δυνάμεις κορυφαίων μουσικών παράλληλα με μια έκθεση 100 και πλέον έργων τέχνης που δημιουργήθηκαν αποκλειστικά από κλασικούς μουσικούς κατά τη διάρκεια της πανδημίας. Το Φεστιβάλ απέσπασε διθυραμβικά σχόλια διεθνώς, αφού προβλήθηκε σε εκδόσεις όπως The Strad, Pizzicato και Australia's Limelight Magazine.
Για τη συναυλία τους στη Λευκωσία, στις 13 Απριλίου 2022, στο The Shoe Factory / 8:30μμ, το συναρπαστικό ChamberMusicBox (που αποτελείται από τον βιολονίστα Yuri Kalnits, την τσελίστρια Julia Morneweg, και τον πιανίστα Ilya Kondratiev) θα ερμηνεύσει δύο από τα πιο σημαίνοντα και μεγαλειώδη έργα που έχουν γραφτεί ποτέ, όχι μόνο για τον συνδυασμό του τρίο για πιάνο, αλλά για το ρεπερτόριο της μουσικής δωματίου γενικότερα: το Τρίο για Πιάνο Αρ.1, Έργο 32 του Αντόν Αρένσκι, και το Ελεγειακό Τρίο Αρ.2, Έργο 9 του Σεργκέι Ραχμάνινοφ.