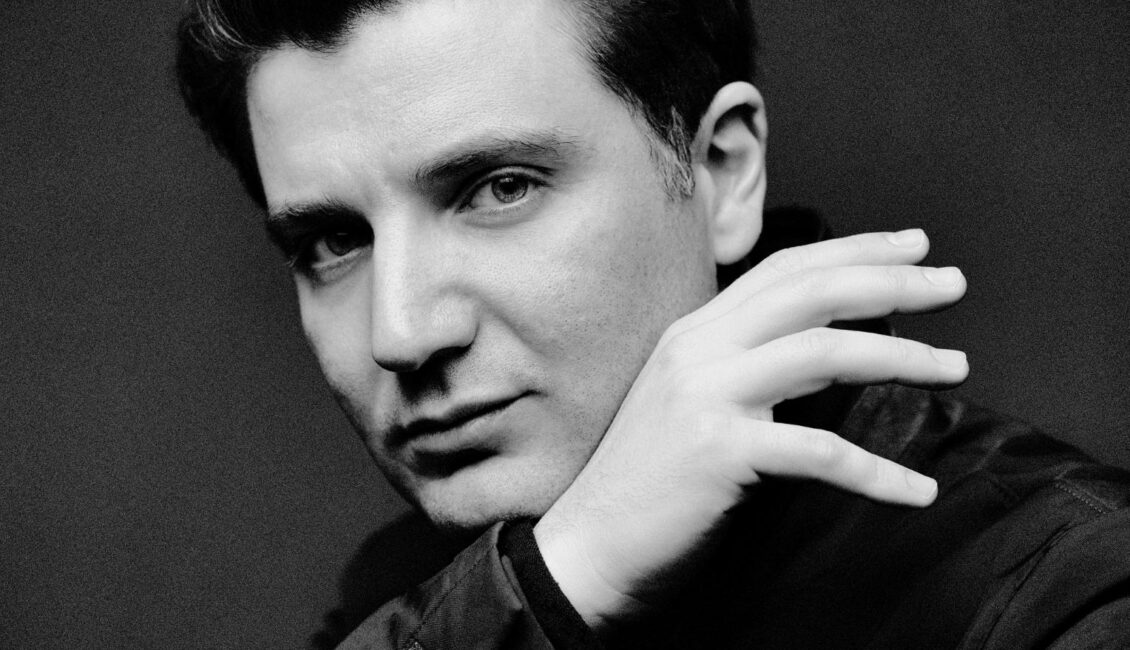 Combining exceptional lyricism and insight with consummate technique, Alessio Bax is without a doubt "among the most remarkable pianists before the public" (Gramophone). First Prize winner of the Leeds International Piano Competition (2000) and the Hamamatsu International Piano Competition in 1997, at age 19, he has appeared as soloist with over 150 orchestras,including, London Philharmonic Orchestra, Royal Philharmonic, St. Petersburg Philharmonic, NHK Symphony in Japan, as well as Symphony Orchestras of New York, Boston, Dallas, Cincinnati, Sydney, and City of Birmingham, and he has collaborated with such eminent conductors as Marin Alsop, Vladimir Ashkenazy, Sir Andrew Davis, Fabio Luisi, Sir Simon Rattle, Yuri Temirkanov, and Jaap van Zweden.
Bax constantly explores many facets of his career. Recent and forthcoming highlights include a trio tour of Spain with violinist Joshua Bell and cellist Steven Isserlis, recitals at New York's Lincoln Center with his regular piano duo partner, Lucille Chung, his debut with the Milwaukee Symphony performing Brahms' Second Piano Concerto, debuts with the Boston and Melbourne Symphonies under Sir Andrew Davis, a Japan tour with the Tokyo Symphony, a US tour with flutist Emmanuel Pahud and a tour in Asia with violinist Daishin Kashimoto, recitals in Teatro Colón in Buenos Aires, London's Wigmore Hall, L.A.'s Disney Hall, Washington's Kennedy Center, and New York's Carnegie Hall.
Alessio Bax boasts an impressive discography for Signum Classics, with many albums having selected as Editor's and Critics choices for Gramophone and American Record Guide. He was born in Bari, Italy, and moved to the US in 1994. In 2009, he was awarded an Avery Fisher Career Grant, and four years later he received both the Andrew Wolf Chamber Music Award and the Lincoln Center Award for Emerging Artists. In 2019, he was invited to join the piano faculty of Boston's New England Conservatory.
---
«Συνδυάζοντας εξαιρετικό λυρισμό και διορατικότητα μαζί με άψογη τεχνική, ο Alessio Bax (Αλέσσιο Μπαξ) είναι αναμφίβολα ένας από τους πιο αξιοσημείωτους πιανίστες ενώπιον του κοινού» (Gramophone). Πρώτος Νικητής του Διεθνούς Διαγωνισμού Πιάνου του Λιντς (2000) και του Διεθνούς Διαγωνισμού Πιάνου Χαμαμάτσου το 1997, σε ηλικία 19 ετών, ο Bax έχει εμφανισθεί με πάνω από 150 ορχήστρες, μεταξύ άλλων, Φιλαρμονική του Λονδίνου, Βασιλική Φιλαρμονική, Φιλαρμονική Αγίας Πετρούπολης, Συμφωνική NHK του Τόκιο, καθώς Συμφωνικές Ορχήστρες Νέας Υόρκης, Βοστώνης, Ντάλας, Σινσινάτι, Σίδνεϋ, και Μπέρμινχαμ, υπό τη διεύθυνση κορυφαίων μαέστρων όπως Μάριν Άλσοπ, Βλαντιμίρ Ασκενάζι, Σερ Άντριου Ντέιβις, Φάμπιο Λουίζι, Σερ Σάιμον Ρατλ, Γιούρι Τεμιρκάνοφ, και Γιάπ βαν Ζβέντεν.
Ο Bax αναζητά διαρκώς καινούργιες διαστάσεις στην σταδιοδρομία του. Πρόσφατες και επικείμενες εμφανίσεις του περιλαμβάνουν μια περιοδεία στην Ισπανία με τον βιολονίστα Τζόσουα Μπελ και τον τσελίστα Στίβεν Ισερλής, ρεσιτάλ στο Λίνκολν Σέντερ της Νέας Υόρκης με την πιανίστα Λουσίλ Τσούνγκ, το ντεμπούτο του με τη Συμφωνική του Μιλγουόκι στο Δεύτερο Κοντσέρτο για Πιάνο του Μπραμς, το ντεμπούτο του με τις συμφωνικές της Βοστώνης και της Μελβούρνης υπό τη διεύθυνση του Σερ Άντριου Ντέιβις, περιοδεία στην Ιαπωνία με τη Συμφωνική του Τόκιο, περιοδεία στις ΗΠΑ με τον φλαουτίστα Εμμανουέλ Παχούντ, περιοδεία στην Ασία με τον βιολονίστα Νταϊσίν Κασιμότο, και ρεσιτάλ σε Θέατρο του Κολόμβου στο Μπουένος Άιρες, Γουίγκμορ του Λονδίνου, Ντίσνεϊ Χολ του Λος Άντζελες, Κένεντι Σέντερ της Ουάσιγκτον, και Κάρνεγκι της Νέας Υόρκης.
Ο Alessio Bax έχει μια εντυπωσιακή δισκογραφία στο ενεργητικό του για την εταιρεία Signum Classics, με πολλά άλμπουμ του να συγκαταλέγονται στις επιλογές του Εκδότη και των Κριτικών σε περιοδικά όπως Gramophone και American Record Guide. Ο Bax γεννήθηκε στο Μπάρι της Ιταλίας, και μετοίκησε στις ΗΠΑ το 1994. Το 2009, απέσπασε το Βραβείο Σταδιοδρομίας Έιβερι Φίσερ, και τέσσερα χρόνια αργότερα απέσπασε το Βραβείο Μουσικής Δωματίου Άντριου Γουλφ, καθώς και Βραβείο για Νέους Μουσικούς του Λίνκολν Σέντερ. Από το 2019, είναι καθηγητής πιάνου στο Ωδείο Νέας Αγγλίας της Βοστώνης.