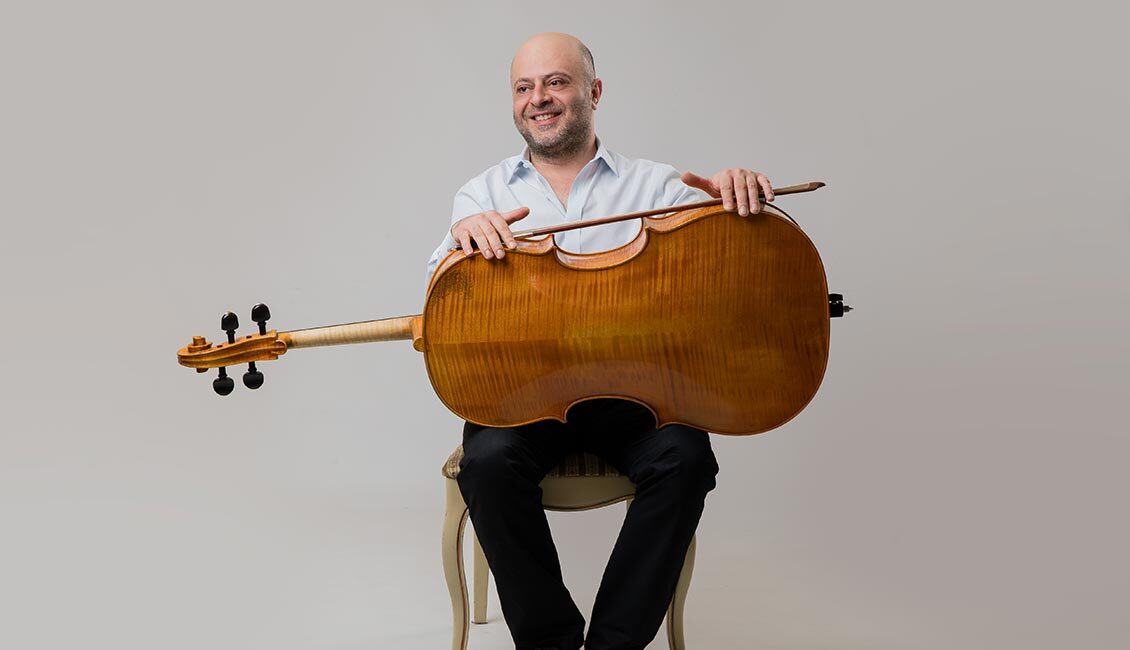 Regarded as one of the finest cellists of his generation, Alexander Chaushian has performed extensively throughout the world as a soloist with orchestras such as the Vienna Chamber Orchestra at Vienna's Konzerthaus and at the Bruchnerhaus in Linz, the London Mozart Players and the Philharmonia Orchestra in London, the Orchestre de la Suisse Romande, the Royal National Orchestra of Belgium, Les Solistes Européens de Luxembourg in a gala concert conducted by Yehudi Menuhin, the Boston Pops Orchestra at Boston Symphony Hall, and the Armenian Philharmonic Orchestra at Carnegie Hall. He has given highly acclaimed performances in such venues as London's Royal Festival Hall, Queen Elizabeth Hall and Wigmore Hall, Sala Verdi Milan, and Suntory Hall Japan.
Chaushian has won the Third Prize in the 12th International Tchaikovsky Competition in Moscow and the Third and Special prizes given by the Munich Chamber Orchestra at the ARD Competition in Germany in 2005. Amongst the many distinguished musicians whom he has collaborated with are Yehudi Menuhin, Julia Fischer, Levon Chilingirian, Yuri Bashmet, François-Frédéric Guy, Emmanuel Pahud. His regular chamber music partner is Yevgeny Sudbin.
Alexander's recordings include several highly acclaimed CDs for the BIS label in which he is partnered by Yevgeny Sudbin, and his recently released concerto CD with the Armenian Philharmonic Orchestra, also on BIS, received rave reviews and was selected 'Album of the Week' by the Independent.
---
Ο Alexander Chaushian (Αλεξάντερ Τσαουσιάν) θεωρείται ένας από τους πιο εξαίρετους τσελίστες της σύγχρονης μουσικής σκηνής. Έχει δώσει συναυλίες σε σημαντικές αίθουσες μουσικής ανά το παγκόσμιο, συμπεριλαμβανομένων, Royal Festival, Queen Elizabeth και Γουίγκμορ Χολ του Λονδίνου, Σάλα Βέρντι του Μιλάνου και Σουντόρι της Ιαπωνίας, και έχει εμφανισθεί ως σολίστ με, μεταξύ άλλων, την Ορχήστρα Δωματίου της Βιέννης στο Κοντσέρτχαους της Βιέννης και στο Μπρούκνερχαουζ του Λινζ, με τις ορχήστρες London Mozart Players και Φιλαρμόνια στο Λονδίνο, την Ορχήστρα της Ρωμανικής Ελβετίας, τη Βασιλική Κρατική Ορχήστρα Βελγίου, την ορχήστρα Les Solistes Europeens de Luxembourg σε μια επετειακή συναυλία υπό τη διεύθυνση του Γεχούντι Μενουχίν, την ορχήστρα Boston Pops στην Αίθουσα Συμφωνικής Μουσικής της Βοστώνης, και τη Φιλαρμονική Ορχήστρα της Αρμενίας στο Κάρνεγκι της Νέας Υόρκης.
Ο Chaushian κέρδισε το χάλκινο μετάλλιο στον 12ο Διεθνή Διαγωνισμό Τσαϊκόφσκι στη Μόσχα, και το 2005, το τρίτο βραβείο και το ειδικό βραβείο από την Ορχήστρα Δωματίου του Μονάχου στον Διαγωνισμό ARD στη Γερμανία. Ανάμεσα στους διακεκριμένους μουσικούς με τους οποίους έχει συμπράξει περιλαμβάνονται οι Γεχούντι Μενουχίν, Γιούλια Φίσερ, Λεβόν Τσιλινγκιριάν, Γιούρι Μπασμέτ, Φρανσουά Φρεντερίκ Γκι, Εμμανουέλ Παχούντ, ενώ συνεργάζεται τακτικά με τον πιανίστα Γιεβγκένι Σούντμπιν.
Η δισκογραφία του Alexander Chaushian περιλαμβάνει αρκετές επευφημημένες ηχογραφήσεις με τον Γιεβγκένι Σούντμπιν για την εταιρία BIS, ενώ ο πρόσφατος του ψηφιακός δίσκος ως σολίστ σε κοντσέρτο με τη Φιλαρμονική Ορχήστρα της Αρμενίας, πάλι για την εταιρία BIS, έλαβε διθυραμβικές κριτικές και επιλέγηκε ως «άλμπουμ της εβδομάδας» από την εφημερίδα Independent.