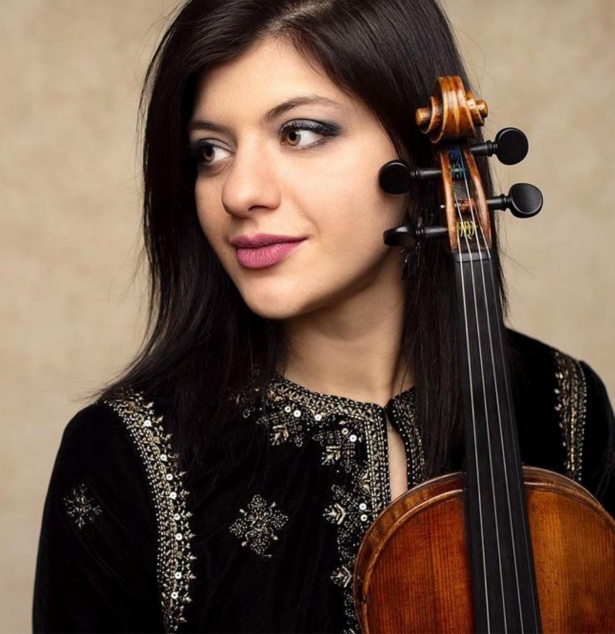 Alexandra Tirsu is gaining recognition as one of the leading violinists of her generation. A laureate and audience-award winner of the prestigious ARD Competition 2021, as well as the Seoul International Music Competition 2018 and Osaka International Competition 2014, her performances have garnered critical acclaim around the world, in publications such as Classical Music Magazine and the Süddeutsche Zeitung. Recent highlights include debut performances in Munich with the Bavarian Radio Symphony Orchestra at the Herkulessaal and the Munich Chamber Orchestra at the Prinzregententheater.
Tirsu has performed in venues such as the Vienna Konzerthaus, Berlin Philharmonie, Elbphilharmonie and Laeiszhalle Hamburg, Bucharest Athaneum and Beijing Concert Hall, Shanghai Oriental Arts Center and the Seoul Arts Center, at festivals such as the Crans Montana Classics and Sion Music Festival, among others. She has collaborated with artists such as Gidon Kremer, Michael Guttman, Jing Zhao, Dmitri Jurowsky, Ivry Gitlis, Uto Ughi, Semyon Bychkov, Vladimir Landsmann and Svetlana Makarova. An advocate of bringing violin music to wider audiences, she regularly collaborates with the celebrated music-comedy duo Igudesman & Joo.
Alexandra Tirsu has studied in Vienna under Pavel Vernikov, and subsequently in Sion under Janine Jansen. She performs on a Francesco Goffriller violin ("Ex Willy Boskovsky"), kindly on loan from Goh Family Foundation.
---
Η Alexandra Tirsu (Αλεξάνδρα Τίρσου) κερδίζει ολοένα και μεγαλύτερη φήμη ως μια από τις κορυφαίες βιολονίστριες της γενιάς της. Έχοντας αποσπάσει διάκριση και το Βραβείο του Κοινού στον περίφημο Διαγωνισμό ARD στο Μόναχο, το 2021, καθώς με βραβεία στον Διεθνή Διαγωνισμό Μουσική της Σεούλ, το 2018, και τον Διεθνή Διαγωνισμό της Οσάκα, το 2014, οι ερμηνείες της έχουν στεφθεί με διθυραμβικές κριτικές διεθνώς, σε έντυπα όπως Classical Music Magazine και Süddeutsche Zeitung. Πρόσφατες εμφανίσεις της περιλαμβάνουν το ντεμπούτο της στο Μόναχο με τη Συμφωνική Ορχήστρα Ραδιοφωνίας της Βαυαρίας στο Χερκουλέσααλ, και με την Ορχήστρα Δωματίου του Μονάχου στο Θέατρο Πρινς-Ρήτζεντ.
Η Tirsu έχει εμφανισθεί σε συναυλιακές αίθουσες όπως Κοντσέρτχαους της Βιέννης, Φιλαρμονική του Βερολίνου, Φιλαρμονική του Έλβα, Μέγαρο Μουσικής του Αμβούργου, Ατενέουμ Βουκουρεστίου, Μέγαρο Μουσικής του Πεκίνου, Κέντρο Ανατολίτικων Τεχνών της Σαγκάης, και Κέντρο Τεχνών της Σεούλ, και σε φεστιβάλ όπως Φεστιβάλ Classics του Κρανς Μοντάνα και Μουσικό Φεστιβάλ της Σιών. Έχει συμπράξει με μουσικούς όπως Γκίντον Κρέμερ, Μίχαελ Γκούτμαν, Γινγκ Ζάο, Ντμίτρι Γιουρόφσκι, Ίβρι Γκίτλις, Ούτο Ούγκι, Σέμιον Μπίτσκοφ, Βλαντιμίρ Λάντσμαν, και Σβετλάνα Μακάροβα. Υπέρμαχος της προώθησης της μουσικής για βιολί στο ευρύτερο κοινό, συνεργάζεται σε συχνή βάση με το διάσημο μουσικο-κωμικό ντουέτο Igudesman & Joo.
Η Alexandra Tirsu έχει σπουδάσει στη Βιέννη υπό τον Πάβελ Βέρνικοφ, και ακολούθους στη Σιών υπό τη Ζανίν Γιάνσεν. Παίζει ένα βιολί κατασκευής Φραντσέσκο Γκόφριλερ που της παραχώρησε το Ίδρυμα της οικογένειας Goh.