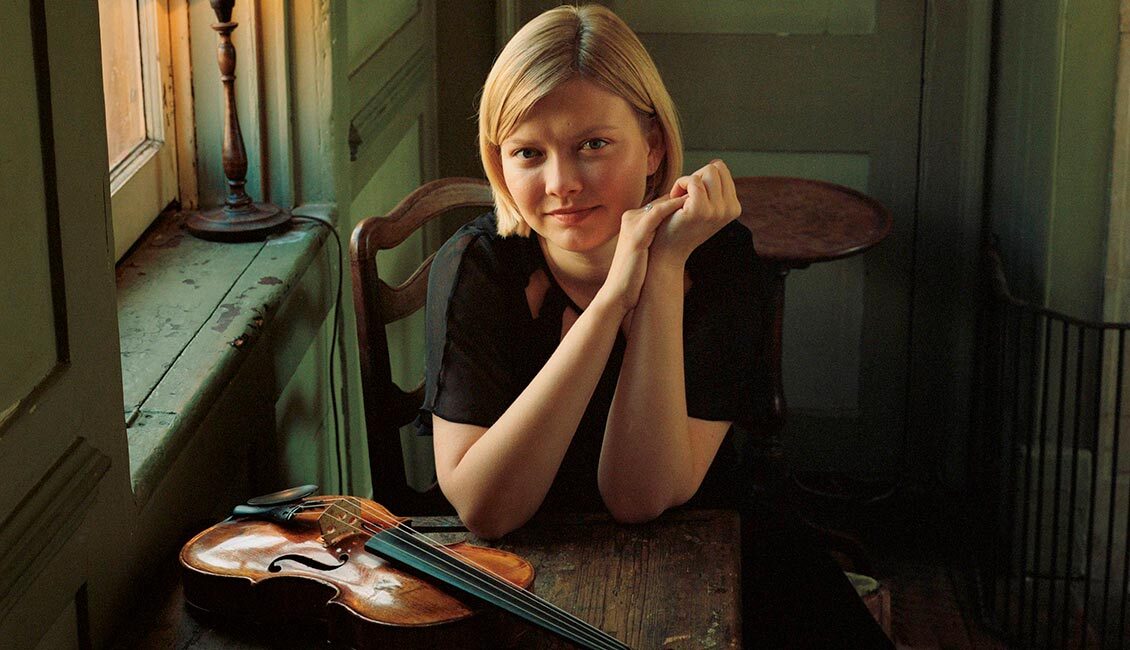 Performing music from baroque to new commissions on both modern and period instruments, Alina Ibragimova has established a reputation as one of the most accomplished and intriguing violinists of the younger generation.
Recent highlights include her debut with the Royal Concertgebouw Orchestra (Gardiner), Sinfonieorchester des Bayerischen Rundfunks, Deutsches Symphonie-Orchester Berlin, Swedish Radio Symphony (Harding), Wiener Symphoniker, Boston Symphony and return engagements with the London Symphony, London Philharmonic Orchestra, Chamber Orchestra of Europe (Haitink), BBC Symphony Orchestra, Royal Stockholm Philharmonic, Montreal Symphony, and Tokyo Metropolitan Symphony. As a recitalist Alina Ibragimova has appeared at venues including Wigmore Hall, Concertgebouw Amsterdam, Salzburg Mozarteum, Vienna's Musikverein and Carnegie Hall.
Ibragimova's prominent presence at the BBC Proms, since 2015, has showcased concerto performances from the standard repertoire, baroque concerts featuring the complete Bach partitas and sonatas, for which The Guardian commented "The immediacy and honesty of Ibragimova's playing has the curious ability to collapse any sense of distance between performer and listener", as well as the world premiere of new works.
Alina Ibragimova's long-standing duo partnership with pianist Cédric Tiberghien has featured highly successful complete cycles of both the Beethoven violin sonatas and the Mozart sonatas for violin and keyboard at Wigmore Hall. Her discography on Hyperion Records includes 17 albums ranging from Bach to Szymanowski and Ysaye. Born in Russia in 1985 Ibragimova studied at the Yehudi Menuhin School, the Royal College of Music, and the Kronberg Academy Masters programme. She has been the recipient of prestigious awards including the Royal Philharmonic Society Young Artist Award in 2010.
---
Ερμηνεύοντας μουσική που διαλαμβάνει ένα τεράστιο εύρος – από μπαρόκ μέχρι σύγχρονη, σε όργανα περιόδου αλλά μοντέρνα, η Alina Ibragimova έχει καθιερωθεί ως μια από τις πιο καταξιωμένες και ενδιαφέρουσες βιολονίστριες της νέας γενιάς.
Πρόσφατες εμφανίσεις της περιλαμβάνουν το ντεμπούτο της με τη Βασιλική Ορχήστρα του Κοντσερτγκεμπάου (υπό τη διεύθυνση του John Eliot Gardiner), τη Συμφωνική Ορχήστρα της Βαυαρικής Ραδιοφωνίας, τη Γερμανική Συμφωνική Ορχήστρα του Βερολίνου, την Ορχήστρα Ραδιοφωνίας της Σουηδίας (υπό τη διεύθυνση του Daniel Harding), τη Συμφωνική της Βιέννης, τη Συμφωνική της Βοστώνης, και την επιστροφή της ως σολίστ με την Συμφωνική Ορχήστρα του BBC, τη Βασιλική Φιλαρμονική της Στοκχόλμης, τη Συμφωνική του Μόντρεαλ και τη Μητροπολιτική Συμφωνική του Τόκυο. Η Alina Ibragimova έχει δώσει ρεσιτάλ σε αίθουσες όπως Γουίγκμορ του Λονδίνου, Κοντσερτγκεμπάου του Άμστερνταμ, Μοτσαρτέουμ του Σάλτσμπουργκ, Μουζίκφεραϊν της Βιέννης και Κάρνεγκι της Νέας Υόρκης.
Από το 2015, η Ibragimova κατέχει εξέχουσα παρουσία στο BBC Proms, έχοντας ερμηνεύσει κοντσέρτα από το καθιερωμένο ρεπερτόριο, και έχοντας δώσει συναυλίες μπαρόκ με ολόκληρο τον κύκλο από σονάτες και παρτίτες του Μπαχ για τις οποίες η εφημερίδα Guardian σχολίασε, «Η αμεσότητα και η ειλικρίνεια της ερμηνείας της Ibragimova έχει την αλλόκοτη ικανότητα να καταλύει την όποια αίσθηση απόστασης μεταξύ ερμηνευτή και ακροατή», καθώς και νέες συνθέσεις σε πρώτη παγκόσμια εκτέλεση.
Η πετυχημένη, μακροχρόνια συνεργασία της Alina Ibragimova με τον πιανίστα Cédric Tiberghien είχε ως αποκορύφωμα ένα κύκλο ρεσιτάλ με τις σονάτες για βιολί και πιάνο των Μπετόβεν και Μότσαρτ, στο Γουίγκμορ του Λονδίνου. Η δισκογραφία της για την Hyperion Records περιλαμβάνει 17 άλμπουμ από τον Μπαχ μέχρι τον Σιμανόφσκι και τον Ιζαιέ. Γεννημένη στη Ρωσία το 1985, η Ibragimova φοίτησε στη Σχολή Γεχούντι Μενουχίν, το Βασιλικό Κολέγιο Μουσικής του Λονδίνου και στο μεταπτυχιακό πρόγραμμα της Ακαδημίας Κρόνμπεργκ. Έχει αποσπάσει σωρεία σημαντικών βραβείων, μεταξύ άλλων, το Βραβείο Νεαρού Καλλιτέχνη της Βασιλική Φιλαρμονικής Εταιρείας το 2010.