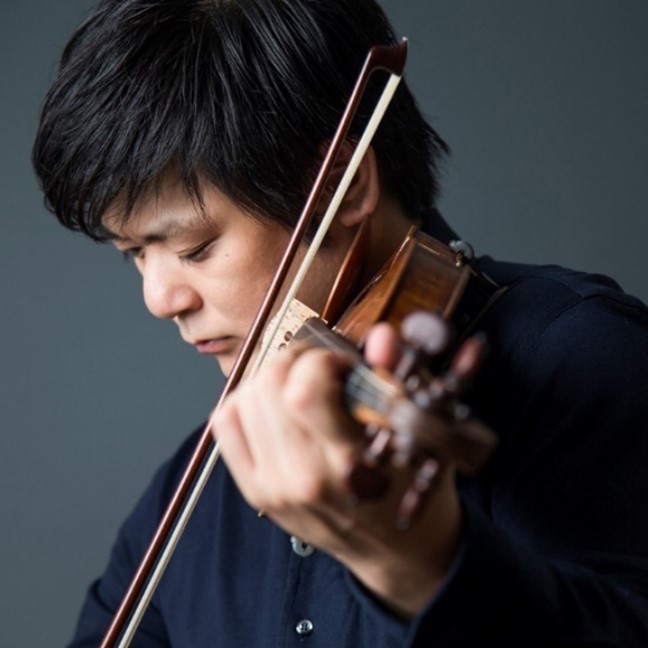 Both as the soloist of an international orchestra and as a sought-after chamber musician, Daishin Kashimoto is a regular guest of major concert halls around the globe. In his decadelong role as first concertmaster of the Berliner Philharmoniker, this tremendous wealth of experience also benefits him in his equally adept role as a soloist, where he plays a wide repertoire ranging from classical to new music.
Daishin Kashimoto has appeared with such renowned orchestras as the NHK Symphony Orchestra, the Boston Symphony Orchestra, Orchestre National de France, the Bavarian, Hessian, and West German Radio Symphony Orchestras, the Orchestre de la Suisse Romande, the St Petersburg Philharmonic, and the Berliner Philharmoniker under conductors such as Mariss Jansons, Seiji Ozawa, Lorin Maazel, Yehudi Menuhin, Paavo Järvi, Myung-Whun Chung, Daniel Harding, and Philippe Jordan. As a chamber musician Daishin Kashimoto has appeared alongside Martha Argerich, Yuja Wang, Leif Ove Andsnes, Éric Le Sage, Konstantin Lifschitz, among others.
Kashimoto started studying the violin in Tokyo, at the age of three!  He was the youngest student to ever attend Julliard School's pre-college programme at the age of seven, and when he was eleven, he continued his studies at Lübeck University of Music under Zakhar Bron, and subsequently at the Freiburg University of Music under Rainer Kussmaul. Prize winner in a number of competitions, he won the First Prize at the Menuhin Junior International Competition in 1993, the Cologne Violin Competition in 1994, and the Vienna Fritz Kreisler and the Long-Thibaud Competitions in 1996.
---
Σολίστ σε διεθνούς φήμης ορχήστρες και περιζήτητος ως μουσικός δωματίου, ο Daishin Kashimoto (Νταϊσίν Κασιμότο) εμφανίζεται τακτικά στις σημαντικότερες συναυλιακές αίθουσες ανά το παγκόσμιο. Μέσα από την επί δεκαετία θέση του ως πρώτος αρχιμουσικός της Φιλαρμονικής του Βερολίνου, έχει συλλέξει έναν τεράστιο πλούτο εμπειρίας, ο οποίος έχει καταστεί πολύτιμος στον εξίσου πετυχημένο ρόλο του ως σολίστ σε ένα ευρύ ρεπερτόριο, από την κλασική μέχρι τη σύγχρονη μουσική.
Ο Daishin Kashimoto έχει εμφανισθεί ως σολίστ με περίφημες ορχήστρες, συμπεριλαμβανομένων, Συμφωνικής NHK του Τόκιο, Συμφωνικής Ορχήστρας της Βοστώνης, Κρατικής Ορχήστρας της Γαλλίας, Συμφωνικής Ορχήστρας Ραδιοφωνίας της Βαυαρίας, της Έσσης και της Δυτικής Γερμανίας, Ορχήστρας Ρομανικής Ελβετίας, Φιλαρμονικής της Αγίας Πετρούπολης και Φιλαρμονικής του Βερολίνου υπό τη διεύθυνση μαέστρων όπως οι Μάριςς Γιάνσονς, Σέιτζι Οζάβα, Λόριν Μάαζελ, Γεχούντι Μενουχίν, Πάαβο Γιάρβι, Μιουνγκ Βουν Τσουνγκ, Ντάνιελ Χάρντινγκ και Φιλίπ Τζόρνταν. Ως μουσικός δωματίου, ο Daishin Kashimoto έχει συμπράξει με τους Μάρτα Άργκεριχ, Γιούτζα Γουάνγκ, Λάιφ Ούβε Άντσνες, Ερίκ Λε Σαζ, Κονσταντίν Λίφσιτς, μεταξύ άλλων.
Ο Kashimoto ξεκίνησε μαθήματα βιολιού στο Τόκιο, σε ηλικία τριών ετών! Ήταν ο νεότερος μαθητής που έγινε ποτέ δεκτός στο προκολεγιακό πρόγραμμα της Σχολής Τζούλιαρντ, σε ηλικία επτά ετών, και σε ηλικία έντεκα ετών, συνέχισε τις σπουδές του στο Πανεπιστήμιο Μουσικής του Λούμπεκ υπό τον Ζαχάρ Μπρον, εν συνεχεία στο Πανεπιστήμιο Μουσικής του Φράιμπουργκ υπό τον Ράινερ Κουσμάουλ. Βραβευμένος σε πολλούς διαγωνισμούς, κέρδισε το Πρώτο Βραβείο στον Διεθνή Διαγωνισμό Νεαρών Μουσικών Μενουχίν το 1993, στον Διαγωνισμό Βιολιού της Κολωνίας το 1994, και στους διαγωνισμούς Φριτς Κράισλερ Βιέννης και Λον-Τιμπό στο Παρίσι το 1996.