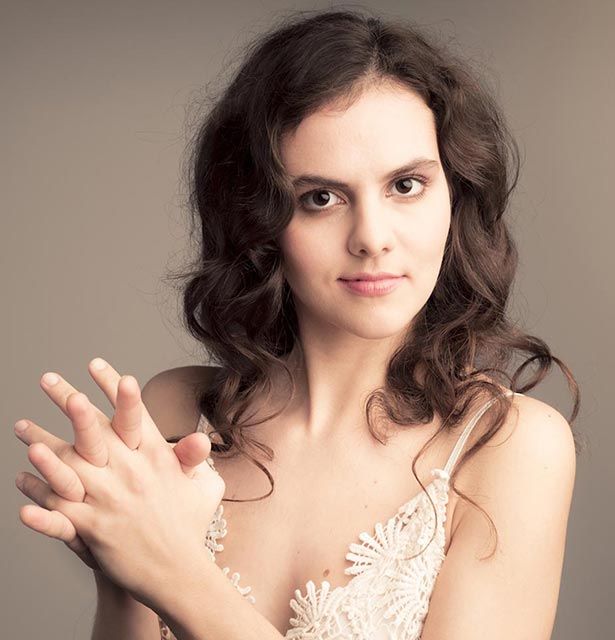 Called "the discovery of the year" by Crescendo classical music magazine, German-Greek pianist Danae Dörken is one of the most internationally acclaimed artists of the new generation, electrifying the audiences with her stunning technical skills, exceptional charisma and great profundity of her musicianship.
Her unique talent was evidenced early on, when at the age of seven, Danae received the support of Yehudi Menuhin and subsequently causing a stir at major European venues. Following her studies with the internationally venerated professor Karl-Heinz Kämmerling and Lars Vogt, she has appeared with major orchestras including the Munich Symphony Orchestra, Estonian National Symphony Orchestra, Dusseldorf Symphony Orchestra, Las Vegas Philharmonic, the Norrlandsoperan Symphony Orchestra, the Antalya Symphony Orchestra and the Residenz Orchester Mark Brandenburg.
Danae Dörken has performed to great critical acclaim at London's Wigmore Hall, the Vienna Konzerthaus, Mozarteum Salzburg, KKL Lucerne, the Cologne Philharmonie, Philharmonie Essen, Konzerthaus Berlin, Staatstheater Darmstadt, the Elbphilharmonie and Laeiszhalle Hamburg, Tonhalle Dusseldorf, Frankfurt Alte Oper, Bozar in Brussels, Museum Villa Rot and Beethoven-Haus Bonn. Dörken participates regularly in important festivals such as Kissinger Sommer, Lucerne, Lugano, PianoEspoo Festival in Finland, Schleswig-Holstein Musikfestival, Schwetzingen, Festspiele Mecklenburg-Vorpommern, 'Spannungen' festival in Heimbach, Festival Piano aux Jacobins in Toulouse, Rheingau Musik Festival.
Being a passionate chamber musician, she has performed together with leading artists such as Lars Vogt, Gustav Rivinius, Sharon Kam, Artur Pizarro, Christiane Oelze, Carolin Widmann and Katia & Marielle Labèque. Together with her sister pianist Kiveli Dörken, Danae founded the Molyvos International Music Festival (MIMF) in 2015 and the two of them regularly present outstanding four-hand piano programmes throughout the world. Together with oboist Philippe Tondre, Danae Dörken performed recently-discovered masterworks in a SWR Stuttgart Radio production.
Danae Dörken's ground-breaking recording of the Piano Concerto No.21 by Mozart and of the rarely performed Piano Concerto No.2 by Mendelssohn (with Royal Northern Sinfonia) was released in 2016, to raving critical acclaim. Previously, her solo recording of fantasies by Schumann, Schubert und C.P.E. Bach (on ARS Produktion) was nominated for an International Classical Music Award (ICMA). Her 2012 debut CD, featuring solo works by Leoš Janáček (also on ARS Produktion), received equally enthusiastic reviews.
His verterem consectetuer consequuntur ne, no virtute atomorum usu. Eu quo nemore causae tacimates, eos viderer persequeris an. Cu molestie consulatu qui. Natum labores perfecto no ius, pri dico mundi inciderint id. Ei usu dico libris postea. Cu graeco doctus splendide qui, ei eum probo regione.