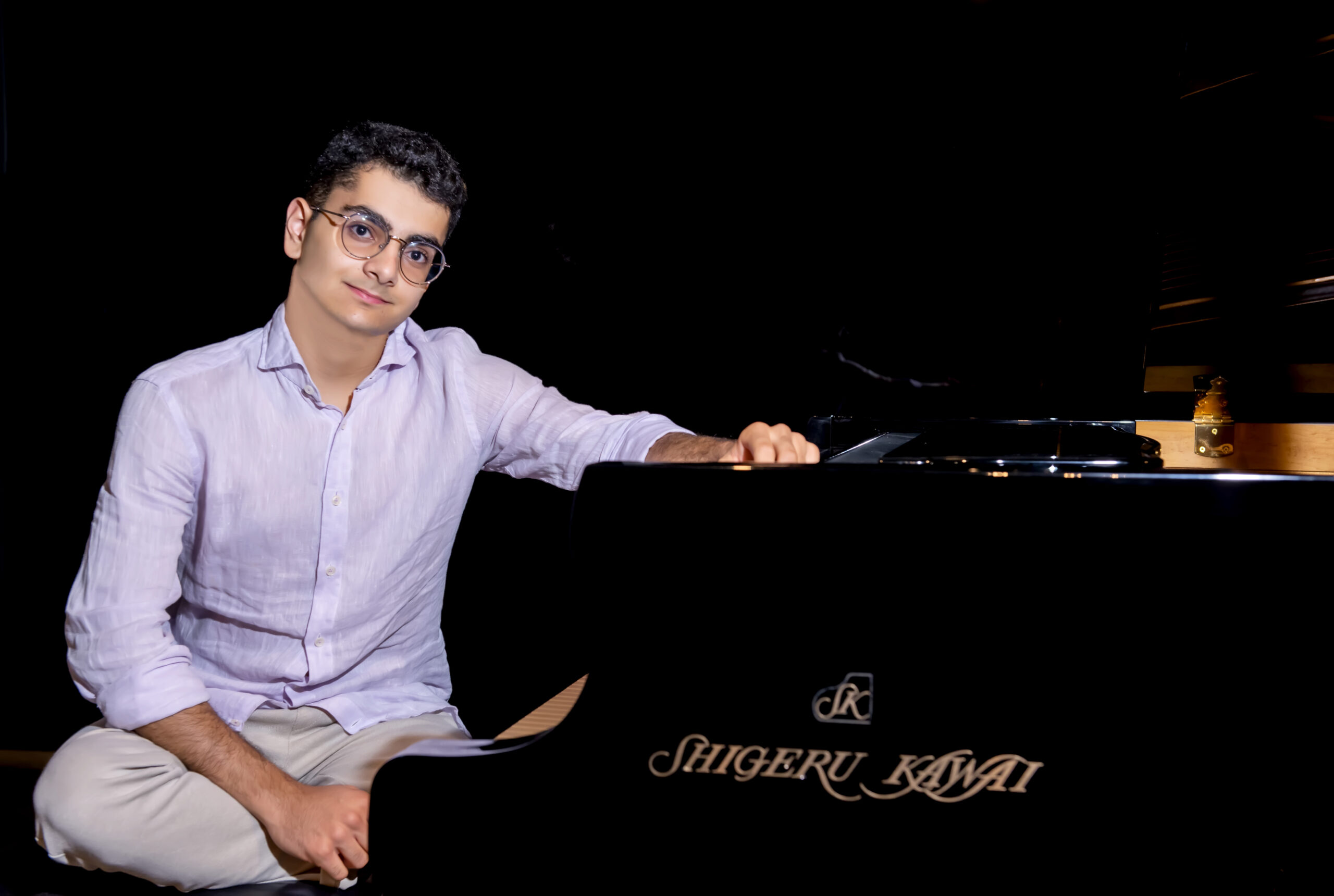 Born in Moscow in 2005 and having moved to Malta at the age of 3, Dmitry Ishkhanov is an outstanding interpreter of classical music, who besides his incredible potential, he already demonstrates mature and unique artistic capabilities. Amongst his biggest accomplishments was his debut, at the age of 14, at Carnegie Hall, Stern Auditorium, performing Beethoven's Piano Concerto No.2 with the Distinguished Concerts International New York (DCINY) and conductor Miran Vaupotić. Furthermore, in 2016, at the age of 11, Dmitry represented Malta at the Eurovision of Young Musicians held in Cologne, and became the youngest finalist in the Eurovision history. He released his first CD, Virtuoso, in 2021 with Parma Recordings playing a programme by Chopin.
Dmitry Ishkhanov has appeared with a number of renowned orchestras, including WDR Orchestra in Cologne Philharmonic, Armenian State Symphony Orchestra, the New Chamber Orchestra of Potsdam, Malta Philharmonic Orchestra, Bursa Symphony Orchestra (Turkey), Eurasian Symphony Orchestra (Kazakhstan), Tatarstan National Symphony Orchestra (Russia), Budapest Symphony Orchestra, Sinfonia Rotterdam Orchestra, and Savaria Symphonic Orchestra. His concerts have taken him to prestigious concerts halls such as Kennedy Centre (Washington), Cologne Philharmonic, Smetana Hall (Prague), Beethoven House (Bonn), Musikverein in Vienna, Concertgebouw in Amsterdam, Mozerteum Grosser Saal in Salzburg, Carnegie Hall Stern Auditorium and Weill Recital Hall in New York, to name but a few.
Dmitry is currently studying at the Mozarteum University in Salzburg under Prof. Pavel Gililov. Besides his young age, he has managed to be the prize winner in many prestigious competitions, including International Piano Competition "Golden Key" (Germany), Münchner Klavierpodium der Jugend (Germany), First Prize at the Jugend Musiziert (Germany), XXV Young Musicians International Competition FLAME (France), Euregio Piano Award International Piano Competition (Germany), International César Franck Competition (Belgium), and Pozzolino 3rd International Competition for Young Pianists (Italy), in which he won the First Prize and Grand Prix in the category up to 19 years.
Dmitry demonstrated an interest in music at the young age of 4, when he started playing the piano with his babysitter. From his first piano teacher, Lolita Poghosyan, until now, he never stops improving himself and he steadily walks to his big dream. Starting from 2014 and up to 2020, he had been studying in Hochschule für Musik und Tanz Köln under professors Nina Tichman and Gesa Lücker. Parallel to his musical endeavours, he graduated high school passing the International Baccalaureate programme, and fluently speaks English, German, Russian and Spanish languages.
---
Γεννημένος στη Μόσχα το 2005 και έχοντας μετοικήσει στη Μάλτα από 3 ετών, ο Dmitry Ishkhanov είναι ένας εξαίρετος ερμηνευτής της κλασικής μουσικής, ο οποίος πέρα από την εκπληκτική δυναμική του, επιδεικνύει απαράμιλλα ώριμες καλλιτεχνικές ικανότητες. Μεταξύ των μεγαλύτερων επιτευγμάτων του ήταν το ντεμπούτο του, σε ηλικία 14 ετών, στην Αίθουσα Στερν του Κάρνεγκι Χολ, όπου ερμήνευσε το Κοντσέρτο για Πιάνο Αρ.2 του Μπετόβεν με την Ορχήστρα DCINY Νέας Υόρκης υπό τη διεύθυνση του Μιράν Βάουποτιτς. Επιπλέον, το 2016, σε ηλικία 11 ετών, ο Dmitry είχε εκπροσωπήσει τη Μάλτα στη Eurovision Νέων Μουσικών που πραγματοποιήθηκε στην Κολωνία, και έγινε ο νεαρότερος φιναλίστ στην ιστορία της Eurovision. Το 2021, κυκλοφόρησε το πρώτο του CD, Virtuoso, με έργα Σοπέν, από τη δισκογραφική εταιρεία Parma Recordings.
Ο Dmitry Ishkhanov έχει εμφανισθεί με κορυφαίες ορχήστρες, μεταξύ άλλων, Συμφωνική Ορχήστρα Κολωνίας στη Φιλαρμονική της Κολωνίας, Κρατική Συμφωνική Ορχήστρα Αρμενίας, Ορχήστρα Δωματίου του Πότσδαμ, Φιλαρμονική της Μάλτας, Συμφωνική Ορχήστρα της Προύσας (Τουρκία), Ευρασιατική Συμφωνική Ορχήστρα (Καζακστάν), Εθνική Συμφωνική Ορχήστρα του Ταταρστάν (Ρωσία), Συμφωνική της Βουδαπέστης, Συμφωνική του Ρότερνταμ, και Συμφωνική Σαβαρίας (Ουγγαρία). Οι συναυλίες του τον έχουν μεταφέρει σε ορισμένες από τις σημαντικότερες συναυλιακές αίθουσες ανά το παγκόσμιο, συμπεριλαμβανομένων, Κένεντι Σέντερ (Ουάσιγκτον), Φιλαρμονική Κολωνίας, Αίθουσα Σμέτανα (Πράγα), Σπίτι Μπετόβεν (Βόννη), Μουζίκφεραϊν Βιέννης, Κοντσερτγκεμπάου Άμστερνταμ, Μοτσαρτέουμ Σάλτσμπουργκ, Κάρνεγκι Χολ (Αίθουσες Στερν και Βάιλ) Νέας Υόρκης.
Επί του παρόντος, ο Dmitry φοιτά στο Μοτσαρτέουμ του Σάλτσμπουργκ υπό τον Καθηγητή Pavel Gililov. Παρά το νεαρό της ηλικίας του, έχει αποσπάσει πληθώρα βραβείων σε διεθνείς διαγωνισμούς, μεταξύ άλλων, «Χρυσό Κλειδί» (Γερμανία), Klavierpodium Μονάχου (Γερμανία), Πρώτο Βραβείο στον Jugend Musiziert (Γερμανία), Πρώτο Βραβείο στον 25ο Διεθνή Διαγωνισμό Νεαρών Μουσικών FLAME (Γαλλία), το Βραβείο Euregio στον Διεθνή Διαγωνισμό Πιάνου (Γερμανία), Διεθνή Διαγωνισμό Σεζάρ Φρανκ (Βέλγιο), και 3ο Διεθνή Διαγωνισμό Νεαρών Μουσικών Pozzolino (Ιταλία), στον οποίο κέρδισε το Πρώτο Βραβείο και το Γκραν Πρι στην κατηγορία κάτω των 19 ετών.
Ο Dmitry επέδειξε το ενδιαφέρον του στη μουσική από την ηλικία των 4, όταν άρχισε να μαθαίνει πιάνο από την γκουβερνάντα του. Από την πρώτη του δασκάλα πιάνου, τη Lolita Poghosyan, μέχρι σήμερα, δεν σταματά να βελτιώνεται και πορεύεται σταθερά προς το μεγάλο του όνειρο. Από το 2014 μέχρι το 2020, φοιτούσε στην Ανώτατη Σχολή Μουσικής και Χορού της Κολωνίας υπό τις Nina Tichman και Gesa Lücker. Παράλληλα με τις μουσικές του ασχολίες, αποφοίτησε από το λύκειο, ολοκληρώνοντας το Διεθνές Πρόγραμμα Baccalaureate, και μιλά άπταιστα τέσσερις γλώσσες – αγγλικά, γερμανικά, ισπανικά και ρωσικά.