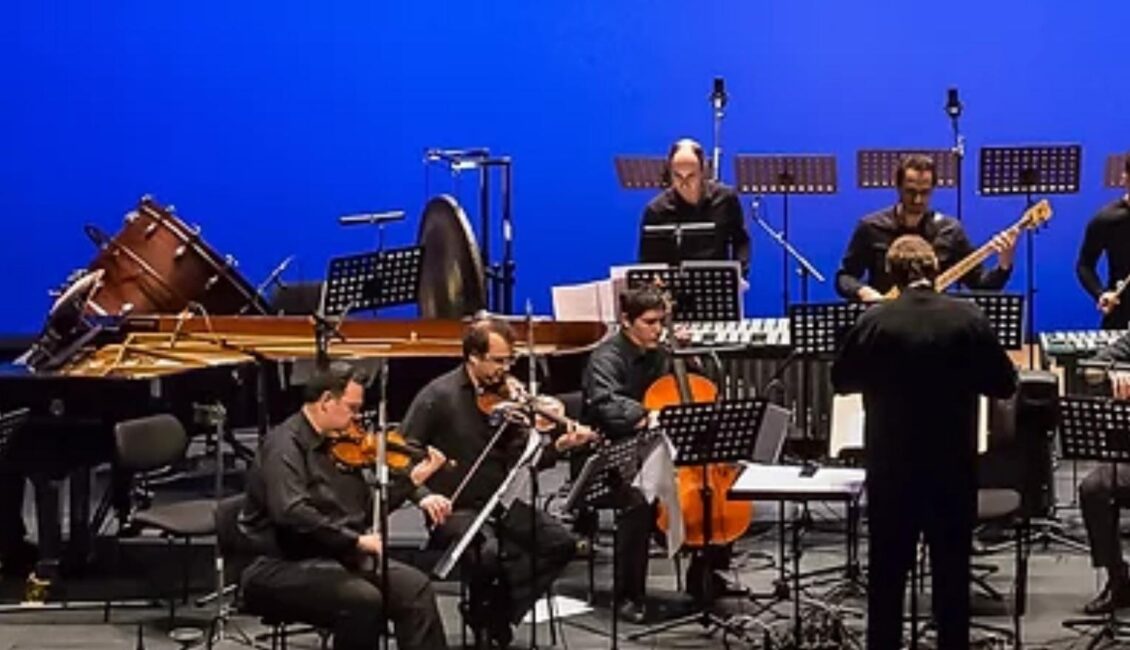 With an important 14-year artistic history, the Ergon Ensemble is nowadays considered one of the most important ensembles of contemporary music in Greece and abroad. Having the International Academy of Ensemble Modern as its starting meeting point, the Ergon – comprising some of the most talented Greek musicians around – revolves around a flexible format of performers according to the needs of each production. The Ensemble has won great critical and audience acclaim for the exceptional quality of its concerts, as well as its innovative and adventurous projects that incorporate orchestral and chamber music, music theatre and contemporary opera, dance, and multimedia music.
The Ergon Ensemble has participated in prestigious festivals in Greece and abroad, including, Herrenhausen Kunstfestpiele (Hanover), Documenta (Kassel), Suså (Denmark), International Pharos Contemporary Music Festival (Cyprus), Bigli New Music Festival (Istanbul), SNF Nostos (Athens), and Athens Festival, among others. In Greece, the Ergon appears regularly at the Megaron Athens Concert Hall, the S. Niarchos Foundation Cultural Center, and the Onassis Cultural Center, while it often collaborates with the Greek National Opera in contemporary opera and music theatre productions. Important projects have included The Book of Disquiet (Michel van der Aa), Madness (works by Thomas Larcher, Peter Maxwell Davies and Iannis Xenakis), Icones (Peter Maxwell Davies), Tribute to Claude Vivier, Alternativa, Minas Borboudakis's "Z", Music for Silent Films.
Recent highlights include concerts at the éαρ fέστιβαλ and SNF Nostos Festival, in collaboration with the composer / performer Shiva Feshareki, and Ioannis Angelakis' The voices of Bacchus, as part of the Ministry of Culture's programme All of Greece, One Culture. The Ergon Ensemble continues its longstanding series of concerts dedicated to the Greek composers of the diaspora, and its forthcoming engagements include its debut at Vienna's Konzerthaus, and a concert dedicated to the master composers of the 20th century at the Megaron Athens Concert Hall.
---
Το Ergon Ensemble μετρά 14 χρόνια σημαντικής καλλιτεχνικής πορείας στα ελληνικά και διεθνή δρώμενα της σύγχρονης μουσικής. Έχοντας ως αφετηρία τη Διεθνή Ακαδημία του Ensemble Modern, το σύνολο έχει ενσωματώσει στο δυναμικό́ του ορισμένους από τους πιο ταλαντούχους Έλληνες μουσικούς, σε ένα ευέλικτο σχήμα που διαμορφώνεται ανάλογα από τις ανάγκες της κάθε παραγωγής. Σήμερα, το Ergon συγκαταλέγεται στα κορυφαία σύνολα μουσικής στην Ελλάδα, έχοντας κερδίσει τις επευφημίες κοινού και μουσικοκριτικών τόσο για τις ανεπανάληπτες συναυλίες του όσο και για τα πρωτότυπα και περιπετειώδη προγράμματα που παρουσιάζει, τα οποία περιλαμβάνουν ορχηστρική μουσική και μουσική δωματίου, μουσικό θέατρο και σύγχρονη όπερα, χορό, και μουσική για πολυμέσα.
Το Ergon έχει συμμετάσχει σε σημαντικά́ φεστιβάλ σε Ελλάδα και εξωτερικό́, μεταξύ άλλων, Herrenhausen Kunstfestpiele (Ανόβερο), Documenta (Κάσσελ), Suså (Δανία), Διεθνές Φεστιβάλ Σύγχρονης Μουσικής Φάρος (Κύπρος), Bigli New Music Festival (Κωνσταντινούπολη), SNF Nostos (Αθήνα), και Φεστιβάλ Αθηνών. Στην Ελλάδα, εμφανίζεται τακτικά στο Μέγαρο Μουσικής Αθηνών, στο Κέντρο Πολιτισμού Σ. Νιάρχος και την Στέγη Γραμμάτων και Τεχνών του Ιδρύματος Ωνάση, ενώ συνεργάζεται παράλληλα με την Εθνική Λυρική Σκηνή για παραστάσεις σύγχρονης όπερας και μουσικού θεάτρου. Ορισμένες από τις σημαντικότερες παραγωγές που έχει πραγματοποιήσει τα τελευταία χρόνια περιλαμβάνουν μεταξύ άλλων, Βιβλίο της Ανησυχίας (Μισέλ φαν ντερ Άα), Madness (σε έργα των Τόμας Λάρχερ, Πίτερ Μάξγουελ Ντέιβις και Ιάννη Ξενάκη), Icones (Πίτερ Μάξγουελ Ντέιβις), Αφιέρωμα στον Κλωντ Βιβιέ, Alternativa, Z (Μίνας Μπορμπουδάκης), Μουσική για Βουβό Κινηματογράφο. Πρόσφατες εμφανίσεις του περιλαμβάνουν τη συμμετοχή του στο éαρ fέστιβαλ, το Φεστιβάλ SNF Nostos σε συνεργασία με τη συνθέτρια / περφόρμερ Shiva Feshareki, και το έργο του Ιωάννη Αγγελάκη, Οι φωνές των Βακχών, μέσα στο πλαίσιο του προγράμματος του Υπουργείου Πολιτισμού, Όλη η Ελλάδα ένας Πολιτισμός. Το Ergon Ensemble συνεχίζει τη μακρόχρονη σειρά συναυλιών του που είναι αφιερωμένες στους Έλληνες συνθέτες της διασποράς, ενώ οι επερχόμενες εμφανίσεις του περιλαμβάνουν το ντεμπούτο του στο Κοντσέρτχαους της Βιέννης, και ένα αφιέρωμα στους μεγάλους συνθέτες του 20ου αιώνα στο Μέγαρο Μουσικής Αθηνών.