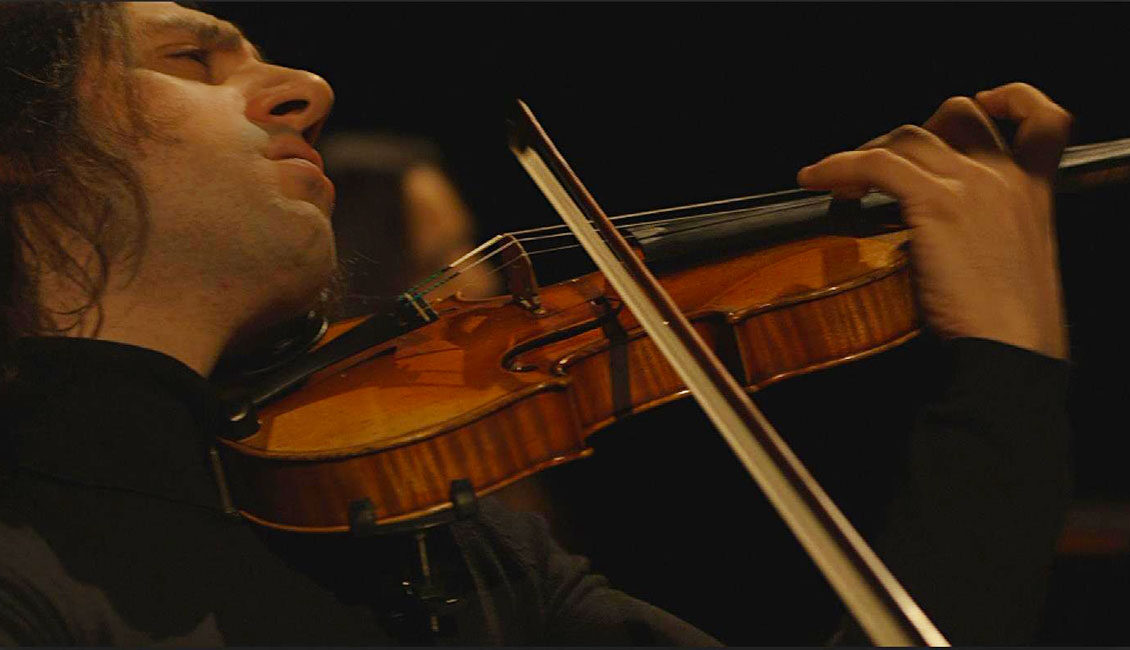 Regarded as one of the most inspiring and gifted artists of his generation, Hrachya Avanesyan first received international attention when he won the First Prize at the Yehudi Menuhin International Violin Competition in 2006, at the age of 19. Two years later, he became the First Winner of the prestigious Carl Nielsen International Competition in Denmark.
Having studied with Igor Oistrakh, son of the legendary David Oistrakh, Hrachya Avanesyan has appeared with a number of renowned orchestras, including, Belgian National Orchestra, Danish National Symphony Orchestra, Orchestra Sinfonia Varsovia, BBC National Orchestra, Staatsorchester Rheinische Philharmonie, Tokyo Symphony Orchestra, Tokyo Metropolitan Symphony Orchestra, London Chamber Orchestra, Orchestre Royal de Chambre de Wallonie, Lisbon Metropolitan Orchestra, Odense Symphony Orchestra, Liège Philharmonic and Belgrade Philharmonic, amongst others.
Hrachya has appeared in prestigious venues around the world, including the Wigmore hall in London, Salle Gaveau and Théatre des Champs Elysées in Paris, Suntory hall in Tokyo, Moscow Kremlin's Grand Hall, Danish Radio Concert Hall in Copenhagen, National Auditorium in Madrid and the Palais des Beaux-Art in Brussels, and he was been invited by celebrated festivals, like Montpellier Festival, Menton Festival and Strasbourg Music Festival.
His discography includes a recording of Henry Vieuxtemps' Violin Concerto No.2 with the Liège Philharmonic Orchestra, under the baton of Patrick Davin, a Dvořák CD with Sinfonia Varsovia, under the baton of Augustin Dumay, and a Brahms & Schumann chamber music album, for BIS Records, with Yevgeny Sudbin, Boris Brovtsyn, Diemut Poppen and Alexander Chaushian, which was recorded as part of the International Pharos Chamber Music Festival, at Pharos' Nicosia venue in Nicosia, The Shoe Factory, and won raved reviews – amongst them, the accolade BBC 3 Recording of the Week.
---
Έχοντας αναγνωρισθεί ως ένας από τους πιο εμπνευσμένους και χαρισματικούς καλλιτέχνες της γενιάς του, ο Hrachya Avanesyan κέρδισε για διεθνή αναγνώριση όταν κέρδισε το Πρώτο Βραβείο στον Διεθνή Διαγωνισμό Βιολιού Γεχούντι Μενουχίν το 2006, σε ηλικία μόλις 19 ετών. Δύο χρόνια αργότερα, ήταν ο Χρυσός Νικητής του περίφημου Διεθνούς Διαγωνισμού Καρλ Νίλσεν στη Δανία.
Με σπουδές υπό τον Ιγκόρ Όϊστραχ (υιό του θρυλικού Νταβίντ Όϊστραχ), ο Hrachya Avanesyan έχει εμφανισθεί με διεθνούς φήμης ορχήστρες, μεταξύ άλλων, Εθνική Ορχήστρα του Βελγίου, Εθνική Συμφωνική Ορχήστρα της Δανίας, Συμφωνική Ορχήστρα Βαρσοβίας, Ορχήστρα του BBC, Φιλαρμονική Ορχήστρα του Ρήνου, Συμφωνική Ορχήστρα του Τόκυο, Μητροπολιτική Ορχήστρα του Τόκυο, Ορχήστρα Δωματίου του Λονδίνου, Βασιλική Ορχήστρα Δωματίου Βαλονίας, Μητροπολιτική Ορχήστρα Λισαβώνας, Συμφωνική του Όντενσε, Φιλαρμονική Λιέγης, και Φιλαρμονική Βελιγραδίου.
Ο Hrachya έχει εμφανισθεί σε σημαντικές συναυλιακές αίθουσες ανά το παγκόσμιο, συμπεριλαμβανομένων, Γουίγκμορ στο Λονδίνο, Σαλ Γκαβό και Θέατρο του Σαμπ Ελιζέ στο Παρίσι, Σουντόρι στο Τόκυο, Μεγάλη Αίθουσα του Κρεμλίνου στη Μόσχα, Αμφιθέατρο της Δανέζικης Ραδιοφωνίας στην Κοπεγχάγη, Εθνικό Αμφιθέατρο στη Μαδρίτη και Κέντρο Καλών Τεχνών στις Βρυξέλλες, ενώ έχει προσκληθεί κατ' επανάληψη σε περίφημα φεστιβάλ, όπως φεστιβάλ του Μονπελιέ, του Μεντόν και του Στρασβούργου.
Η δισκογραφία του περιλαμβάνει, μεταξύ άλλων, ένα άλμπουμ με το Κοντσέρτο για Βιολί Αρ.2 του Ανρί Βιετάν, με τη Φιλαρμονική της Λιέγης υπό τη διεύθυνση του Patrick Davin, ένα σόλο άλμπουμ αφιερωμένο στον Ντβόρζακ, με τη Συμφωνική της Βαρσοβίας υπό τη διεύθυνση του Augustin Dumay, ένα άλμπουμ με μουσική δωματίου των Σούμαν και Μπραμς για την BIS Records, με τους Yevgeny Sudbin, Boris Brovtsyn, Diemut Poppen και Alexander Chaushian, το οποίο ηχογραφήθηκε μέσα στο πλαίσιο του Διεθνούς Φεστιβάλ Μουσικής Δωματίου Φάρος στο The Shoe Factory του Ιδρύματος Τεχνών Φάρος, στη Λευκωσία, και το οποίο κέρδισε τις επευφημίες των μουσικοκριτικών – ανάμεσά τους και την αναγνώριση Ηχογράφηση της Εβδομάδας από το BBC 3.