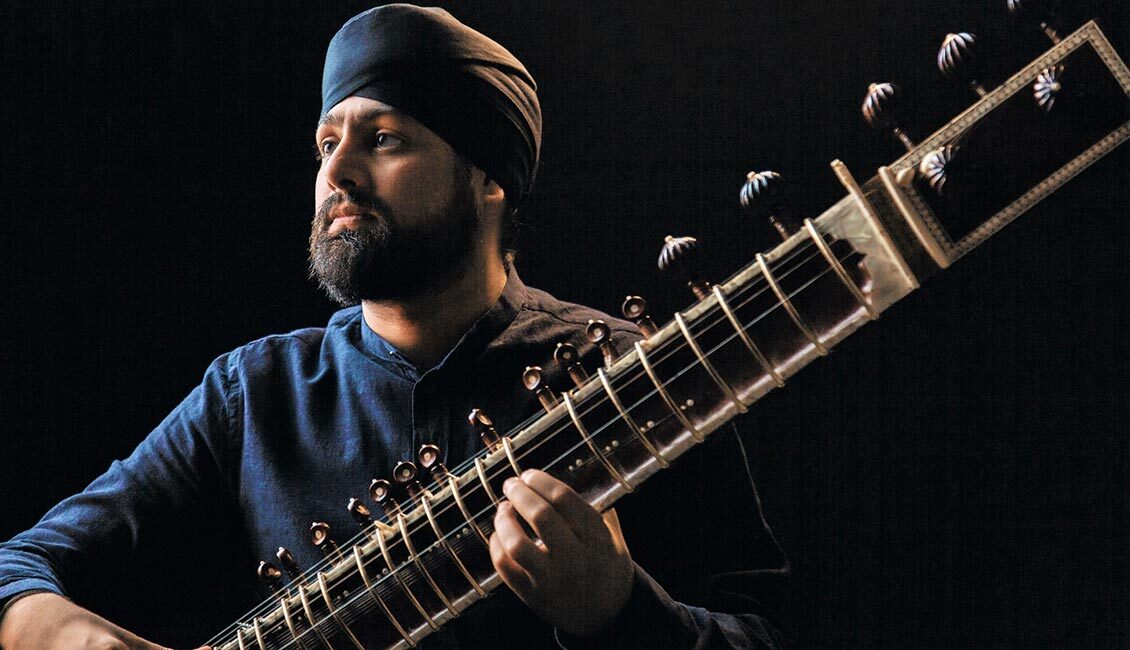 Breaking down cultural boundaries and redefining genres with his extraordinary artistry and new approach to composition, virtuoso sitarist, Jasdeep Singh Degun, has brought a new energy and vision to both Indian Classical and contemporary music, and he is passionate about exposing music from his heritage to audiences across the globe.
Having graduated from SOAS, University of London, Jasdeep has performed all over the world in major productions and prestigious venues, including the Buckingham Palace, the Amphitheatre in Doha, the Royal Albert Hall at the 2014 BBC Proms,  the Royal Court Theatre in Liverpool, the EFG London Jazz Festival and the Darbar Festival, to name just a few.
He has written, arranged, and produced music for a diverse array of projects and soundtracks, including music for orchestra and contemporary classical ensemble, while his Concerto for Sitar, Arya, was recently premiered with the Orchestra of Opera North. Jasdeep is currently working on the release of his debut album, Anomaly, for which he was awarded Sky Academy Scholarship.
---
Ο δεξιοτέχνης του σιτάρ, Jasdeep Singh Degun, έχει καταρρίψει τα πολιτισμικά όρια και έχει επαναπροσδιορίσει τις τεχνοτροπίες με την εξαιρετική καλλιτεχνία και τη φρέσκια προσέγγισή του στη σύνθεση. Έχοντας φέρει νέο αέρα και όραμα τόσο στην ινδική κλασική όσο και στη σύγχρονη μουσική, ο Jasdeep μοιράζεται με πάθος τη μουσική της παράδοσής του με ακροατήρια ανά το παγκόσμιο.
Απόφοιτος του SOAS, Πανεπιστημίου του Λονδίνου, έχει εμφανισθεί σε σημαντικές διοργανώσεις και συναυλιακές αίθουσες σε όλο τον κόσμο, μεταξύ άλλων, Ανάκτορα του Μπάκιγχαμ, Αμφιθέατρο της Ντόχα, Royal Albert Hall μέσα στο πλαίσιο των BBC Proms του 2014, Βασιλικό Θέατρο του Λίβερπουλ, EFG London Jazz Festival και Darbar Festival.
Έχει γράψει και διασκευάσει μουσική για αμέτρητες παραγωγές και για τον κινηματογράφο, για ορχήστρα και για σύγχρονο κλασικό σύνολο, ενώ προσφάτως, το Κοντσέρτο του για Σιτάρ, Arya, έκανε πρεμιέρα με την Ορχήστρα της Opera North. Επί του παρόντος, ο Jasdeep εργάζεται πάνω στο πρώτο του προσωπικό άλμπουμ, Anomaly, για το οποίο κέρδισε την υποτροφία του Sky Academy.