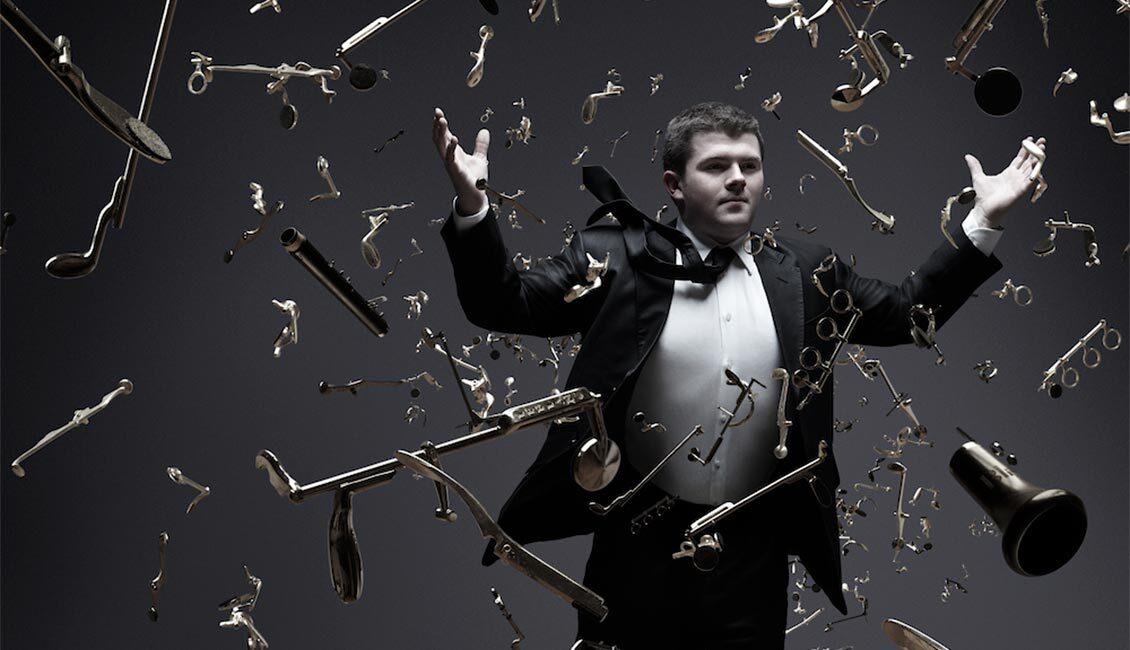 Julian Bliss is one of the world's finest clarinettists, excelling as a concerto soloist, chamber musician, jazz artist, masterclass leader and tireless musical explorer. He has inspired a generation of young players as creator of his Conn-Selmer range of affordable clarinets, and introduced a substantial new audience to his instrument. Julian started playing the clarinet aged four, going on to study at the University of Indiana and in Germany under Sabine Meyer, turning professional aged twelve.
In recital and chamber music, he has played at most of the world's leading festivals and venues, including Gstaad, Mecklenburg Vorpommern, Verbier, Wigmore Hall in London and Lincoln Center in New York. As a soloist, he has appeared with a wide range of international orchestras, including the Sao Paolo Symphony, Chamber Orchestra of Paris, Auckland Philharmonia, the London Philharmonic and Royal Philharmonic Orchestras.
In 2010, he established the phenomenally successful Julian Bliss Septet, and for the Beethoven anniversary in 2020, he formed a new ensemble of top wind players, Bliss Wind Soloists, featuring arrangements of Beethoven's seventh and eighth symphonies.
Album releases have received rave reviews from critics, record of the week spots and media attention. Recent projects include Mozart & Weber Quintets with the Carducci String Quartet; Schubert's Shepherd on the Rock with Christopher Glynn (piano) and Sophie Bevan (soprano); Steve Reich's New York Counterpoint; Mozart and Nielsen's concertos with the Royal Northern Sinfonia; and a recital album of Russian and French composers with American pianist, Bradley Moore.
---
Ο Julian Bliss συγκαταλέγεται στους πιο έξοχους κλαρινετίστες στον κόσμο, έχοντας ξεχωρίσει τόσο ως σολίστ σε κοντσέρτα, όσο και ως μουσικός δωματίου, καλλιτέχνης της τζαζ, μέντορας σε εργαστήρια κλαρινέτου και ακούραστος εξερευνητής μουσικής. Έχει εμπνεύσει μια ολόκληρη γενιά νεαρών κλαρινετιστών με τη δημιουργία της συλλογής των προσιτών κλαρινέτων Conn-Selmer, και έχει προσελκύσει νέο κοινό στο όργανο. Ο Julian άρχισε να παίζει το κλαρινέτο σε ηλικία τεσσάρων ετών, πριν συνεχίσει τις σπουδές του στο Πανεπιστήμιο της Ιντιάνα και στη Γερμανία υπό την Sabine Meyer. Η επαγγελματική του σταδιοδρομία ξεκίνησε σε ηλικία μόλις δώδεκα ετών.
Έχει εμφανισθεί σε συναυλίες μουσικής δωματίου σε κορυφαία φεστιβάλ και αίθουσες συναυλιών ανά το παγκόσμιο, μεταξύ άλλων, Γκστάαντ, Μέκλενμπεργκ-Βορπόρμεν, Βερμπιέ, Γουίγκμορ του Λονδίνου και Κέντρο Λίνκολν της Νέας Υόρκης. Ως σολίστ, έχει εμφανισθεί με διεθνούς φήμης ορχήστρες, μεταξύ άλλων, Συμφωνική του Σάο Πάολο, Ορχήστρα Δωματίου του Παρισιού, Φιλαρμονική του Όκλαντ, Φιλαρμονική του Λονδίνου και Βασιλική Φιλαρμονική του Λονδίνου.
Το 2010, ίδρυσε το εξαιρετικά επιτυχημένο Julian Bliss Septet, και για την επέτειο του Μπετόβεν το 2020, δημιούργησε ένα νέο σύνολο που αποτελείται από σπουδαίους πνευστούς, το Bliss Wind Soloists, οι οποίοι ερμήνευσαν, μεταξύ άλλων, την Έβδομη και Όγδοη συμφωνία του Μπετόβεν.
Τα άλμπουμ του Julian Bliss έχουν δεχθεί τους διθυράμβους των μουσικοκριτικών, ξεχώρισαν ως 'ηχογραφήσεις της εβδομάδας΄ και προσέλκυσαν το ενδιαφέρον των μέσων μαζικής ενημέρωσης. Πρόσφατες ηχογραφήσεις του περιλαμβάνουν τα Κουιντέτα των Μότσαρτ και Βέμπερ σε σύμπραξη με το Κουαρτέτο Εγχόρδων Carducci, τον Βοσκό στον Βράχο του Σούμπερτ με τους Christopher Glynn (πιάνο) και Sophie Bevan (σοπράνο), την Αντίστιξη της Νέας Υόρκης του Στηβ Ράιχ, τα Κοντσέρτα για Κλαρινέτο των Μότσαρτ και Νίλσεν με τη Royal Northern Sinfonia, και ένα ρεσιτάλ σε σύμπραξη με τον Αμερικανό πιανίστα Bradley Moore σε έργα Ρώσων και Γάλλων συνθετών.