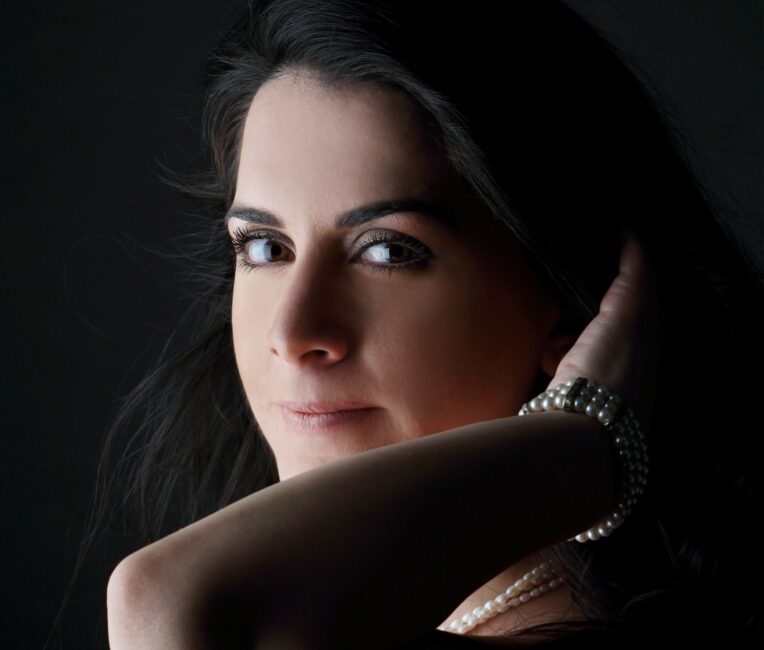 The rich and diverse repertoire of the distinguished Cypriot soprano Mariza Anastasiades extends from early music to the modern era. Her career boasts important collaborations with orchestras, conductors and fellow artists from Europe and America, including the Prague State Opera under the baton of Richard Hein, the Pilsen Philharmonic Orchestra as part of the Prague Opernfest, the Danube Symphony Orchestra under the baton of Andreas Déak in a series of concerts at the Danube Palace Concert Hall, the Savaria Baroque Orchestra in Budapest under the baton of Pál Németh.
Mariza's operatic repertoire includes major roles such as Contessa in Mozart's Le Nozze di Figaro at the Greek Opera Festival in 2017, Lauretta in Puccini's Gianni Schicchi with the Varna International Orchestra under the baton of Gregory Buchalter, Dido in Purcell's Dido and Aeneas in a Kyrenia Opera production in Vienna, and Mother in Menotti''s Amahl and the Night Visitors. In September 2021, as part of the Cyprus International Festival, she performed the leading role of Bonadea in Andis Scordis' contemporary opera Argos Sidiros, with the Cyprus Symphony Orchestra under the direction of conductor Zoe Tsokanou.
Prize-winner in a number of international competitions, Mariza Anastasiades has more recently won the First Prize at the Concours de Musique du Canada Section Mauricie et Center du Québec, and the Grand Prix at the Stojan Stojanov-Gančev Singing Competition in Zagreb.
In November 2022, Mariza Anastasiades had her first collaboration with conductor Günter Neuhold conducting the Cyprus Symphony Orchestra in a programme of Czech music. Upcoming performances include the role of Donna Elvira in Mozart's Don Giovanni at the Vienna Opera Festival in July 2023, and the role of Maria Callas in a production by the Cypriot playwright Paul Lambis that will take place in New York, London and Cyprus.
---
Το πλούσιο και πολυδιάστατο ρεπερτόριό της διακεκριμένης Κύπριας Σοπράνο Μαρίζας Αναστασιάδη εκτείνεται από την πρώιμη μουσική μέχρι και τη σύγχρονη εποχή. Η σταδιοδρομία της περιλαμβάνει σημαντικές συνεργασίες με ορχήστρες, μαέστρους και καλλιτέχνες από την Ευρώπη και την Αμερική, συμπεριλαμβανομένων, της Κρατικής Όπερας Πράγας υπό τη διεύθυνση του Richard Hein, της Φιλαρμονικής Ορχήστρας του Πίλσεν μέσα στο πλαίσιο του Opernfest Πράγας, της Συμφωνικής Ορχήστρας Δούναβη υπό την διεύθυνση του Andreas Déak για συναυλίες στο Μέγαρο Μουσικής του Παλατιού του Δούναβη, της Μπαρόκ Ορχήστρας της Σαβάρια στη Βουδαπέστη υπό τη διεύθυνση του Pál Németh.
Το οπερατικό ρεπερτόριο της Μαρίζας Αναστασιάδη περιλαμβάνει πρωταγωνιστικούς ρόλους του ρεπερτορίου, όπως Κοντέσα στους Γάμους του Φιγκαρό του Μότσαρτ μέσα στο πλαίσιο του Ελληνικού Φεστιβάλ Όπερας το 2017, Λορέτα στην όπερα Τζιάνι Σκίκι του Πουτσίνι με τη Διεθνή Ορχήστρα της Βάρνας υπό την διεύθυνση του Gregory Buchalter, Διδώ στην όπερα του Περσέλ Διδώ και Αινείας σε μία παραγωγή της Kyrenia Opera που πραγματοποιήθηκε στη Βιέννη, και Μητέρα στην όπερα του Τζιαν Κάρλο Μενότι Amahl and the Night Visitors. Τον Σεπτέμβριο του 2021, μέσα στο πλαίσιο του Διεθνούς Φεστιβάλ Κύπρια, ερμήνευσε τον πρωταγωνιστικό ρόλο της Μποναντέα στη σύγχρονη όπερα του Άντη Σκορδή Αργός Σίδηρος, με τη Συμφωνική Ορχήστρα Κύπρου υπό την διεύθυνση της μαέστρου Ζωής Τσόκανου.
Έχοντας τιμηθεί με πλειάδα βραβείων σε διεθνείς διαγωνισμούς, η Μαρίζα Αναστασιάδη έχει πιο πρόσφατα αποσπάσει το Πρώτο Βραβείο στο Concours de musique du Canada Section Mauricie et Centre du Québec, καθώς και το Γκραν Πρι στον Διαγωνισμό Τραγουδιού Stojan Stojanov-Gančev στο Ζάγκρεμπ.
Τον Νοέμβριο του 2022, η Μαρίζα Αναστασιάδη είχε την πρώτη της συνεργασία με τον μαέστρο Günter Neuhold να διευθύνει τη Συμφωνική Ορχήστρα Κύπρου σε μία συναυλία τσέχικης μουσικής. Επερχόμενες εμφανίσεις της περιλαμβάνουν τον ρόλο της Ντόνα Ελβίρα στο Ντον Τζιοβάνι του Μότσαρτ μέσα στο πλαίσιο του Φεστιβάλ Όπερας της Βιέννης τον Ιούλιο του 2023, και τον ρόλο της Μαρίας Κάλλας σε μια παραγωγή του Κύπριου δραματουργού Paul Lambis, που θα πραγματοποιηθεί σε Νέα Υόρκη, Λονδίνο και Κύπρο.