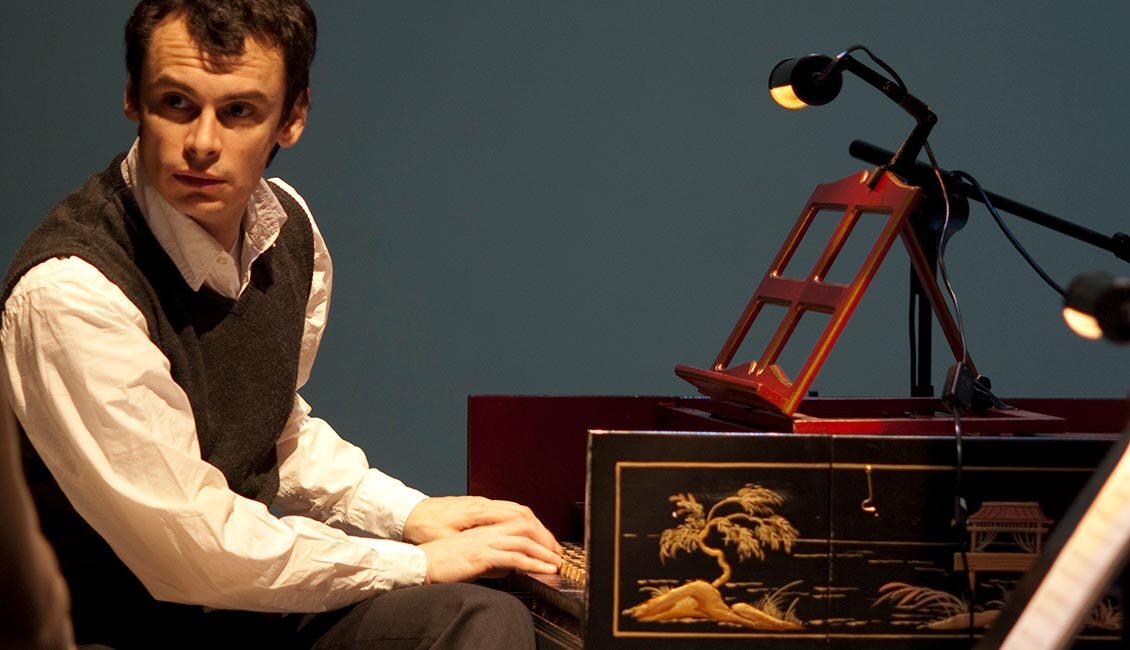 Markellos Chryssicos studied the harpsichord with Margarita Dalmati in Athens. He continued his studies on Historical Performance in Paris with S. Romeo and O. Baumont, and in Salzburg's Mozarteum with K. Gilbert and S. Rampe. He completed his studies at the Conservatoire de musique de Genève (having been awarded Prix de virtuosité avec Distinction) with the late Christiane Jaccottet of whom he was the last student.
Having acquired a vast and solid repertoire ranging from early madrigals to Rossini operas, Chryssicos founded in 2009 the Latinitas Nostra ensemble making odd musical pairings the trademark of the group – in projects such as An English Traveller into the Levant with Elizabethan and Ottoman music (Athens Festival, 2013) and "… for soon I will be layed in earth…" with French Leçons des Ténèbres and Rebetiko music (Onassis Cultural Center, 2015). His production of Monteverdi's Incoronazione di Poppea, in 2011, as well as Stradella's San Giovanni Battista, in 2015, have been acclaimed as highlights of the International Athens Festival.
As an assistant conductor to George Petrou, Markellos Chryssicos participated in various staged productions as well as award winning recordings for MDG, Decca and Sony, including, George Frideric Handel's Arianna in Creta, Tamerlano, Giulio Cesare, Alessandro Severo, Arminio, Alessandro; Christoph Willibald Gluck's Il Trionfo di Clelia, and Johann Adolph Hasse's Siroe.
Chryssicos has conducted the Venice Baroque Orchestra in a double CD recording on Metastasio's L'Olimpiade (Naïve label) that was awarded the distinction Choc du Monde de la Musique. As a conductor, he frequently collaborates with Armonia Atenea, the State Symphony Orchestra of Athens, the State Symphony Orchestra of Thessaloniki, the Irish Baroque Orchestra, Bach Consort Wien, amongst others, and has appeared in such renowned venues as the Greek National Opera, the Festspiele Halle, the Theater an der Wien, the Kammeroper Wien (opening in 2018 the season for the second time in a row), Wigmore Hall, Bayreuth opera.
His discography with the Latinitas Nostra includes Lamento – a CD with 17th century lamenti –featuring the Italian mezzosoprano Romina Basso (Naïve label), which received raving reviews from the international press, and Dilettanti – a collection of 18th century dilettante music – with the Spanish countertenor Xavier Sabata (Aparté label) that was awarded a Melomano de Oro.
Showing a keen interest in the music of the 20th and 21st centuries, Markellos Chryssicos' forthcoming engagements include Gian Carlo Menotti's opera Amahl and the Night Visitors with Armonia Atenea and the premiere of the new opera Visions and Wonders by Dimitris Maragopoulos.