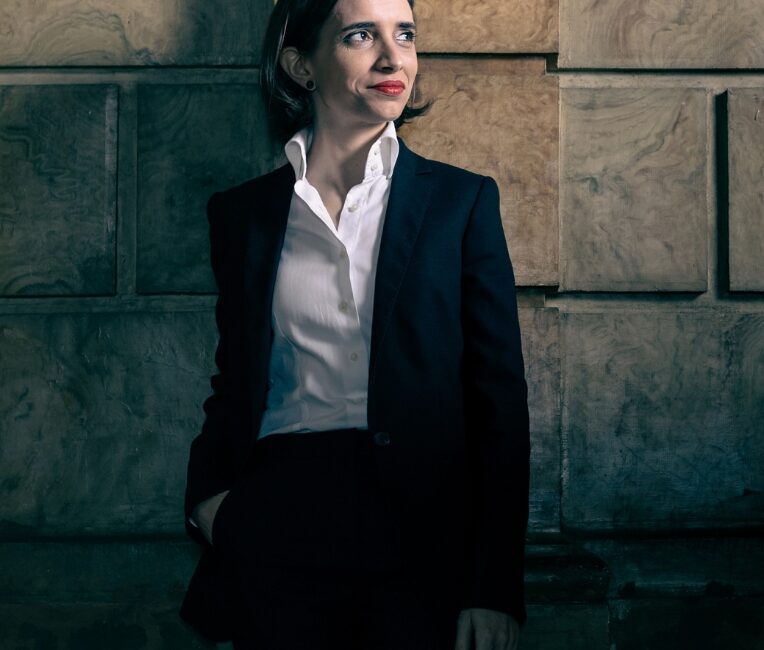 Marta Menezes is one of the most prominent Portuguese pianists of her generation. Her recitals explore the dialogue between tradition and originality, through proposals that highlight the nuances, subtlety, and musical sensitivity characteristic of her interpretation. Her carefully chosen repertoire, which reflects an affinity with Beethoven, spans from the Baroque to the present day and often includes works by lesser-known composers, many of them Portuguese.
Among her recent collaborations, notable are the concerts with the Orquestra Metropilitana de Lisboa, the Orquesta Nacional de España, the Orquesta de València, the Orquestra Filarmonia das Beiras, the Orquestra Clássica do Centro, and the Orquestra sem Fronteiras. She has worked with conductors such as Nuno Coelho, Jaime Martín, Karel Mark Chichon, Pedro Amaral, Pedro Neves, Jan Wierzba, and Martim Sousa Tavares. In recital, she has performed in important auditoriums and festivals around the world, including, the National Centre for the Performing Arts (Beijing), St. Martin-in-the-Fields (London), Festival Urodzinowy Fryderyk Chopin (Warsaw), and Centro Cultural de Belém (Lisbon).
Marta plays an active role in promoting Portuguese music, by including this repertoire in her concerts. Among her recent projects, "5 Encores for Beethoven" (2020) stands out, in which she presented Beethoven's five Piano Concertos and premiered five encores to the Concertos, commissioned from composers of her generation. Last season, she gave the world premiere of Tiago Derriça's Piano Concerto, dedicated to her.
Marta completed her bachelor's and master's degrees in piano at the Escola Superior de Música de Lisboa. She finished her master's degree with the highest distinction. She continued her studies in London at the Royal College of Music with Dmitri Alexeev and later in the United States with Arnaldo Cohen, earning her doctorate from the Indiana University – Jacobs School of Music.
Throughout her career, Menezes has won several awards and distinctions, including First Prize in the Beethoven Competition at the Royal College of Music and in the Nice Côte D'Azur International Piano Competition, the Silver Medal of Honor and Distinction for her career as a pianist, awarded by the Instituto Politécnico de Lisboa, and the Silver Medal at the Global Music Awards (USA) for her CD featuring works by Beethoven and Lopes-Graça, in the categories of Classical Piano and Emerging Artist. Marta Menezes currently resides in Madrid.
---
Η Marta Menezes είναι μια από τις πιο εξέχουσες Πορτογαλίδες πιανίστριες της γενιάς της. Τα ρεσιτάλ της διερευνούν τον διάλογο μεταξύ παράδοσης και πρωτοτυπίας, μέσα από προτάσεις που αναδεικνύουν τις αποχρώσεις, τη λεπτότητα και τη μουσική ευαισθησία των ερμηνειών της. Το ρεπερτόριό της, άρτια επιμελημένο, αντικατοπτρίζει την αγάπη της για τον Μπετόβεν, και εκτείνεται από την μπαρόκ μουσική μέχρι τη σύγχρονη, περιλαμβάνοντας συχνά έργα λιγότερο γνωστών συνθετών, πολλοί από τους οποίους είναι Πορτογάλοι.
Οι πρόσφατες συνεργασίες της συμπεριλαμβάνουν αξιοσημείωτες συναυλίες με τη Μητροπολιτική Ορχήστρα της Λισαβώνας, την Εθνική Ορχήστρα Ισπανίας, την Ορχήστρα της Βαλένθια, και στην Πορτογαλία με της Φιλαρμονική Ορχήστρα das Beiras, και τις ορχήστρες Clássica do Centro και sem Fronteiras. Έχει συνεργαστεί με μαέστρους όπως οι Nuno Coelho, Jaime Martín, Karel Mark Chichon, Pedro Amaral, Pedro Neves, Jan Wierzba και Martim Sousa Tavares. Έχει εμφανισθεί για ρεσιτάλ σε σημαντικές αίθουσες και φεστιβάλ ανά το παγκόσμιος, μεταξύ άλλων, Εθνικό Κέντρο Παραστατικών Τεχνών (Πεκίνο), St. Martin-in-the-Fields (Λονδίνο), Φεστιβάλ Φρεντερίκ Σοπέν (Βαρσοβία), και Πολιτιστικό Κέντρο Μπελέμ (Λισαβώνα).
Η Marta έχει ενεργό ρόλο στην προώθηση της πορτογαλικής μουσικής, την οποία εντάσσει στις συναυλίες της. Από τα πρόσφατα πρότζεκτ της ξεχωρίζει το «5 Encores για τον Μπετόβεν» (2020), στο οποίο παρουσίασε τα πέντε Κοντσέρτα για πιάνο του Μπετόβεν και παράλληλα παρουσίασε πέντε διαφορετικά encore για τα κοντσέρτα, που γράφτηκαν επί παραγγελία από σύγχρονους Πορτογάλους συνθέτες. Την περασμένη σεζόν έδωσε την παγκόσμια πρεμιέρα του κοντσέρτου για πιάνο του Tiago Derriça, το οποία είναι αφιερωμένο σε αυτήν.
Η Marta ολοκλήρωσε το πτυχίο και το μεταπτυχιακό της στο πιάνο στην Ανώτερη Σχολή Μουσικής της Λισαβώνας. Ολοκλήρωσε το μεταπτυχιακό της με την ανώτατη διάκριση. Συνέχισε τις σπουδές της στο Λονδίνο στο Βασιλικό Κολέγιο Μουσικής υπό τον Dmitri Alexeev και αργότερα στις Ηνωμένες Πολιτείες υπό τον Arnaldo Cohen, αποκτώντας το διδακτορικό της από το Πανεπιστήμιο της Ινδιάνα – Σχολή Μουσικής Jacobs.
Κατά τη διάρκεια της σταδιοδρομίας της, η Menezes έχει αποσπάσει μεγάλο αριθμό βραβείων και διακρίσεων, μεταξύ άλλων, Πρώτο Βραβείο στον Διαγωνισμό Μπετόβεν του Βασιλικού Κολλεγίου Μουσικής, Πρώτο Βραβείο στον Διεθνή Διαγωνισμό Πιάνου Νίκαιας στην Κυανή Ακτή, Αργυρό Μετάλλιο Τιμής και Διάκρισης για την πιανιστική της σταδιοδρομία από το Πολυτεχνικό Ινστιτούτο της Λισαβώνας, Αργυρό Μετάλλιο στα Παγκόσμια Βραβεία Μουσικής (ΗΠΑ) για το άλμπουμ της με έργα των Μπετόβεν και Λόπες-Γκράσα, στις κατηγορίες Κλασικό Πιάνο και Πρωτοεμφανιζόμενος Καλλιτέχνης. Επί του παρόντος, η Marta Menezes διαμένει στη Μαδρίτη.