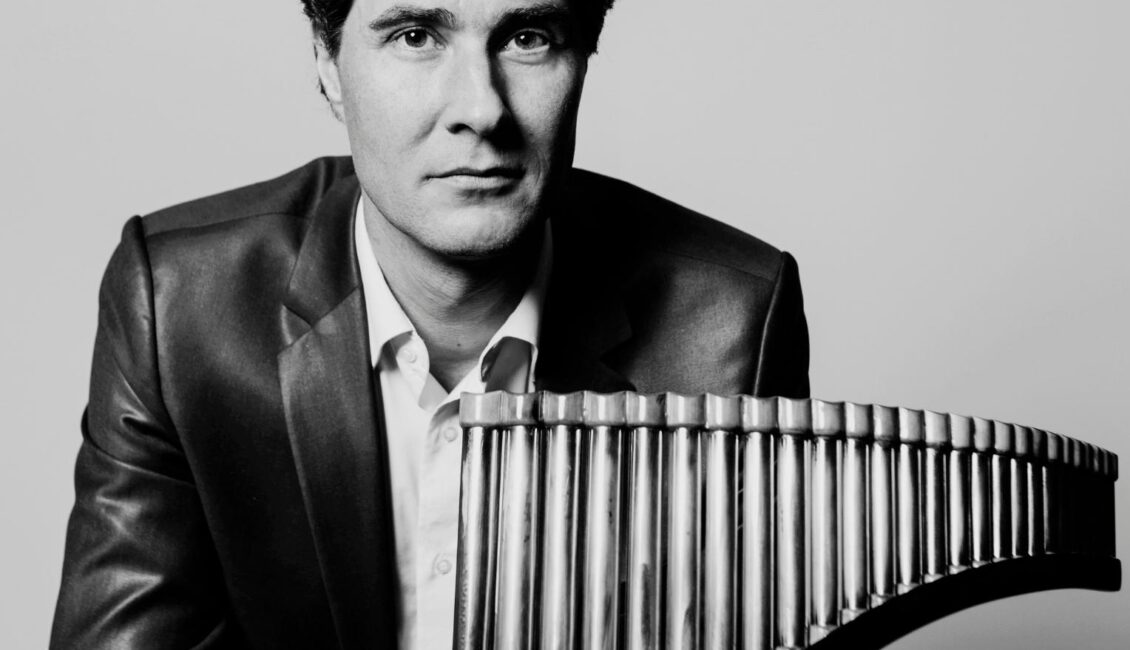 Internationally recognized as one of the foremost panpipes players of our time, Matthijs Koene is celebrated for his ground-breaking vision and approach, which have vastly expanded the technical and expressive capabilities of his instrument, and introduced it to the classical music world.
With a repertoire spanning from the early Renaissance to the 21st-century, Matthijs Koene has inspired numerous composers to write pieces for panpipes. To date, more than 200 new works have been written for and dedicated to Matthijs: solo, in chamber music, with organ, as part of an ensemble and solo with orchestra. He has collaborated extensively with composers such as Theo Loevendie, Roderik de Man, Calliope Tsoupaki, Klaas de Vries, Fabio Nieder, Martijn Padding, and Klas Torstensson, to name but a few.
Matthijs Koene has received several awards, including the Vriendenkrans Prize from the Royal Concertgebouw in Amsterdam in 2003, and more recently, a Diapason d' Or award for his CD La Flute de Pan & Quintettes by Jean Cras. He has appeared in venues such as the Concertgebouw in Amsterdam, De Doelen in Rotterdam, the Carnegie Hall in New York and the National Polish Radio Symphony Orchestra Concert Hall, while he has been invited to perform in important festivals of contemporary music, such as November Music (Netherlands) and Donaueschinger Musiktage (Germany).
As a soloist, Matthijs has appeared with leading orchestras and ensembles, such as the Dutch Radio Philharmonic Orchestra, the Polish National Radio Symphony Orchestra, I Barocchisti, and the Combattimento Consort, under the baton of such renowned conductors as Markus Stenz, Franck Ollu and Diego Fasolis. He is a member of the Black Pencil Ensemble, and he has collaborated with the Musikfabrik, Ictus, and Oxalys ensembles.
Matthijs Koene received his first panpipes lessons at the age of 7, and continued his studies at the Conservatorium van Amsterdam, where he graduated with distinction. In 2005, he was appointed professor of Panpipes at the same institute. He plays on a pan flute that was developed after a two-year-collaboration with the organ manufacturer Flentrop. The instrument was granted to him on loan by the Dutch Musical Instruments Foundation.
---
Διεθνώς αναγνωρισμένος ως ένας από τους κορυφαίους δεξιοτέχνες του πανφλάουτου, ο Matthijs Koene φημίζεται τόσο για το όραμα όσο και για την πρωτοποριακή του προσέγγιση – στοιχεία που έχουν διευρύνει σε μεγάλο βαθμό τις τεχνικές και εκφραστικές δυνατότητες του οργάνου, και το εισήγαγαν στον κόσμο της κλασικής μουσικής.
Με ρεπερτόριο που εκτείνεται από την πρώιμη Αναγέννηση έως τον 21ο αιώνα, ο Matthijs Koene έχει εμπνεύσει αμέτρητους συνθέτες να γράψουν κομμάτια για το πανφλάουτο, και περισσότερα από 200 νέα έργα έχουν αφιερωθεί σε αυτόν: σόλο, μουσική δωματίου, με εκκλησιαστικό όργανο, ως μέρος συνόλου ή σόλο με ορχήστρα. Ο Koene έχει συνεργαστεί εκτενώς με συνθέτες όπως οι Theo Loevendie, Roderik de Man, Klaas de Vries, Fabio Nieder, Martijn Padding, Klas Torstensson και Καλλιόπη Τσουπάκη, μεταξύ άλλων.
Οι περγαμηνές του Matthijs Koene περιλαμβάνουν το βραβείο Vriendenkrans από το Κοντσερτγκεμπάου του Άμστερνταμ το 2003, και πιο πρόσφατα, το Diapason d' Or για τον ψηφιακό του δίσκο La Flute de Pan & Quintettes του Ζαν Κράς. Έχει εμφανισθεί σε αίθουσες όπως το Κοντσερτγκεμπάου του Άμστερνταμ, το Ντε Ντούλεν του Ρότερνταμ, το Κάρνεγκι της Νέας Υόρκης και το μέγαρο της Συμφωνικής Ορχήστρας της Εθνικής Ραδιοφωνίας της Πολωνίας, ενώ έχει προσκληθεί σε σημαντικά φεστιβάλ σύγχρονης μουσικής, όπως το November Music (Ολλανδία) και το Donaueschinger Musiktage (Γερμανία).
Ως σολίστ, ο Matthijs έχει εμφανισθεί με κορυφαίες ορχήστρες και σύνολα, μεταξύ άλλων, Φιλαρμονική Ορχήστρα του Ραδιοφώνου της Ολλανδίας, Συμφωνική Ορχήστρα της Εθνικής Ραδιοφωνίας της Πολωνίας, I Barocchisti, και Combattimento Consort, υπό τη διεύθυνση φημισμένων μαέστρων όπως οι Markus Stenz, Franck Ollu και Ντιέγκο Φασόλης. Είναι μέλος του Black Pencil Ensemble και έχει συμπράξει με τα σύνολα Musikfabrik, Ictus και Oxalys.
Ο Matthijs Koene άρχισε να μαθαίνει πανφλάουτο σε ηλικία 7 ετών, και συνέχισε τις σπουδές του στο Conservatorium van Amsterdam, από όπου αποφοίτησε με άριστα. Το 2005 διορίστηκε καθηγητής του πανφλάουτου στο ίδιο ίδρυμα. Το πανφλάουτο στο οποίο παίζει είναι προϊόν διετούς συνεργασίας με τον κατασκευαστή οργάνων Flentrop. Του παραχωρήθηκε από το Ολλανδικό Ίδρυμα Μουσικών Οργάνων.