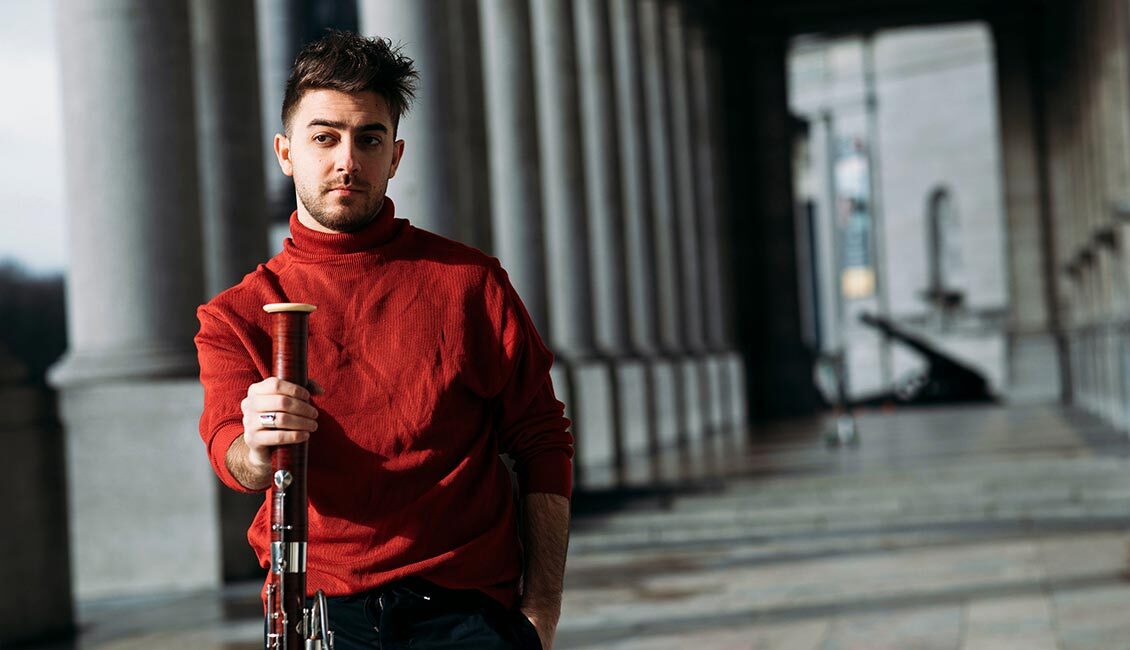 Born in Cyprus, in 1992, into a family of musicians, Mavroudes Troullos is a highly trained bassoonist who stands out for his musical sensitivity and maturity. In 2019, Mavroudes was awarded the First Prizes in the Grand Prize Virtuoso International Music Competitions in Amsterdam, Paris and London, the Second Prize in the North International Music Competition in Sweden (2018), the Horlait-Dapsens Award in Belgium (2018), and he has been named Ambassador of the Koninklijk Conservatorium Brussel.
Mavroudes Troullos has given recitals in prestigious venues all over Europe, including the Amphitheatre of the Philharmonie in Paris, the Elgar Room of the Royal Albert Hall, and the Kleine Zaal of Concertgebouw Amsterdam, and he has appeared as a soloist in renowned festivals such as the Festival Radio France Occitanie Montpellier, and with orchestras such as the Koninklijke Muziekkapel van de Gidsen and the Antwerpen Camerata, in which he is Artist-In-Residence for the 2021/22 season.
At the age of 21, Mavroudes was appointed Second Principal Bassoonist at the Greek National Opera, and he has collaborated with a number of orchestras including Kamerata Armonia Atenea Orchestra, the Brussels Philharmonic, the Belgian National Orchestra, the Royal Theater of La Monnaie and the Cyprus Symphony Orchestra.
In chamber music, Mavroudes frequently joins forces with pianist Lily Maisky and harpist Roberta Brambilla, and his passion for contemporary music has inspired a number of great living composers, such as Philippe Hersant, to dedicate works to him.
Mavroudes' discography includes radio recordings in Germany, Cyprus and Belgium. His recent album with harpist Rachel Talitman, featuring the premiere of works for harp and bassoon by Concone Luigi (c.1800), was released in December 2021 on Harp & Company label, and it has already received raving reviews from the international press. Mavroudes Troullos received a Diploma in bassoon from the Athens Conservatory of Music and Drama (instructor, George Faroungias), a Bachelor's degree from the Hochschule fur Musik und Theater in Leipzig (instructor, J.M. Thome) and a Master's degree from the Koninklijk Conservatorium Brussel (instructor, Luc Loubry). He is currently a PhD Researcher in the Arts at the LUCA School of Arts in collaboration with the KU Leuven. Since 2018, he has been a professor of Bassoon and Chamber Music at the Gemeentelijke  Academie voor Muziek, Woord en Dans Sint-Pieters Woluwe in Belgium.
---
Γεννημένος στην Κύπρο το 1992, σε οικογένεια μουσικών, ο Μαυρουδής Τρούλλος είναι ένας άρτια καταρτισμένος φαγκοτίστας, ο οποίος ξεχωρίζει για τη μουσική του ευαισθησία και ωριμότητα. Το 2019, ο Μαυρουδής κέρδισε τα Πρώτα Βραβεία στους διεθνείς διαγωνισμούς Grand Prize Virtuoso σε Άμστερνταμ, Παρίσι και Λονδίνο, ενώ έχει αποσπάσει το Δεύτερο Βραβείο στον Διεθνή Μουσικό Διαγωνισμό North στη Σουηδία (2018), το Βραβείο Horlait-Dapsens στο Βέλγιο (2018), και τον τίτλο του Πρέσβη για το Βασιλικό Ωδείο των Βρυξελλών.
Ο Μαυρουδής Τρούλλος έχει δώσει ρεσιτάλ σε σημαντικές αίθουσες στην Ευρώπη, μεταξύ άλλων, Αμφιθέατρο της Φιλαρμονικής του Παρισιού, Αίθουσα Έλγκαρ του Royal Albert Hall στο Λονδίνο, και Kleine Zaal του Κοντσερτγκεμπάου του Άμστερνταμ, και έχει εμφανισθεί ως σολίστ σε περίφημα φεστιβάλ όπως το Φεστιβάλ Γαλλικής Ραδιοφωνίας του Μονπελιέ, και με ορχήστρες όπως Βασιλική Συμφωνική Μπάντα του Βελγίου και Καμεράτα της Αμβέρσας, στην οποία διατελεί Καλλιτέχνης-εν-διαμονή για τη σαιζόν 2021/22.
Σε ηλικία 21 ετών, ο Μαυρουδής διορίστηκε Β' Κορυφαίος Φαγκοτίστας στην Εθνική Λυρική Σκηνή, ενώ συνεργάστηκε με πολλές άλλες ορχήστρες όπως Καμεράτα Ορχήστρα των Φίλων της Μουσικής, Φιλαρμονική των Βρυξελλών, Εθνική Ορχήστρα του Βελγίου, Βασιλικό Θέατρο της La Monnaie Βρυξελλών, και Συμφωνική Ορχήστρα Κύπρου.
Στη μουσική δωματίου, ο Μαυρουδής ενώνει συχνά τις δυνάμεις του με την πιανίστρια Lily Maisky και την αρπίστρια Roberta Brambilla. Το πάθος του για τη σύγχρονη μουσική έχει εμπνεύσει αρκετούς σημαντικούς εν ζωή συνθέτες, όπως ο Φιλίπ Ερσάντ, να του αφιερώσουν έργα.
Η δισκογραφία του Μαυρουδή περιλαμβάνει ηχογραφήσεις για το ραδιόφωνο σε Γερμανία, Βέλγιο και Κύπρο. Το πρόσφατο άλμπουμ του με την αρπίστρια Rachel Talitman, που περιλαμβάνει την πρεμιέρα των έργων για άρπα και φαγκότο του Concone Luigi (γ. 1800), κυκλοφόρησε τον Δεκέμβριο του 2021 από την εταιρεία Harp & Company, και έχει ήδη λάβει τις επευφημίες των μουσικοκριτικών διεθνώς. Ο Μαυρουδής Τρούλλος έχει λάβει δίπλωμα στο φαγκότο από το Ωδείο Αθηνών (υπό τη διδασκαλία του Γεώργιου Φαρούγγια), πτυχίο από το Πανεπιστήμιο Μουσικής και Θεάτρου «Φέλιξ Μέντελσον Μπαρτόλντι» στη Λειψία (υπό τη διδασκαλία του JM Thome) και μεταπτυχιακό Master's από το Βασιλικό Ωδείο Βρυξελλών (υπό τη διδασκαλία του Luc Loubry). Επί του παρόντος, είναι υποψήφιος για διδακτορικό τίτλο από την Σχολή Τεχνών LUCA σε συνεργασία με το Καθολικό Πανεπιστήμιο του Λέβεν. Από το 2018, είναι καθηγητής Φαγκότου και Μουσικής Δωματίου στην Ακαδημία Μουσικής De Woluwe-Saint-Pierre στο Βέλγιο.