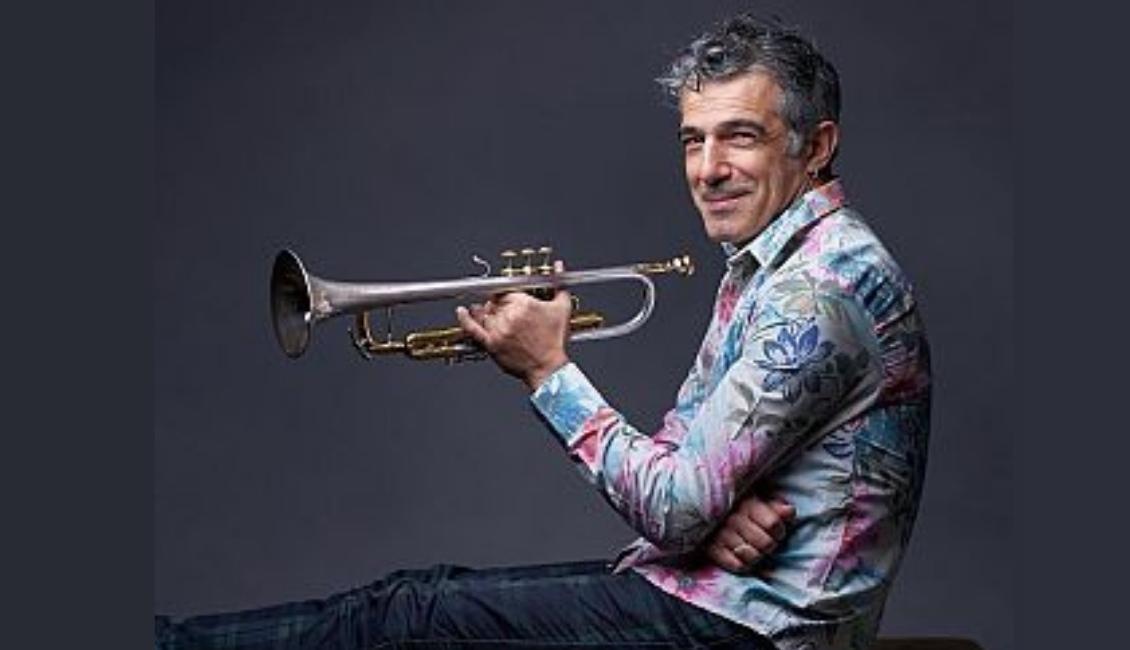 Winner of a wide array of awards, Paolo Fresu is internationally acclaimed as a true virtuoso of jazz trumpet. Hailing from Sardinia, he is a graduate of the Cagliari Conservatory, where he studied under Enzo Morandini. In 1990, he won the Top Jazz Prize of Musica Jazz magazine as the Best Italian Musician, Best Group (for Paolo Fresu Quintet) and Best Record (for the album, Live in Montpellier). In 1996, in Paris, he won the coveted Prize of Académie du Jazz, and the prestigious Django d'Or Prize as the Best European Jazz Musician, and in 2000, he was nominated as the Best International Musician. A long series of awards have followed one another to date, among which the honorary citizenships of Nuoro, Junas (France) and Sogliano Cavour, and the Honorary Degree from La Bicocca University of Milan and the Berklee College of Music in Boston.
Paolo Fresu has repeatedly appeared as a soloist with such important orchestras as the NDR – German Radio Orchestra of Hamburg, ONJ – French National Jazz Orchestra, Rai Symphony Orchestra, Verona Arena Orchestra, Grande Orchestra Italiana, I Virtuosi Italiani, among others. He has recorded over 400 records – of which over 90 in his name or as a leader, and many in collaboration with other renowned international musicians, eg Michael Nyman, Evan Parker, Ornella Vanoni, Gunther Schüller, Negramaro, Farafina, in "mixed" projects such as jazz-ethnic or world music, contemporary music and ancient music. He is also involved in the production of numerous multimedia projects, collaborating with actors, dancers, painters, sculptors, and poets, as well as writing music for film, documentary, video, ballet, and the theatre.
Fresu is the founder of Sardinia's celebrated Time in Jazz – a festival which, for over 35 years, has managed to transform the picturesque, small town of Berchidda into a vibrant hub of artistic expression. For over 25 years, he has been the artistic director and lecturer of the Nuoro Jazz Seminars, and he served as the director of the Festival of Bergamo for three years. In 2010, he founded his own label Tŭk Music.
---
Νικητής μιας τεράστιας γκάμας βραβείων, ο Paolo Fresu (τρομπέτα & φλούγκελχορν) είναι διεθνώς αναγνωρισμένος ως ένας πραγματικός βιρτουόζος της τζαζ τρομπέτας. Με καταγωγή από τη Σαρδηνία, είναι απόφοιτος του Ωδείου του Κάλιαρι, όπου σπούδασε υπό τον Έντζο Μοραντίνι. Το 1990, κέρδισε το Μεγάλο Βραβείο Τζαζ του περιοδικού Musica Jazz ως Καλύτερος Ιταλός Μουσικός, Καλύτερο Συγκρότημα (για το Paolo Fresu Quintet) και Καλύτερο Άλμπουμ (για το Live in Montpellier). Το 1996, στο Παρίσι, κέρδισε το πολυπόθητο βραβείο της Ακαδημίας Τζαζ, και το περίφημο βραβείο Django d'Or ως ο Καλύτερος Ευρωπαίος Τζαζ Μουσικός, ενώ το 2000 ήταν υποψήφιος ως ο Καλύτερος Διεθνής Μουσικός. Έκτοτε, το ένα βραβείο διαδέχεται το άλλο, και οι διακρίσεις του Fresu περιλαμβάνουν την απονομή τιμητικών ιθαγενειών από Νουόρο, Ζούνα (Γαλλία) και Σολιάνο Καβούρ, καθώς και πτυχίων από το Πανεπιστήμιο La Bicocca του Μιλάνου και του Κολεγίου Μουσικής του Μπέρκλι της Βοστώνης.
Ο Paolo Fresu έχει εμφανισθεί κατ' επανάληψη ως σολίστ με σημαντικές ορχήστρες όπως η NDR – Συμφωνική Ορχήστρα Γερμανικής Ραδιοφωνίας Αμβούργου, ONJ – Εθνική Ορχήστρα Τζαζ Γαλλίας, Συμφωνική Ορχήστρα της Ιταλικής Ραδιοφωνίας, Ορχήστρα της Αρένα στη Βερόνα, και ορχήστρες Grande Italiana και I Virtuosi Italiani, μεταξύ άλλων. Έχει ηχογραφήσει πάνω από 400 άλμπουμ – εκ των οποίων πέραν των 90 είναι προσωπικά του ή ως επικεφαλής συγκροτήματος, και πολλά σε συνεργασία με άλλους καταξιωμένους διεθνείς μουσικούς, π.χ. Μάικλ Νάιμαν, Έβαν Πάρκερ, Ορνέλα Βανόνι, Γκούντερ Σύλερ, Νεγκράμαρο, Φαραφίνα, σε διακαλλιτεχνικά πρότζεκτ όπως τζαζ-εθνίκ ή παγκόσμια μουσική, σύγχρονη μουσική και αρχαία μουσική. Είναι επίσης ενεργός στην παραγωγή πολυμεσικών πρότζεκτ, συνεργαζόμενος με ηθοποιούς, χορευτές, ζωγράφους, γλύπτες και ποιητές, και γράφοντας μουσική για ταινίες, ντοκιμαντέρ, βίντεο, μπαλέτο και θέατρο.
Ο Fresu είναι ο ιδρυτής του περιβόητου Time in Jazz – ενός φεστιβάλ που, για περισσότερα από 35 χρόνια, έχει καταφέρει να μεταμορφώσει τη γραφική, μικρή πόλη της Μπερκίντα στη Σαρδηνία σε ένα ολοζώντανο κέντρο καλλιτεχνικής έκφρασης. Για περισσότερα από 25 χρόνια, ήταν καλλιτεχνικός διευθυντής και λέκτορας των Σεμιναρίων Τζαζ στο Νουόρο, και υπηρέτησε ως διευθυντής του Φεστιβάλ του Μπέργκαμο για τρία χρόνια. Το 2010 ίδρυσε τη δική του δισκογραφική εταιρεία, Tŭk Music.