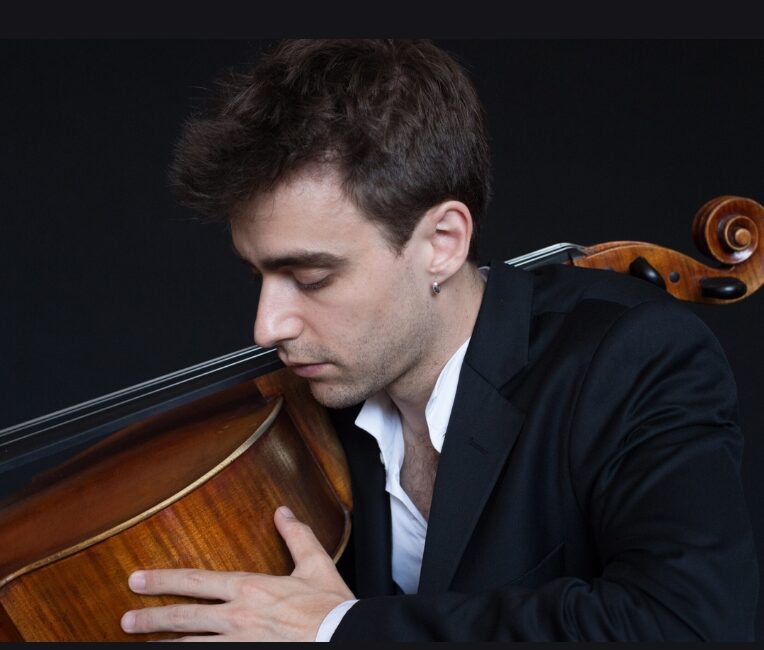 Born in 1988 in Barcelona, Pau Codina has performed extensively as a soloist and chamber musician in many prestigious venues throughout Europe, including London's Wigmore Hall, Royal Festival Hall, Barbican Hall, the Concertgebouw in Amsterdam, Flagey and Bozar in Brussels, Pau Casals Auditorium, L'Auditori de Barcelona, and Palau de la Música Catalana. As a soloist, he has appeared with such distinguished orchestras as the Royal Philharmonic Orchestra of Liege under the baton of Christian Arming – with whom he has recorded Saint-Saens' Suite Op.16 for cello and orchestra for Fuga Libera label,Franz Schubert Philharmonia under the baton of Salvador Mas – with whom he has recorded Schumann's Cello Concerto in A minor, Op.129, the Barcelona Symphony Orchestra, the Chamber Orchestra of Wallonie, the RTVE Orchestra in Madrid, the Franz Liszt Chamber Orchestra of Budapest and the Andorra Chamber Orchestra. Pau Codina has garnered great critical acclaim for his debut solo album, Landscapes, released under the Seed Music label.
Prize winner in several competitions, Codina has been awarded the International Guilhermina Suggia Award, the Kronberg Cello Festival Schlosskonzert Prize, the First Prize in the Concurso Permanente de Jeunesses Musicales Spain, the Third Prize and Critic's Award in the Primer Palau Competition in Barcelona.
Pau Codina started his cello studies at the age of five. He is a graduate of the Yehudi Menuhin School, the Guildhall School of Music and Drama in London, and Belgium's Chapelle Musicale Reine Elisabeth, where he studied with Louise Hopkins and Gary Hoffman. He has recently become a member of the Esbjerg Ensemble, Oculi Ensemble and Trio Fortuny.
---
Γεννηθείς το 1988 στη Βαρκελώνη, ο Pau Codina έχει εμφανισθεί εκτενώς ως σολίστ και μουσικός δωματίου σε πολλές σημαντικές αίθουσες ανά την Ευρώπη, μεταξύ άλλων, Γουίγκμορ, Μπάρμπιγκαν, και Ρόγιαλ Φέστιβαλ Χολ του Λονδίνου, Κοντσερτγκεμπάου του Άμστερνταμ, Φλαζέ και Μποζάρ των Βρυξελλών, Αμφιθέατρο Πάου Καζάλς, Αμφιθέατρο της Βαρκελώνης και Μέγαρο Καταλανικής Μουσικής. Ως σολίστ, έχει συμπράξει με διακεκριμένες ορχήστρες όπως Βασιλική Φιλαρμονική Ορχήστρα της Λιέγης υπό τη διεύθυνση του Christian Arming – με την οποία ηχογράφησε τη Σουίτα Έργο16 για βιολοντσέλο και ορχήστρα του Σαιν-Σανς για την εταιρεία Fuga Libera, Ορχήστρα Φιλαρμόνια Φραντς Σούμπερτ υπό τη διεύθυνση του Salvador Mas – με την οποία ηχογράφησε το Κοντσέρτο για Βιολοντσέλο σε Λα ελάσονα, Έργο 129 του Σούμαν, Συμφωνική Ορχήστρα της Βαρκελώνης, Ορχήστρα Δωματίου της Βαλονίας, Συμφωνική Ορχήστρα Ισπανικής Ραδιοφωνίας και Τηλεόρασης στη Μαδρίτη, Ορχήστρα Δωματίου Φραντς Λιστ της Βουδαπέστης, και Ορχήστρα Δωματίου της Ανδόρας. Ο Pau Codina έχει κερδίσει τις επευφημίες των μουσικοκριτικών για το δισκογραφικό του ντεμπούτο με το σόλο άλμπουμ Landscapes, που κυκλοφόρησε για την εταιρεία Seed Music.
Έχοντας αποσπάσει βραβεία σε πλειάδα διαγωνισμών, ο Codina έχει τιμηθεί με το Διεθνές Βραβείο Guilhermina Suggia, το Βραβείο Schlosskonzert του Φεστιβάλ Βιολοντσέλου του Κρόνμπεργκ, το Πρώτο Βραβείο στον Μουσικό Διαγωνισμό Νέων Ισπανίας, το Τρίτο Βραβείο και το Βραβείο Κριτικών στον Διαγωνισμό Primer Palau της Βαρκελώνης.
Ο Pau Codina ξεκίνησε να μαθαίνει βιολοντσέλο σε ηλικία πέντε ετών υπό την Eulàlia Subirà στη Βαρκελώνη. Είναι απόφοιτος της Σχολής Γεχούντι Μενουχίν, της Μουσικής και Δραματικής Σχολής του Γκίλντχολ στο Λονδίνο, και του Μουσικού Παρεκκλησίου Βασίλισσας Ελισάβετ του Βελγίου, όπου σπούδασε υπό τους Louise Hopkins και τον Gary Hoffman. Προσφάτως έγινε μέλος των συνόλων Esbjerg, και Oculi, και του Τρίο Fortuny.