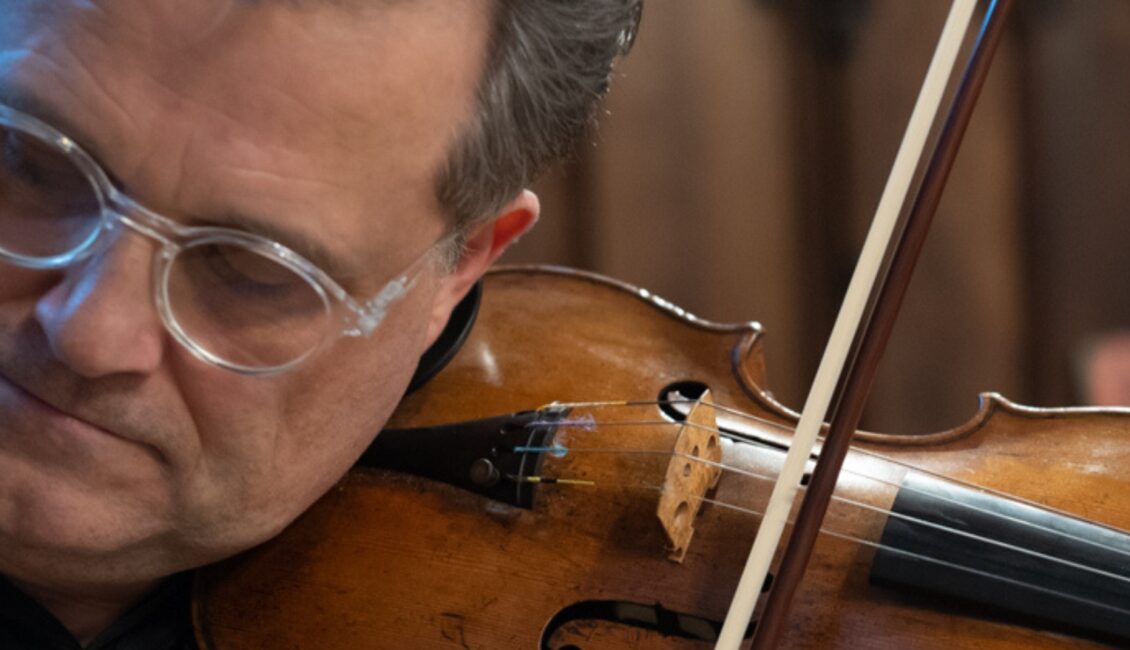 "Skærved is fully on top of even the most stratospheric technical challenges".
Gramophone Magazine
Peter Sheppard Skærved is acclaimed internationally for performances of a vast range of solo repertoire. His repertoire stretches from the late 16th century to hundreds of works written for him: these include major works by established 'greats' such as Hans Werner Henze and George Rochberg as well as many young composers with whom he collaborates worldwide.
Peter is a Grammy-nominated recording artist, with over one hundred critically acclaimed albums to his name. His most recent concerto release, recorded with the Vienna Radio Orchestra, was released on Naxos this summer. He is currently performing, filming, and recording on great instruments in the collections of the Library of Congress, Washington DC, the Ashmolean Museum, Oxford, the Metropolitan Museum, New York City. He is Honorary Professor at the Royal Northern College of Music, Manchester, Fellow of the Royal Academy of Music, London, and visiting Research Fellow of Goldsmiths, University of London.
Peter Sheppard Skærved is the founder and leader of the Kreutzer Quartet, long celebrated as one of the UK's pioneering ensembles. With them, he has premiered and recorded many new works, including ongoing  cycles by composers Michael Finnissy, David Matthews, Gloria Coates, and Edward Cowie amongst others.
---
« Ο Skærved κυριαρχεί ακόμα και πάνω ακόμα και στις πιο στρατοσφαιρικές τεχνικές προκλήσεις".
Ο Peter Sheppard Skærved έχει αναγνωρισθεί διεθνώς για τις ερμηνείες του σε ένα τεράστιο φάσμα σόλο ρεπερτορίου, που εκτείνεται από τα τέλη του 16ου αιώνα σε εκατοντάδες έργα που γράφτηκαν ειδικά για αυτόν: μεταξύ άλλων έργα από επιφανείς συνθέτες όπως οι Hans Werner Henze και George Rochberg καθώς και από πολλούς νέους συνθέτες με τους οποίους συνεργάζεται ανά το παγκόσμιο.
Ο Peter έχει στο ενεργητικό του μία πλούσια δισκογραφία που περιλαμβάνει πέραν των εκατό επευφημημένων άλμπουμ, καθώς και υποψηφιότητες για βραβείο Γκράμι. Το πιο πρόσφατο άλμπουμ του σε κοντσέρτο, με τη Ραδιοφωνική Ορχήστρα της Βιέννης, κυκλοφόρησε φέτος το καλοκαίρι από τη Naxos. Επί του παρόντος δίνει συναυλίες, κινηματογραφεί και ηχογραφεί σε σπουδαία όργανα στις συλλογές της Βιβλιοθήκης του Κογκρέσου στην Ουάσιγκτον, στο Ασμόλειο Μουσείο της Οξφόρδης, στο Μητροπολιτικό Μουσείο της Νέας Υόρκης. Είναι Επίτιμος Καθηγητής στο Βασιλικό Βόρειο Κολλέγιο Μουσικής στο Μάντσεστερ, Μέλος της Βασιλικής Ακαδημίας Μουσικής του Λονδίνου και επισκέπτης ερευνητής του Γκόλντσμιθς, Πανεπιστημίου του Λονδίνου.
Ο Peter Sheppard Skærved είναι ο ιδρυτής και επικεφαλής του Κουαρτέτου Kreutzer – ενός εκ των πιο φημισμένων πρωτοποριακών συνόλων μουσικής στο Ηνωμένο Βασίλειο. Μαζί με το Κουαρτέτο, έχει ερμηνεύσει σε πρώτη παγκόσμια εκτέλεση και έχει ηχογραφήσει πολλά νέα έργα, συμπεριλαμβανομένων των εν εξελίξει κύκλων των συνθετών Michael Finnissy, David Matthews, Gloria Coates και Edward Cowie μεταξύ άλλων.