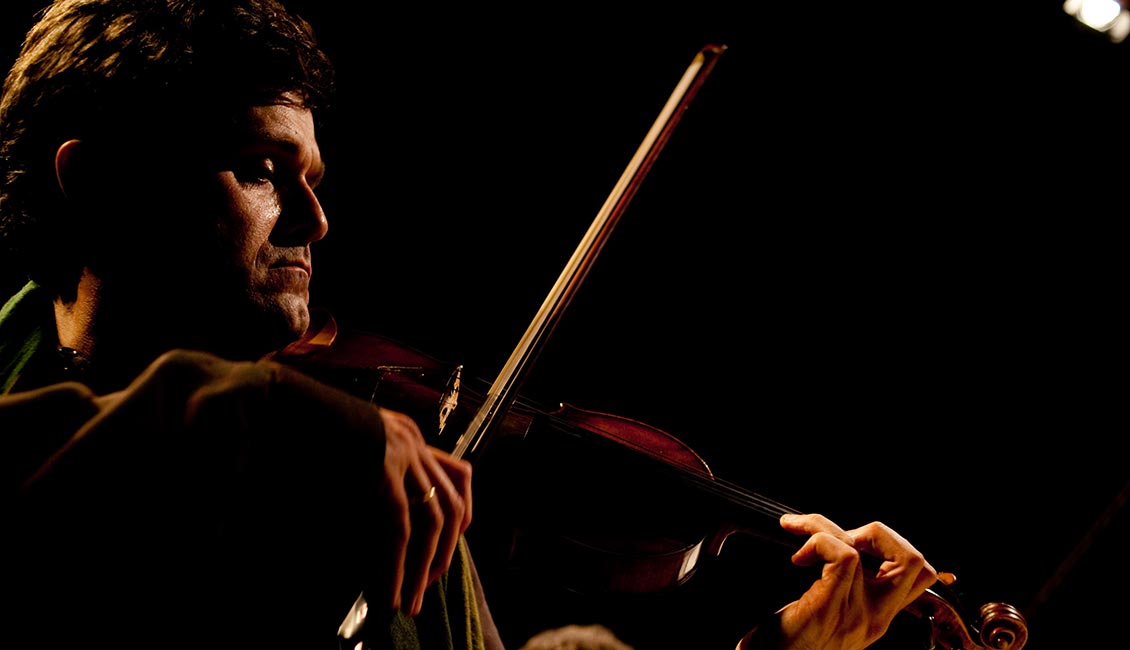 GRAMMY® Award-nominated violinist Peter Sheppard Skærved is the dedicatee of over 400 works for solo violin. He is proud to have worked with Thomas Simaku for over a decade. Their work together has resulted in premieres of a Violin Concerto, a String Quartet, works for violin alone, violin and piano, and violin and cello.
His collaboration with composers began in his late teens, working with the great Hans Werner Henze. Since then composers who have written works for him include Nigel Clarke, Judith Weir, Michael Finnissy, Poul Ruders, Jeremy Dale Roberts, George Rochberg, Elliott Schwartz, Peter Sculthorpe, Judith Bingham, Sadie Harrison, Dmitri Smirnov, Elena Firsova, Howard Skempton, Evis Sammoutis, Jörg Widmann, Michael Alec Rose, David Gorton, Rosalind Page, Sıdıka Őzdil, Ian Wilson, Peter Dickinson, John Woolrich, Edward Cowie, Jeremy Thurlow, Naji Hakim, Volodymyr Runchak, Laurie Bamon, and Douglas Young. Composers currently writing for him range from Michael Nyman through to Magne Furuholmen (of a-ha).
Peter has recorded over 70 albums, including the complete Beethoven Sonatas, Tippett Quartets, Henze Concerti and Michael Haydn Concerti. His pioneering work on music for violin alone has resulted in research, performances and recordings of cycles by Tartini, Telemann, Bach, de Bériot, and, most recently his project Preludes and Vollenteries, which brings together 200 unknown works from the 17th century, from composers including Colombi, Matteis, Marini and Lonati, with the Wren and Hawksmoor churches in London's Square Mile.
Peter's work with museums has resulted in long term projects at institutions including The Metropolitan Museum of Art, New York, the Museo Rufino Tamayo, Mexico City, and the Victoria and Albert Museum, the British Museum, London, and the exhibition Only Connect which he curated at the National Portrait Gallery in London. Most recently his project Tegner, a close collaboration with the great Norwegian abstract artist Jan Groth, commissioned by the Bergen International Festival, resulted in a set of solo Caprices, premiering at Bergen Kunsthall, and travelling to galleries in Denmark, the US, and even Spitsbergen, Svalbard in Norway.
Sheppard Skærved is the only living violinist to have performed on the violins of Paganini, Joachim, Viotti, and Ole Bull. As a writer, Sheppard Skærved has published a monograph on the Victorian artist/musician John Orlando Parry, many articles in journals worldwide, and most recently, Practice: Walk, part of the Camberwell Press Walking Cities: London series.
Sheppard Skærved is the founder and leader of the Kreutzer Quartet and the artistic director of the ensemble Longbow. Viotti lecturer in Performance at the Royal Academy of Music, he was elected fellow there in 2013. He is married to the Danish writer Malene Skærved and they live in Wapping.