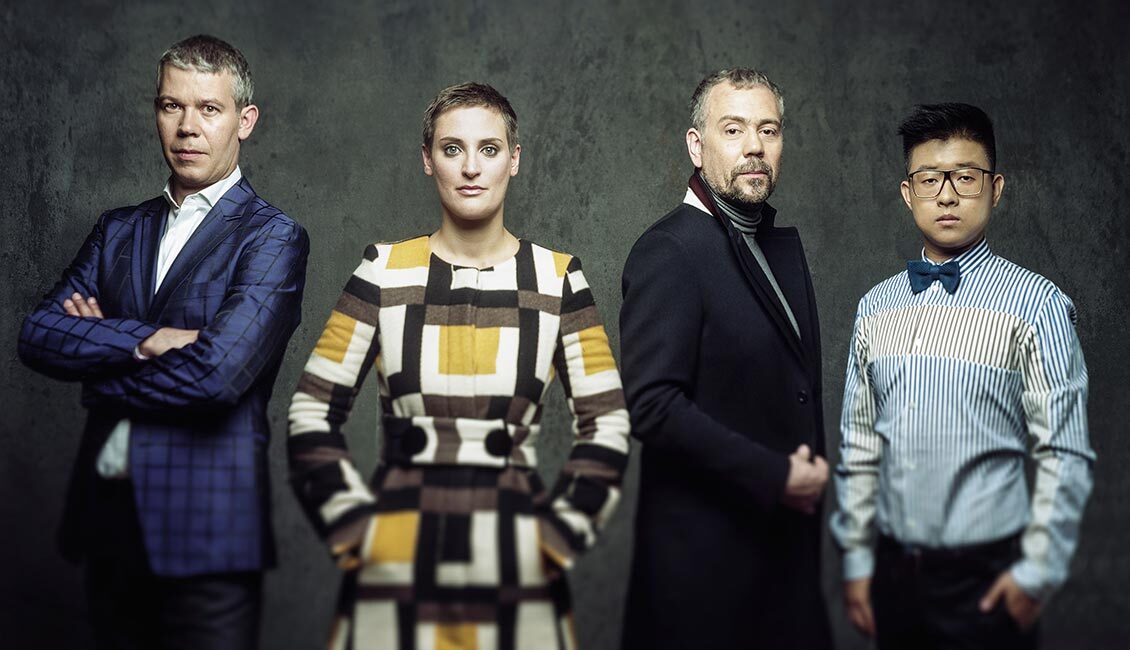 Quatuor Diotima is one of the most in-demand chamber ensembles in the world today. It was formed in 1996 by graduates of the Paris National Conservatory.
The Quartet's name evokes a double musical significance: Diotima is at once an allegory of German Romanticism – Friederich Hölderlin gives the name to the love of his life in his novel Hyperion – and a rallying cry for the music of our time, brandished by Luigi Nono in his composition Fragmente-Stille, an Diotima.
Quatuor Diotima has collaborated closely with several of the greatest composers of the late 20th century, notably Pierre Boulez (who revised his Livre pour Quatuor for them) and Helmut Lachenmann. The Quartet regularly commissions new works from the most brilliant composers of our time, including Mauro Lanza, Gérard Pesson, Rebecca Saunders and Tristan Murail.
Reflected in the mirror of today's music, the Quartet projects a new light onto the masterpieces of the 19th and 20th centuries, especially Beethoven, Schubert, the Second Viennese School (Schoenberg, Berg and Webern), as well as Janáček, Debussy, Ravel and Bartók.
Quatuor Diotima appears regularly in the world's finest halls and concert series. In recent seasons, they have appeared in renowned chamber music series such as Konserthuset Stockholm, Concertgebouw Brugge, Muziekgebouw Amsterdam, Bozar Brüssel, String Quartet Biennale Philharmonie de Paris, Elbphilharmonie Hamburg, Brucknerfest Linz, Liederhalle Stuttgart.
Their rich discography is regularly praised and awarded by the international musical press: French magazine Diapason d'Or (five awards including two Best of the Year), Classica (Best of the Year), Télérama, Grammophone (Editor's Choice), The Strad, and many others. The Quatuor Diotima has recorded exclusively for the Naïve label for ten years; in 2016 they launched their Diotima Collection for that label, devoted to the works of major composers of our time.
Since 2008, Quatuor Diotima has had a privileged relationship with the Région Centre-Val de Loire, which hosts the quartet in residence. This relationship is also an important laboratory for artistic and pedagogical projects. Quatuor Diotima has developed a series of quartet concerts in Orléans, at the l'Abbaye de Noirlac, that teaches master-classes brings and together young composers and a new generation of quartets with established ensembles. In 2018, Quatuor Diotima was awarded the European Cultural Heritage Award by the French Ministry of Culture.
---
Έχοντας ιδρυθεί το 1996 από απόφοιτους του Εθνικού Ωδείου του Παρισιού, το Quatuor Diotima αποτελεί σήμερα ένα από τα πιο περιζήτητα σύνολα μουσικής δωματίου ανά το παγκόσμιο.
Το όνομα του Κουαρτέτου προκαλεί διπλούς μουσικούς συνειρμούς: η Διοτίμα αποτελεί μια αλληγορία του Γερμανικού Ρομαντισμού (ο Φρίντριχ Χαίλντερλιν δίνει αυτό το όνομα στην αγάπη της ζωής του στο μυθιστόρημά του Υπερίων) καθώς και ένα προμήνυμα για τη μουσική της εποχής μας, όπως τη διατύπωσε κραδαίνοντας ο Λουίτζι Νόνο στο έργο του, Fragmente-Stille, an Diotima.
Το Quatuor Diotima έχει συνεργαστεί στενά με πολλούς από τους σπουδαιότερους συνθέτες του ύστερου 20ού αιώνα, ιδιαίτερα τον Πιερ Μπουλέζ (ο οποίος αναθεώρησε το μοναδικό κουαρτέτο του, Livre pour Quatuor, για το Κουαρτέτο Διοτίμα) και τον Χέλμουτ Λάχενμαν. Οι Diotima αναθέτουν συχνά τη σύνθεση νέων έργων σε ορισμένους από τους πιο λαμπρούς συνθέτες της εποχής μας, μεταξύ άλλων, Μάουρο Λάντσα, Γκέραρντ Πεσσόν, Ρεμπέκα Σόντερς, Τριστάν Μιράιγ.
Αντικατοπτρίζοντας τη μουσική της εποχής μας, το Quatuor Diotima προβάλλει ένα νέο φως στα αριστουργήματα του 19ου και του 20ού αιώνα, ιδιαίτερα στα έργα των Μπετόβεν, Σούμπερτ, Γιάνατσεκ, Ντεμπισί, Ραβέλ, Μπάρτοκ, και της Δεύτερης Βιεννέζικης Σχολής (Σαίνμπεργκ, Μπεργκ και Βέμπερν).
Το Diotima εμφανίζεται τακτικά μέσα στο πλαίσιο φημισμένων σειρών μουσικής δωματίου, στις σημαντικότερες αίθουσες συναυλιών ανά το παγκόσμιο, όπως, Μέγαρο Συναυλιών της Στοκχόλμης, Concertgebouw του Μπριζ, Muziekgebouw του Άμστερνταμ, Μποζάρ Βρυξελλών, Μπιενάλε Κουαρτέτου Εγχόρδων στη Φιλαρμονική του Παρισιού, Φιλαρμονική του Έλβα στο Αμβούργο, Φεστιβάλ Μπρούκνερ στο Λινζ, Λιντερχάλ Στουτγάρδης.
Η πλούσια δισκογραφία του επαινείται και βραβεύεται επανειλημμένα από τον διεθνή μουσικό τύπο: Diapason d'Or (πέντε βραβεία, συμπεριλαμβανομένων και δύο βραβείων Καλύτερο Άλμπουμ της Χρονιάς), Classica (Καλύτερο Άλμπουμ της Χρονιάς), Télérama, Grammophone (Επιλογή του Αρχισυντάκτη), The Strad, μεταξύ άλλων. Τα τελευταία δέκα χρόνια, το Quatuor Diotima ηχογραφεί αποκλειστικά για την εταιρεία Naïve – έχοντας κυκλοφορήσει, το 2016, τη σειρά Diotima Collection, η οποία είναι αφιερωμένη στα έργα μεγάλων συνθετών της εποχής μας.
Από το 2008, το Quatuor Diotima συνδέεται με το Σαντρ-Βαλ ντε Λουάρ, όπου φιλοξενείται ως εδρεύον Κουαρτέτο. Αυτή η συνεργασία αποτελεί παράλληλα ένα σημαντικό φυτώριο καλλιτεχνικών και εκπαιδευτικών προγραμμάτων. Οι Diotima έχουν αναπτύξει μια σειρά συναυλιών στην Ορλεάνη, στο Αβαείο του Νουαρλάκ, μέσω της οποίας διδάσκουν σε εργαστήρια, φέρνοντας κοντά συνθέτες και κουαρτέτα εγχόρδων της νέας γενιάς με καθιερωμένα σύνολα. Το 2018, το Quatuor Diotima τιμήθηκε με το Ευρωπαϊκό Βραβείο Πολιτιστικής Κληρονομιάς από το Γαλλικό Υπουργείο Πολιτισμού.