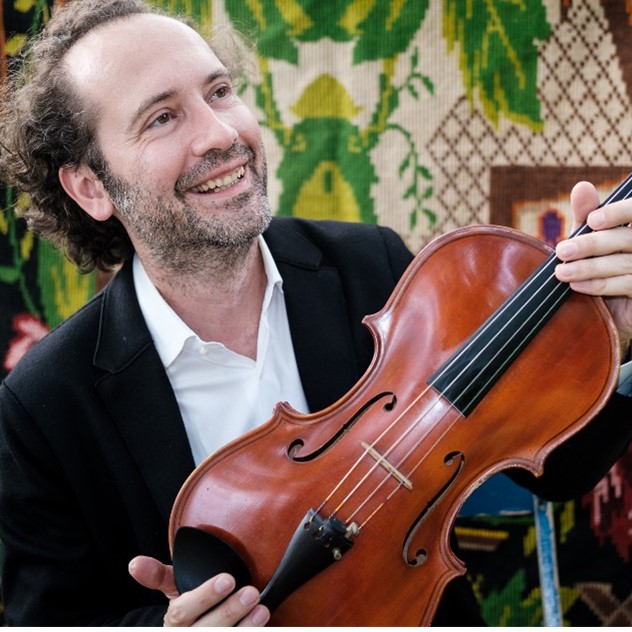 One of the most accomplished and versatile violists of his generation, Razvan Popovici was born in Bucharest into a family of musicians, and studied in Salzburg, Paris and Freiburg. He has appeared as a soloist in some of the world's most prestigious venues, including Théatre-dés-Champs-Elysées in Paris, Cologne Philharmony, Festspielhaus Baden-Baden, Athenaeum in Bucharest, Prinzregententheater in Munich, Carnegie Hall in New York, Suntory Hall Tokyo, Concertgebouw in Amsterdam, Wigmore Hall and the South Bank Centre in London, De Singel in Antwerpen and BOZAR in Brussels, Gasteig in Munich, Kennedy Center in Washington and both in the Konzerthaus and Musikverein in Vienna, with such renowned orchestras as the Cologne Chamber Orchestra, Kamerata Kronstadt, Kobe Chamber Orchestra, Transylvania Symphony Orchestra Cluj, the Sibiu State Philharmonic, the Romanian National Radio Orchestra and the George Enescu Philharmonic Bucharest.
Razvan Popovici is a regular guest at some of the most renowned festivals in the world such as the Lucerne Festival, Wiener Festwochen, Kuhmo Chamber Music Festival, Rheingau Musikfestival, Spoleto Festival, Ferrarra Musica and Storioni Festival in Eindhoven. He is a member of the Ensemble Raro, with which he regularly tours Europe, Japan, and North America. He is also the Founder and Executive Director of the Chiemgauer Musikfrühling Festival in Germany, of the SoNoRo Festival in Bucharest and the SoNoRo Arezzo Festival in Tuscany, as well as Artistic Director of the DA CAPO Chamber Music Series in Bucharest. Popovici is also a visiting professor at the Royal Conservatory in Antwerp, he teaches regularly at the Villa Musica and gives master-classes all over Europe.
---
Από τους πιο καταξιωμένους και πολυτάλαντους βιολίστες της γενιάς του, ο Razvan Popovici (Ραζβάν Ποποβίτσι) γεννήθηκε στο Βουκουρέστι σε οικογένεια μουσικών και σπούδασε στο Σάλτσμπουργκ, το Παρίσι και το Φράιμπουργκ. Έχει εμφανισθεί ως σολίστ σε ορισμένες από τις σημαντικότερες αίθουσες συναυλιών ανά το παγκόσμιο, μεταξύ άλλων, Θέατρο του Σαμπ Ελιζέ στο Παρίσι, Φιλαρμονική Κολωνίας, Φεστσπιέλχαους του Μπάντεν-Μπάντεν, Ατενέουμ Βουκουρεστίου και Θέατρο Πρινς-Ρήτζεντ Μονάχου, Κάρνεγκι Χολ της Νέας Υόρκης, Κοντσερτγκεμπάου του Άμστερνταμ, Γουίγκμορ Χολ και Σάουθμπανκ Σέντερ του Λονδίνου, Σουντόρι του Τόκιο, Γκαστέιγ Μονάχου, Κένεντι Σέντερ της Ουάσιγκτον, Κοντσέρτχαους και Μουζίκφεραϊν της Βιέννης, με ορχήστρες όπως Ορχήστρα Δωματίου της Κολωνίας, Καμεράτα της Κρονστάνδης, Ορχήστρα Δωματίου του Κόμπε στην Ιαπωνία, Συμφωνική Ορχήστρα του Κλουζ Τρανσυλβανίας, Φιλαρμονική Ορχήστρα του Σίμπιου, Κρατική Ραδιοφωνική Ορχήστρα Ρουμανίας και Φιλαρμονική Ζορζ Ενέσκου Βουκουρεστίου.
Ο Popovici εμφανίζεται κατ' επανάληψη σε ορισμένα από τα πιο φημισμένα φεστιβάλ μουσικής ανά το παγκόσμιο, μεταξύ άλλων, Φεστιβάλ της Λουκέρνης, Φεστβόχεν Βιέννης, Φεστιβάλ Μουσικής Δωματίου του Κούχμο, Φεστιβάλ Μουσικής του Ραϊνγκαου, Φεστιβάλ του Σπολέτο, Φερράρα Μούζικα και Στοριόνι του Αϊντχόβεν. Είναι μέλος του Ensemble Raro, με το οποίο περιοδεύει συχνά σε Ευρώπη, Ιαπωνία και Βόρεια Αμερική. Είναι επίσης Ιδρυτής και Εκτελεστικός Διευθυντής του Φεστιβάλ Μουσικής Άνοιξης στο Τσιεμγκάου της Γερμανίας, των Φεστιβάλ SoNoRo στο Βουκουρέστι και SoNoRo Arezzo στην Τοσκάνη, ενώ διατελεί Καλλιτεχνικός Διευθυντής της Σειράς Μουσικής Δωματίου DA CAPO στο Βουκουρέστι. Είναι παράλληλα Επισκέπτης Καθηγητής στο Βασιλικό Ωδείο της Αμβέρσα, διδάσκει τακτικά στη Βίλα Μούζικα του Μάϊντς και παραδίδει εργαστήρια μουσικής ανά την Ευρώπη.