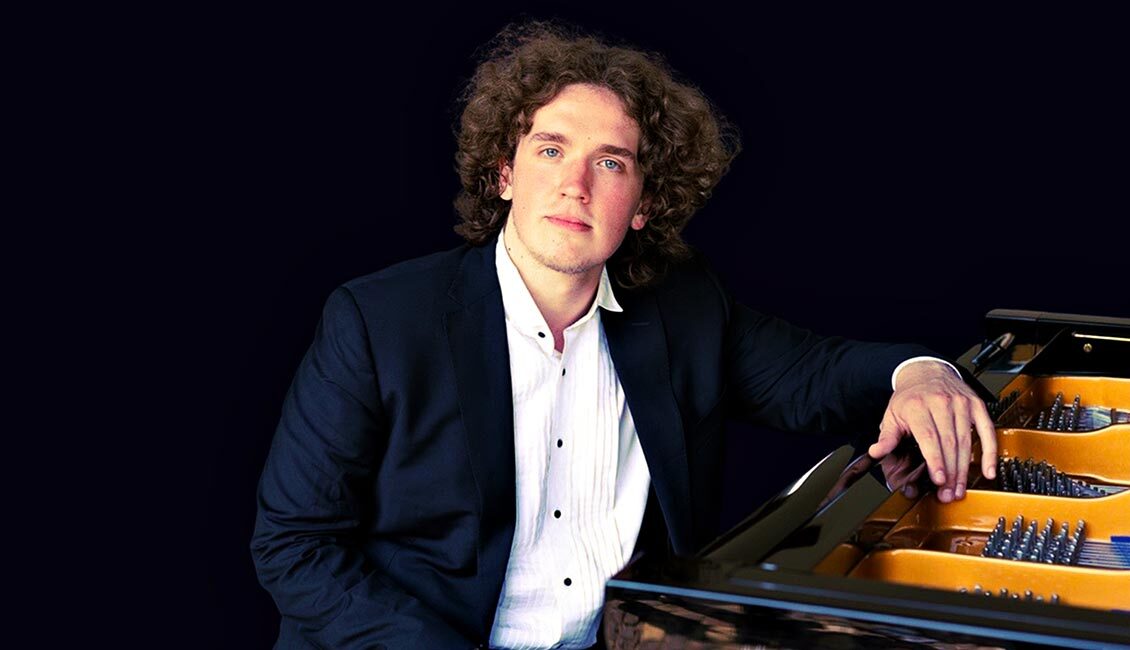 Described as a "poet-artist of commanding intelligence, with freedom of expression and imagination ranging from amorous intimacy to blazing peaks of Vesuvian tumult", Roman Kosyakov is unquestionably one of the most fascinating pianists of his generation. He is a laureate of a number of competitions, including, the First Prize and the Audience Prize of the prestigious Hastings International Piano Concerto Competition in 2018, where he was also awarded the competition's Orchestra Prize for his performance of Tchaikovsky's Piano Concerto No.1 with the Royal Philharmonic Orchestra, the Gold Prize of the Manhattan International Music Competition in 2018, the Royal Over-Seas League Annual Music Competition (as part of the Fitzroy Piano Quartet) in 2020, and the UK Piano Open International Competition in 2020.
Born into a musical family in Russia, Kosyakov made his debut with orchestra at the age of 12 performing the Mozart Piano Concerto No.23 in A major. In 2012, he graduated from the Central Music School in Moscow, where he studied with Farida Nurizade, and in 2017, he graduated from the Tchaikovsky Moscow Conservatoire, where he was under the tutelage of Vladimir Ovchinnikov. He continued his studies with Pascal Nemirovski at the Royal Birmingham Conservatoire on a full scholarship (2017-2020). In 2019, Kosyakov received the Conservatoire's Silver Medal, and subsequently became a member of the Musician's Company Yeomen Young Artists' Programme, through which he was invited to represent and launch the Hastings International Piano Concerto Competition at the House of Commons in London.
Roman Kosyakov is regularly invited to perform with the Hastings Philharmonic Orchestra and the English Symphony Orchestra to much acclaim, and he frequently appears at such important venues and festivals as Kings Place and Cadogan Hall in London, European Chamber Music Academy in Leipzig, Sursa Performance Hall in Indiana, Brighton Festival and North Norfolk Music Festival. His debut all-Liszt CD for Naxos, Préludes et Harmonies poétiques et religieuses, was released in late 2020 to much critical acclaim. Kosyakov is a frequent guest in the piano faculty of the Berginos Summer Piano School in Bergamo (Italy), where he teaches master-classes. He is a recipient of awards and scholarships from the Denis Matthews Memorial Trust Fund, the Drake Calleja Trust, and he is a Kirckman Concert Society Artist.
---
Έχοντας χαρακτηρισθεί ως «ένας καλλιτέχνης-ποιητής επιβλητικής ευφυΐας, ελευθερίας έκφρασης και φαντασίας, ο οποίος μετατρέπει μια απλή ερωτική οικειότητα σε φλεγόμενες ακρώρειες μιας βεζουβιανής δίνης», ο Roman Kosyakov είναι αναμφισβήτητα ένας από τους πιο συναρπαστικούς πιανίστες της γενιάς του. Είναι νικητής πολλών διαγωνισμών, μεταξύ άλλων, Πρώτο Βραβείο και Βραβείο Κοινού στον σπουδαίο Διεθνή Διαγωνισμό Κοντσέρτου για Πιάνο του Χάστινγκς το 2018, όπου απέσπασε παράλληλα και το Βραβείο Ορχήστρας για την ερμηνεία του στο Κοντσέρτο για Πιάνο Αρ.1 του Τσαϊκόφσκι με τη Βασιλική Φιλαρμονική Ορχήστρα, Χρυσό Μετάλλιο στον Διεθνή Μουσικό Διαγωνισμό του Μανχάταν το 2018, τον Διαγωνισμό Royal Overseas League (ως μέρος του Κουαρτέτου για Πιάνο Fitzroy) το 2020, και τον Διεθνή Διαγωνισμό Πιάνου του Ηνωμένου Βασιλείου το 2020.
Γεννημένος σε μουσική οικογένεια στη Ρωσία, ο Kosyakov έκανε το ντεμπούτο του με ορχήστρα σε ηλικία 12 ετών, ερμηνεύοντας το Κοντσέρτο για Πιάνο Αρ.23 σε Λα μείζονα του Μότσαρτ. Το 2012, αποφοίτησε από την Κεντρική Μουσική Σχολή της Μόσχας, όπου σπούδασε υπό τη Farida Nurizade, και το 2017 αποφοίτησε από το Ωδείο Τσαϊκόφσκι της Μόσχας, όπου σπούδασε υπό τον Vladimir Ovchinnikov. Έχοντας λάβει πλήρη υποτροφία, συνέχισε τις σπουδές του με τον Pascal Nemirovski στο Βασιλικό Ωδείο του Μπέρμινχαμ (2017-2020). Το 2019, απέσπασε το Αργυρό Μετάλλιο του Ωδείου, και εν συνεχεία έγινε μέλος του Προγράμματος Νεαρών Καλλιτεχνών Yeomen, μέσω του οποίου προσκλήθηκε να εκπροσωπήσει τον Διεθνή Διαγωνισμό του Χάστινγκς στη Βουλή των Κοινοτήτων στο Λονδίνο.
Ο Roman Kosyakov εμφανίζεται τακτικά σε σημαντικές αίθουσες και φεστιβάλ όπως Kings Place και Cadogan Hall στο Λονδίνο, Sursa Performance Hall στην Ιντιάνα των ΗΠΑ, Ευρωπαϊκή Μουσική Ακαδημία στη Λειψία, Φεστιβάλ του Μπράιτον και του Νόρφολκ, και είναι συχνός προσκεκλημένος της Φιλαρμονικής Ορχήστρας του Χάστινγκς και της Συμφωνικής Ορχήστρας Αγγλίας. Περί τα τέλη του 2020, ο Kosyakov έκανε το ντεμπούτο του στη δισκογραφία για την εταιρεία Naxos, με τα Πρελούδια και τις Ποιητικές και Θρησκευτικές Αρμονίες του Λιστ – ένα άλμπουμ για το οποίο έλαβε διθυραμβικές κριτικές. Ο Kosyakov συμμετέχει τακτικά στη Θερινή Σχολή Πιάνου Berginos στο Μπέργκαμο (Ιταλία), διδάσκοντας σε εργαστήρια για πιάνο. Έχει αποσπάσει υποτροφίες και διακρίσεις από τα ιδρύματα Denis Matthews Memorial Trust, Drake Calleja Trust, και Kirckman Concert Society.