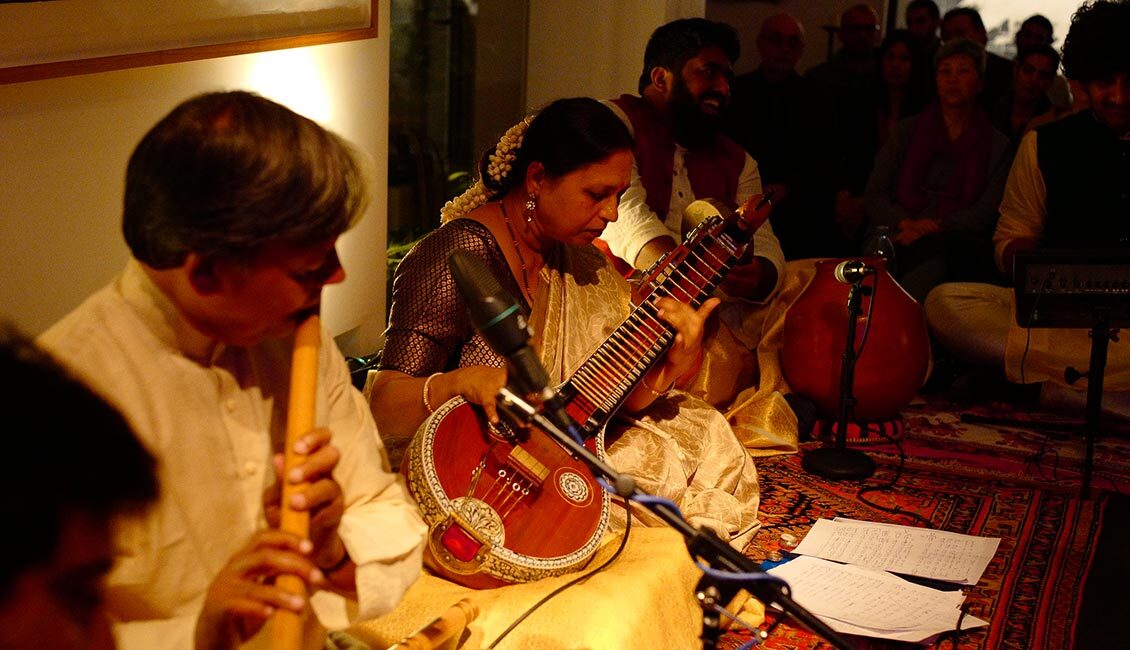 Saraswati Rajagopalan / Veena & Leader of the Ensemble
Kailash Chand Sharma / Flute
Biju Paulose / Keyboard
Aditya Chaitanya Kalyanpur / Tabla
Shamdath Pranavdath / Rhythm Pad & Morsing
Varun Rajasekharan / Ghatam & Khanjira
A NOTE ON CARNATIC MUSIC:
Ancient Indian musical treatises prior to the 13th Century indicate the existence of a single Classical music system in India. Over time, this system was divided into two streams – Hindustani and Carnatic music. Hindustani music was shaped by influences from Persia, the Mughal courts and the folk traditions that existed in the northern part of the country, while Carnatic Music was shaped by the music performed in temples, the folk traditions and poet-composers of the southern part of the country. Carnatic Music therefore features an extremely rich, complex and nuanced melodic and rhythmic system and a vast repertoire of poetry in Sanskrit, Telugu, Tamil and Malayalam. Contemporary Carnatic music finds expression in voice and instruments such as veena, violin and the flute.
VEENA – ONE OF THE OLDEST MUSICAL INSTRUMENTS:
The origin of the Saraswati Veena can be traced back to the ancient times. It is one of the oldest musical instruments mentioned in ancient Indian texts. The influence of it has been so great that it gave scope for rendering subtle embellishments and derivations of musical notes that could possibly be produced only by the human voice. Therefore, the veena has been considered to be the closest to the human voice.