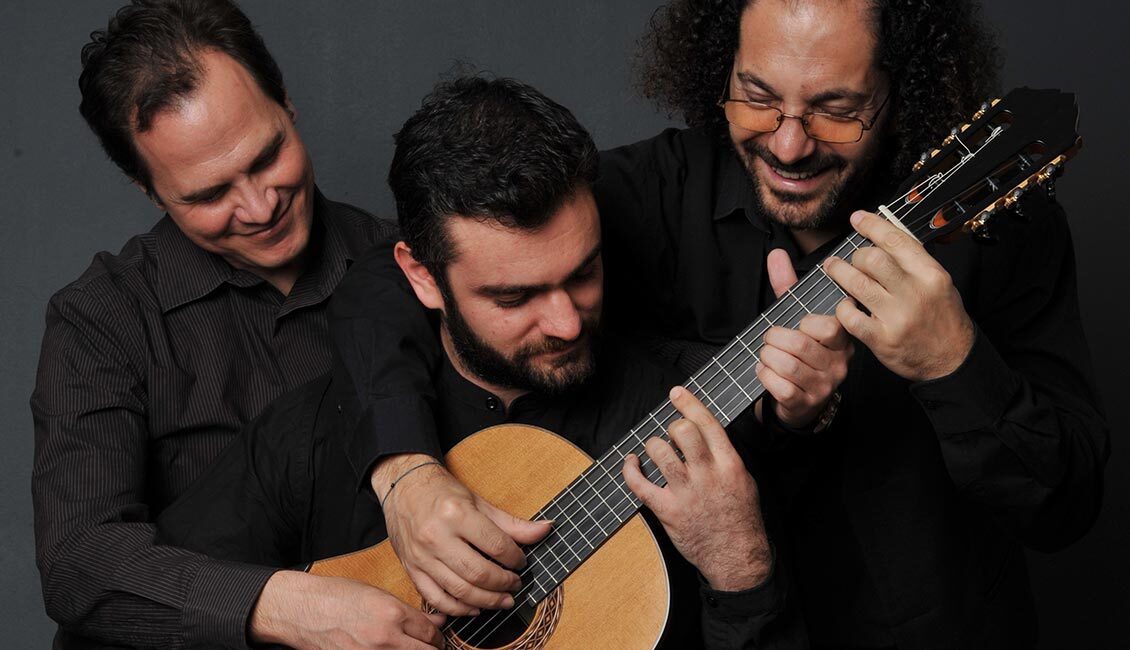 The Cyprus Guitar Trio was founded in 2015. Comprising three renowned classical guitarists from Cyprus: Vasilios Avraam, George Christofi and Socrates Leptos. The Trio is dedicated to the promotion of the important yet unexplored repertoire of the combination of three classical guitars, as well the creation of new works for this combination, and the arrangements and transcriptions of existing works. Cyprus Guitar Trio has already participated in many festivals and concerts in Cyprus and Greece as: 19th Cultural Festival of University of Cyprus – Axiothea, Larnaka Festival of Classical Music 2016, 17th International Chamber Music Festival of Pharos at Kouklia, in Concert Series of Cypriots Artists at Shoe Factory, at the International Guitar Festival in Volos and at 7th International Guitar Festival in Kardista (Greece).
Vasilios Avraam studied at the Ferenc Liszt Conservatory in Hungary with Istvan Adrovicz, at the National Conservatoire of Region in Strasbourg with Pablo Marquez and at the Academy of Music in Bratislava where he received his Musical Doctoral Degree in classical guitar under the supervision of Jozef Zsapka. He has participated in a number of festivals, including the Zempléni Festival (Hungary), the Festival of Europe in Mâcon (France), the International Music Festival in Clermont-Ferrand (France), the 5th Festival des Musiques Rares Musiques Dérangées in Mâcon (France), several times he was invited to the Spring Festival of Eger (Hungary), the Cultural Festival of Cyprus University, the Classical Music Festival in Larnaca. He is the First Prize winner of the National Guitar Competition in Hungary in 1998. Several of his solo recitals and orchestra performances in guitar concertos were recorded by television channels and radio stations of Hungary and Cyprus. He played with the State Orchestra of Cyprus, with Cantus Agriensis Choir, with Polyfonia Choir, several times with the Symphonic Orchestra of Eger and several times with the music group Musica Aulica in Hungary and in France. Vasilios Avraam is guitar teacher at state music school.
George Christofi is a holder of a BMus (First Class), and MMus in Guitar Performance (Distinction) from the University of Hull and an MA (Distinction) and a PhD in Composition from the University of York. Considered one of the most important and talented composers of his generation, Christofi has composed music for world renowned soloists and ensembles, including, Mario Caroli (flute), Sarah Leonard (soprano), Harry Sparnaay (bass clarinet), Rohan de Saram (cello), Ensemble Musiques Nouvelles, Ensemble 10/10, Orchestre National de Lorraine, The Endymion, Kreutzer Quartet, Ensemble Cairn, Ensemble Berlin PianoPercussion, L'Opéra National du Rhin. His music has been broadcast on BBC Radio 3 and presented in Festivals such as 'Clarinet baix i electronica' by Phonos – Fundació Música Contemporània (Spain), International Music Festival Heidelberger 'Frühling 2007' (Germany), 'Pescara Fiera Festival (Italy), Seoul International Computer Music Festival (Korea), Culturale San Fedele – Electrobag on Tour (Italy), amongst others. Christofi is a Composition Lecturer at the European University Cyprus.
Socrates Leptos studied guitar at the New England Conservatory in Boston. In 2000 he was awarded a Fulbright scholarship to study at Yale University under Ben Verdery, and in 2009 he was awarded the Doctor of Musical Arts Degree from the Peabody Institute. During his studies, Leptos won three awards and performed extensively in the US. He participated in masterclasses with Manuel Barrueco, Sharon Isbin, Jorge Morel, Paul O'dette, David Tannenbaum, Gordon Crosskey, and John Duarte. Leptos has recorded music for radio and television and he has contributed to various recordings, both as guitarist and composer. He is currently a member of the guitar faculty at the University of Nicosia.