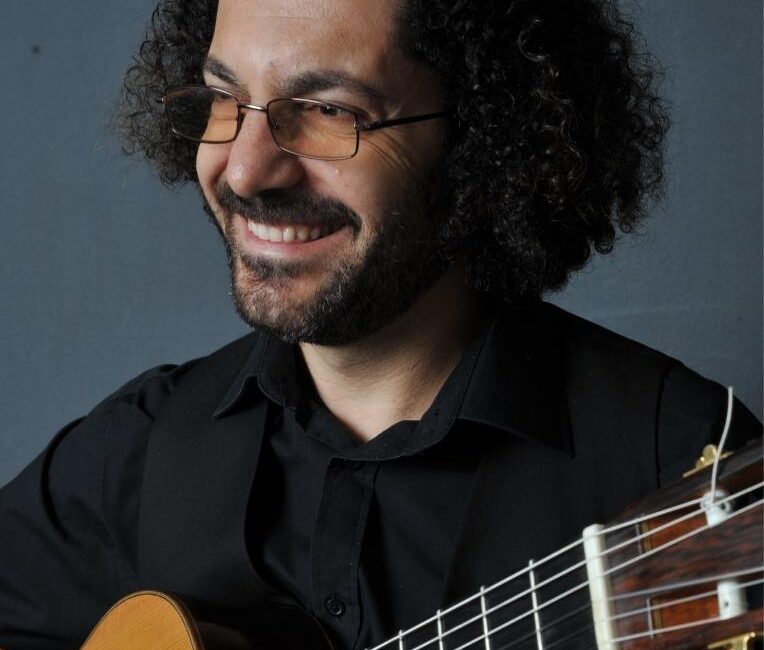 Vasilios Avraam studied at the Ferenc Liszt Conservatory in Hungary under the supervision of István Adrovicz, then at the Strasbourg National Conservatoire under Pablo Márquez, where he gained his Masters, and subsequently at the Academy of Music in Bratislava where he received his Musical Doctoral Degree (Artis Doctor) in classical guitar under the supervision of Jozef Zsapka. Avraam has also actively participated in master-classes by such renowned musicians as Walter Würdinger, Zoran Dukic, Gérard Abiton, and Devich Sándor. He was the First Prize winner of the National Guitar Competition in Hungary in 1998.
A frequent guest of renowned European festivals, including the Zempléni Festival and the Spring Festival of Eger in Hungary, the International Music Festival in Clermont-Ferrand and the Festival des Musiques Rares Musiques Dérangées in Mâcon in France, Vasilios Avraam has appeared with a number of orchestras and ensembles around Europe, including the Cyprus Symphony Orchestra, the Eger Symphony Orchestra (under the baton of the Hungarian State Opera conductor Máté Szabó Sipos), Cantus Agriensis and Musica Aulica.
In Hungary, Vasilios Avraam premiered such works as Heitor Villa-Lobos' Sexteto Mistico and Introduction to Choros for guitar and orchestra, and Luigi Boccherini's Sinfonia Concertante. Several of his solo recitals and orchestra performances in guitar concertos were recorded by television channels and radio stations of Hungary and Cyprus. He published theoretical articles on the classical guitar in such international guitar magazines as the Classical Guitar Magazine (England), the Soundboard (USA), the Guitarra Magazine (USA), Gitarr och Luta (Sweden), Tar (Greece), Gendai Guitar (Japan).
Vasilios Avraam was the organiser and Artistic Director of the Classical Guitar Festival in the Northeastern Region of Hungary. From 2011 until 2013, he served as the General Secretary of EGTA Cyprus. In 2015, he founded the Cyprus Guitar Trio, and in 2018, the Trypticho Ensemble (flute, viola, guitar). Since 2020, he is a professor of guitar at the University of Nicosia.
---
Ο Βασίλειος Αβραάμ σπούδασε στο Κονσερβατόριο Φέρεντς Λιστ της Ουγγαρίας υπό την επίβλεψη του István Adrovicz, εν συνεχεία, στο Εθνικό Κονσερβατόριο του Στρασβούργου υπό τον Pablo Márquez, από όπου απέσπασε μεταπτυχιακό τίτλο Masters, και ακολούθως στη Μουσική Ακαδημία της Μπρατισλάβα, όπου ολοκλήρωσε το διδακτορικό του (Artis Doctor) στην κλασική κιθάρα υπό τον Jozef Zsapka. Ο Αβραάμ έχει επίσης συμμετάσχει ενεργά σε master-classes από διεθνούς φήμης μουσικούς, συμπεριλαμβανομένων των Walter Würdinger, Zoran Dukic, Gérard Abiton, και Devich Sándor. Το 1998, ήταν ο Πρώτος Νικητής του Εθνικού Διαγωνισμού Κιθάρας στην Ουγγαρία.
Με συμμετοχές σε πολλά σημαντικά ευρωπαϊκά φεστιβάλ, μεταξύ άλλων, Φεστιβάλ Zempléni και Φεστιβάλ της Άνοιξης του Έγκερ στην Ουγγαρία, Διεθνές Φεστιβάλ Μουσικής Κλερμόν Φεράν και Musiques Rares Musiques Dérangées της Μακόν στη Γαλλία, ο Βασίλειος Αβραάμ έχει εμφανισθεί με πολυάριθμες ορχήστρες και σύνολα μουσικής ανά την Ευρώπη, συμπεριλαμβανομένων, Συμφωνικής Ορχήστρας Κύπρου, Συμφωνικής Ορχήστρας του Έγκερ (υπό τη διεύθυνση του μαέστρου της Κρατικής Όπερας Ουγγαρίας, Máté Szabó Sipos), Cantus Agriensis και Musica Aulica.
Στην Ουγγαρία, ο Βασίλειος Αβραάμ έχει ερμηνεύσει σε πρώτη παγκόσμια εκτέλεση έργα όπως το Sexteto Mistico και την Εισαγωγή στα Choros για κιθάρα και ορχήστρα του Εϊτόρ Βίλα-Λόμπος, και Συμφωνία Κονσερτάντε του Λουίτζι Μποκερίνι. Πολλά από τα ρεσιτάλ του καθώς και εμφανίσεις του με ορχήστρα σε κοντσέρτα για κιθάρα έχουν ηχογραφηθεί και μεταδοθεί από την τηλεόραση και το ραδιόφωνο σε Κύπρο και Ουγγαρία. Θεωρητικά άρθρα του Αβραάμ με θέμα την κλασική κιθάρα έχουν δημοσιευτεί σε διεθνή περιοδικά όπως το Classical Guitar Magazine (Αγγλία), Soundboαrd (ΗΠΑ), Guitarra Magazine (ΗΠΑ), Gitarr och Luta (Σουηδία), Tar (Ελλάδα), Gendai Guitar (Iαπωνία).
Ο Βασίλειος Αβραάμ ήταν ο διοργανωτής και Καλλιτεχνικός Διευθυντής του Φεστιβάλ Κλασικής Κιθάρας της βορειοανατολικής Ουγγαρίας. Από το 2011 έως το 2013, διετέλεσε Γενικός Γραμματέας του EGTA Κύπρου. Το 2015, ίδρυσε το Cyprus Guitar Trio, ενώ το 2018 ίδρυσε το Trypticho Ensemble (φλάουτο, βιόλα , κιθάρα). Από το 2020, είναι καθηγητής κιθάρας στο Πανεπιστήμιο Λευκωσίας.