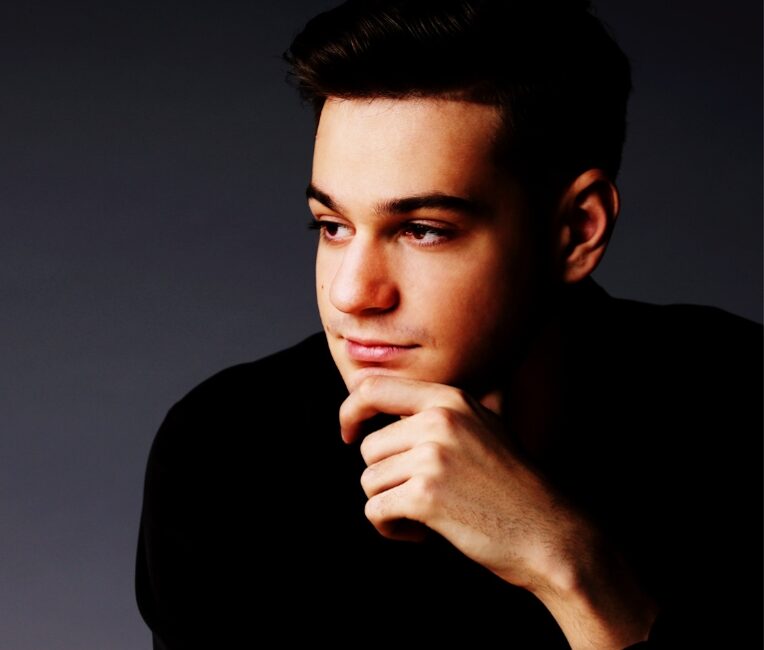 The 25-year-old Russian pianist Victor Maslov was praised as "one of those people who is close to all-round mastery of his repertoire" by the New York Concert Review, following his recital at Carnegie Hall, New York. Maslov has appeared as a soloist at such renowned venues and festivals as the Royal Festival Hall, Queen Elizabeth Hall, Weill Recital Hall at Carnegie Hall, Cadogan Hall, Great Hall of Moscow Conservatoire, Smetana Hall and Rudolfinum. He gave his concerto debut at the age of 9 with the State Symphony Orchestra of Moscow, and he has since performed with a number of orchestras such as the Prague Radio Symphony Orchestra, the New Russia State Symphony Orchestra, Astana Opera Symphony Orchestra, to name but a few.
Maslov has been a prize-winner in several international competitions, including the First Prize in the AntwerPiano International Competition (2020), the First Prize in the 2nd International Rachmaninoff Piano Competition in Moscow (2020), and the Second Prize in the Classic Piano International Competition in Dubai (2021). Further successes include winning the Overall Prize of the 47th Concertino Praga – Antonín Dvořák International Radio Competition for Young Musicians (2013), the Fourth Prize at the Vladimir Horowitz International Competition for Young Pianists (Kiev / 2012), the First Prize at the Musicale dell' Adriatico piano competition (Ancona / 2007), and the First Prize at the Nikolai Rubinstein International Piano Competition (Paris / 2004).
Victor Maslov began his studies at the Gnessin Moscow Special School of Music. He later became a scholar of the Vladimir Spivakov International Charity Foundation. He furthered his studies at the Royal College of Music in London, where he studied piano and conducting, attaining a Masters of Performance with Distinction, and subsequently completing his Artist Diploma. At the Royal College of Music, Victor was a two-time winner of the Concerto Competition (2015, 2018), and winner of the Second Prize of the Joan Chissell Schumann Prize (2019). Upon his graduation, he was announced as the recipient of the Queen Elizabeth the Queen Mother Rosebowl for his achievements at the RCM. Victor is a Keyboard Charitable Trust Artist, and a Countess of Munster Trust Recital Scheme Artist. 
---
Κατόπιν του ρεσιτάλ του στο Κάρνεγκι Χολ της Νέας Υόρκης, ο 25χρονος Ρώσος πιανίστας Victor Maslov επαινέθηκε από το New York Concert Review ως «κάποιος που προσεγγίζει την απόλυτη αριστοτεχνία του ρεπερτορίου του». Ο Maslov έχει εμφανισθεί ως σολίστ σε σημαντικές συναυλιακές αίθουσες και φεστιβάλ, μεταξύ άλλων, Ρόγιαλ Φέστιβαλ Χολ, Κουίν Ελίζαμπεθ Χολ, Βάιλ Χολ του Κάρνεγκι Χολ, Κάντογκαν Χολ, τη Μεγάλη Αίθουσα του Ωδείου της Μόσχας, Αίθουσα Σμέτανα και Ρουντολφίνουμ. Έκανε το ντεμπούτο του ερμηνεύοντας κοντσέρτο σε ηλικία 9 ετών με την Κρατική Συμφωνική Ορχήστρα της Μόσχας, και έκτοτε έχει εμφανισθεί με πολλές ορχήστρες, μεταξύ άλλων, Συμφωνική Ορχήστρα του Ραδιοφώνου της Πράγας, Κρατική Συμφωνική Ορχήστρα Νέας Ρωσίας, Συμφωνική Ορχήστρα της Όπερας της Αστάνα.
Ο Maslov έχει αποσπάσει βραβεία σε πολλούς διεθνείς διαγωνισμούς, συμπεριλαμβανομένων, Πρώτου Βραβείου στον Διεθνή Διαγωνισμό Πιάνου της Αμβέρσας (2020), Πρώτου Βραβείου στον 2ο Διεθνή Διαγωνισμό Πιάνου Ραχμάνινοφ στη Μόσχα (2000), και Δεύτερου Βραβείου στον Διεθνή Διαγωνισμό Κλασικού Πιάνου στο Ντουμπάι (2021). Άλλες επιτυχίες του περιλαμβάνουν το Συνολικό Βραβείο στον 47ο Διεθνή Διαγωνισμό Ραδιοφωνίας Αντονίν Ντβόρζακ – Κοντσερτίνο Πράγας (2013), το Τέταρτο Βραβείο στον Διεθνή Διαγωνισμό Νεαρών Πιανιστών Βλαντίμιρ Χόροβιτς (Κίεβο / 2012), το Πρώτο Βραβείο στον διαγωνισμό πιάνου «Musicale dell' Adriatico» (Ανκόνα / 2007), και το Πρώτο Βραβείο στον Διεθνή Διαγωνισμό Πιάνου Νικολάι Ρουμπινστάιν (Παρίσι / 2004).
Ο Victor Maslov ξεκίνησε τις σπουδές του στην Ειδική Μουσική Σχολή Γκνέσιν της Μόσχας. Αργότερα έγινε υπότροφος του Διεθνούς Φιλανθρωπικού Ιδρύματος Βλαντίμιρ Σπιβάκοφ. Συνέχισε την εκπαίδευσή του στο Βασιλικό Κολλέγιο Μουσικής του Λονδίνου, όπου σπούδασε πιάνο και διεύθυνση ορχήστρας, αποσπώντας Μεταπτυχιακό (Masters) στην Ερμηνεία με Άριστα, και εν συνεχεία ολοκληρώνοντας το Δίπλωμα Καλλιτέχνη. Στο Βασιλικό Κολλέγιο Μουσικής, ο Victor ήταν για δύο χρονιές ο νικητής του Διαγωνισμού για Κοντσέρτο (2015, 2018), και δεύτερος νικητής του Βραβείου Σούμαν – Joan Chissell (2019). Με την αποφοίτησή του, απέσπασε για τα επιτεύγματα του στο Κολλέγιο το τρόπαιο (rosebowl) της βασίλισσας Ελισάβετ της βασιλομήτορος. Ο Victor είναι Καλλιτέχνης του Keyboard Charitable Trust και του Ιδρύματος Munster.