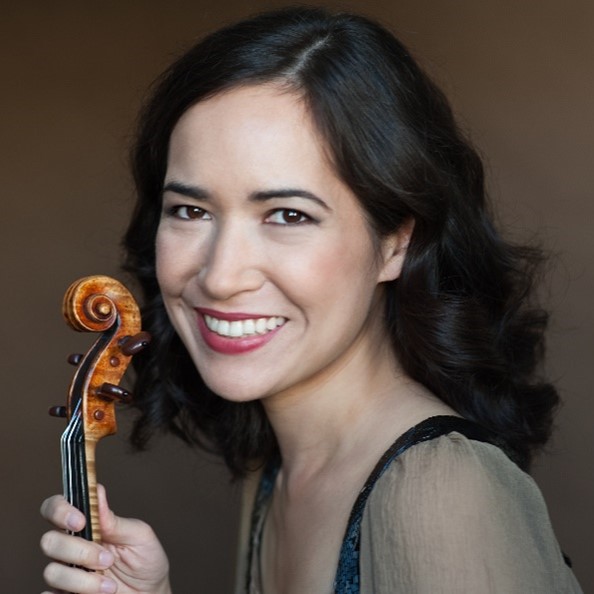 Munich-born violinist Viviane Hagner has won exceptional praise for her highly intelligent musicality and passionate artistry. Since making her international debut at the age of 12, and a year later participating in the legendary 'joint concert' of the Israel and Berlin Philharmonics, conducted by Zubin Mehta in Tel Aviv, Hagner has acquired a depth and maturity in her playing that is reflected in her stage presence and assurance.
Appearing with the world's great orchestras, Hagner's concerto appearances include the Berlin Philharmonic, Boston Symphony, Chicago Symphony, Cleveland Orchestra, Leipzig Gewandhaus, New York Philharmonic, the Orpheus Chamber Orchestra, and the Philharmonia Orchestra, working with conductors such as Ashkenazy, Barenboim, Eschenbach, and Salonen.
As well as bringing insight and virtuosity to the central concerto repertoire, Hagner is an ardent advocate of new, neglected, and undiscovered music, championing composers such as Sofia Gubaidulina, Karl Amadeus Hartmann and Witold Lutoslawski, and she is the dedicatee of Unsuk Chin's Violin Concerto, which she premiered in 2002 with the Deutsches Symphonie-Orchester and Kent Nagano. A committed chamber musician, Hagner regularly appears in concert halls such as the Amsterdam Concertgebouw, Berlin Konzerthaus, London's Wigmore Hall, the Palais des Beaux Arts Brussels and the Zurich Tonhalle, and has participated in festival such as the Ravello Festival, Salzburg Easter Festival and the Lincoln Center's Mostly Mozart Festival.
Hagner's discography includes albums for the Hyperion, the Capriccio, the MDG, and the Analekta labels. She has been Professor at the Mannheim Conservatory of Music and Performing Arts since 2013.
---
Η γεννημένη στο Μόναχο βιολονίστα Viviane Hagner (Βιβιάν Χάγκνερ) έχει κερδίσει διθυράμβους για τη μεγαλοφυή μουσικότητά και τη γεμάτη πάθος καλλιτεχνία της. Από το ντεμπούτο της σε ηλικία 12 ετών, και ακολούθως, με τη συμμετοχή της στην θρυλική «κοινή συναυλία» των Φιλαρμονικών Ισραήλ και Βερολίνου υπό τη διεύθυνση του Ζούμπιν Μέτα στο Τελ Αβίβ, ένα χρόνο αργότερα, η Hagner τεκμηρίωσε την εμβρίθεια και την ωριμότητα στην ερμηνεία της, γεγονός που διαφαίνεται από την αυτοπεποίθηση της επί σκηνής.
Έχοντας εμφανισθεί ως σολίστ με τις σημαντικότερες ορχήστρες ανά το παγκόσμιο, συμπεριλαμβανομένων, Φιλαρμονικής του Βερολίνου, Συμφωνικής της Βοστώνης, Συμφωνικής του Σικάγο, Συμφωνικής του Κλίβελαντ, Φιλαρμονικής της Λειψίας, Φιλαρμονικής της Νέας Υόρκης, Ορχήστρας Δωματίου Ορφέας, και Ορχήστρας Φιλαρμόνια, η Hagner έχει συνεργαστεί με μαέστρους όπως οι Ασκενάζι, Μπάρενμποϊμ, Έσενμπαχ και Σάλονεν.
Πέρα από τη διορατικότητα και τη δεξιοτεχνία της στο καθιερωμένο ρεπερτόριο του κοντσέρτου για βιολί, η Hagner είναι ένθερμη υποστηρίκτρια της σύγχρονης, αλλά και της παραμελημένης και ανεξερεύνητης μουσικής, και έχει προωθήσει έργα σύγχρονων συνθετών όπως Σοφία Γκουμπαϊντούλινα, Καρλ Αμαντέους Χάρτμαν, και Βίτολντ Λουτοσλάφσκι, ενώ το 2002, έδωσε την παγκόσμια πρεμιέρα του Κοντσέρτου για Βιολί που της αφιέρωσε η σύγχρονη συνθέτρια Unsuk Chin, με τη Συμφωνική Ορχήστρα Γερμανίας υπό τη διεύθυνση του Κεντ Ναγκάνο. Αφοσιωμένη παράλληλα και στη μουσική δωματίου, η Hagner εμφανίζεται τακτικά σε μεγάλες αίθουσες συναυλιών, μεταξύ άλλων, Κοντσερτγκεμπάου του Άμστερνταμ, Κοντσέρτχαους Βερολίνου, Γουίγκμορ Χολ Λονδίνου, Μποζάρ Βρυξελλών, και Τονχάλλε Ζυρίχης, και έχει συμμετάσχει σε φεστιβάλ όπως Φεστιβάλ Ραβέλο, Πασχαλινό Φεστιβάλ του Σάλτσμπουργκ, και το Φεστιβάλ Mostly Mozart του Κέντρου Λίνκολν.
Η δισκογραφία της Hagner περιλαμβάνει άλμπουμ για τις δισκογραφικές εταιρείες Hyperion, Capriccio, MDG και Analekta. Από το 2013, είναι καθηγήτρια στο Ωδείο Μουσικής και Παραστατικών Τεχνών του Μανχάιμ.