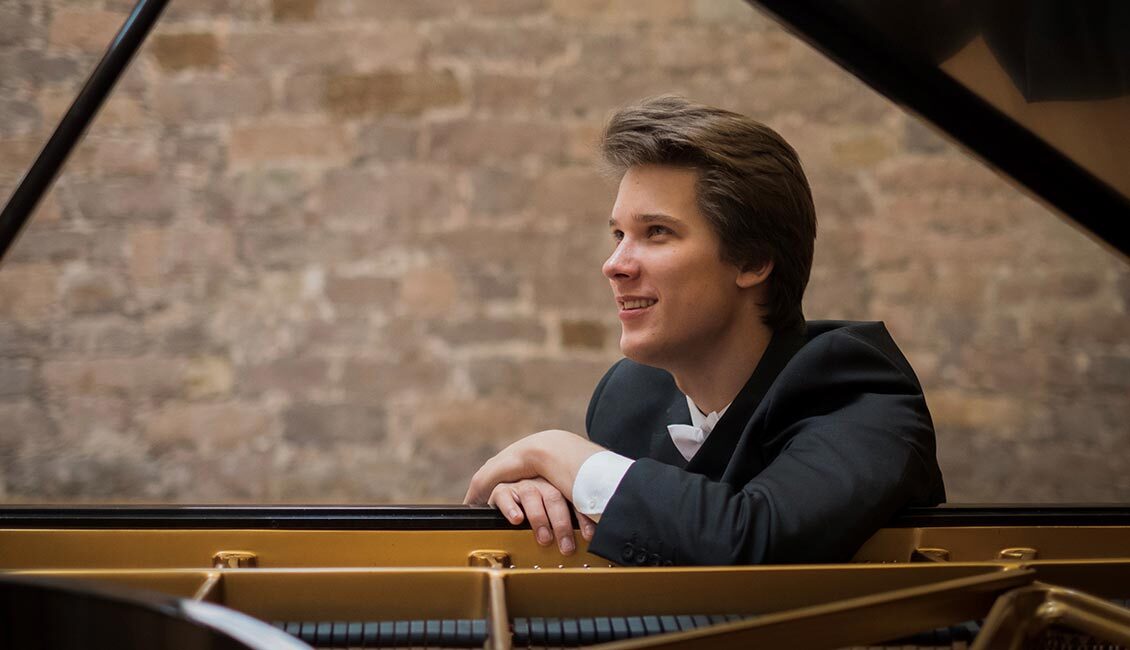 Laureate and Audience Prize Winner at the 63rd Ferruccio Busoni Competition 2021, pianist Vladimir Petrov is internationally hailed as one of the leading rising stars of our times. Petrov is also the First Prize-winner of the V International Piano Competition in memoriam of Vera Lotar-Shevchenko in Russia, the VI International "José Jacinto Cuevas" Yamaha Piano Competition in Mexico, the International Piano Competition "Ciudad de Vigo" in Spain, and the NTD International Piano Competition in New York.
Despite his young age, Petrov has embarked on what is now a brilliant career, having already appeared in some of the world's most important concert venues, including the Great Hall of the Moscow State Conservatory, the historic Main Stage of the Bolshoi Theatre, the Mariinsky Theatre, Salle Cortot in Paris, Salle Frank-Martin in Geneve, Palace of Fine Arts in Mexico, amongst others. He has performed with numerous orchestras across the globe, including the Mariinsky Orchestra, the Symphony Orchestra of San Luis Potosi, Camerata Venia under the baton of renowned conductors such as Valery Gergiev, Lanfranco Marceletti, Tito Muñoz, Pavel Gershtein, Roman Revueltas, Gleb Skvortsov, Eduardo Barrios.
In chamber music, Vladimir Petrov has also frequently performed with the great violinists Kristof Barati and Graf Mourzha. Vladimir Petrov was born in Moscow in 1997 and moved with his musical family to Mexico at a very young age. His great talent was manifested early in life, and since the age of eight he has been participating in a number of prominent festivals in Russia and abroad, including, Denis Matsuev's 10th Concert Music Festival "Crescendo", Festival "Denis Matsuev Presents" and "Stars on Baikal", Valery Gergiev's XIII Moscow Easter Festival and Contemporary Piano Faces International Festival, and Vladimir Spivakov's "Moscow Meets Friends".
He is a graduate of the Tchaikovsky State Conservatory in Moscow, where he studied under Prof. Valery Piassetsky and Eliso Virsaladze, and he has continued his studies at the Hochschule für Musik Franz Liszt in Weimar, Germany, under Grigory Gruzman.
---
Ένας από τους μεγάλους νικητές, και έχοντας αποσπάσει το Βραβείο του Κοινού στον 63ο Διαγωνισμό Φερούτσιο Μπουζόνι 2021, ο πιανίστας Vladimir Petrov αναγνωρίζεται διεθνώς ως ένα από τα λαμπρότερα ανερχόμενα αστέρια στον χώρο της κλασικής μουσικής. Ο Petrov έχει επίσης τιμηθεί με Πρώτα Βραβεία στον 5ο Διεθνή Διαγωνισμό Πιάνου εις μνήμην της Βέρα Λωτάρ-Σεβτσένκο στη Ρωσία, στον 6ο Διεθνή Διαγωνισμό Πιάνου Yamaha 'José Jacinto Cuevas' στο Μεξικό, στον Διεθνή Διαγωνισμό Πιάνου της Πόλης Βίγο στην Ισπανία, και στον Διεθνή Διαγωνισμό Πιάνου NTD στη Νέα Υόρκη.
Παρά το νεαρό της ηλικίας του, ο Petrov ήδη διαγράφει λαμπρή σταδιοδρομία, έχοντας εμφανισθεί σε ορισμένες από τις σημαντικότερες αίθουσες μουσικής ανά το παγκόσμιο, μεταξύ άλλων, Μεγάλη Αίθουσα του Ωδείου της Μόσχας, την ιστορική Κεντρική Σκηνή του Θεάτρου Μπολσόι, Θέατρο Μαρίνσκι, Σαλ Κορτώ του Παρισιού, Σαλ Φρανκ-Μαρτίν της Γενεύης, Παλάτι Καλών Τεχνών του Μεξικού. Έχει συμπράξει με αμέτρητες ορχήστρες, συμπεριλαμβανομένων, της Ορχήστρας Μαρίνσκι, της Συμφωνικής Ορχήστρας του Σαν Λούις και της Καμεράτα Βένια, υπό τη διεύθυνση σπουδαίων μαέστρων όπως Βαλέρι Γκεργκίεφ, Λανφράνκο Μαρτσελέττι, Τίτο Μούνιοζ, Παβέλ Γκερστάιν, Ρομάν Ρεβουέλτας, Γκλεμπ Σκβορτσόφ και Εδουάρντο Μπάριος.
Παράλληλα, ο Petrov συμπράττει σε τακτική βάση με τους βιολονίστες Kristof Barati και Graf Mourzha σε συναυλίες μουσικής δωματίου. Ο Vladimir Petrov είναι γεννημένος στη Μόσχα, το 1997, σε μουσική οικογένεια, με την οποία μετοίκησε στο Μεξικό σε πολύ νεαρή ηλικία. Φανέρωσε από νωρίς το μεγάλο του ταλέντο και, από την ηλικία των οκτώ, συμμετείχε σε ορισμένα από τα σημαντικότερα φεστιβάλ μουσικής στη Ρωσία και στο εξωτερικό – μεταξύ άλλων, 10ο Μουσικό Φεστιβάλ 'Crescendo' και «Αστέρια στη Βαϊκάλη» του Ντένις Ματσούεφ, 13ο Πασχαλινό Φεστιβάλ Μόσχας και Διεθνές Φεστιβάλ 'Σύγχρονα Πιανιστικά Πρόσωπα' του Βαλέρι Γκεργκίεφ, και 'Moscow Meets Friends' του Βλαντιμίρ Σπιβάκοφ.
Είναι απόφοιτος του Ωδείου Τσαϊκόφσκι της Μόσχας, όπου σπούδασε υπό τους Valery Piassetsky και Eliso Virsaladze, και συνέχισε τις σπουδές του στην Ανώτατη Σχολή Μουσικής Φραντς Λιστ της Βαϊμάρης, υπό τον Grigory Gruzman.