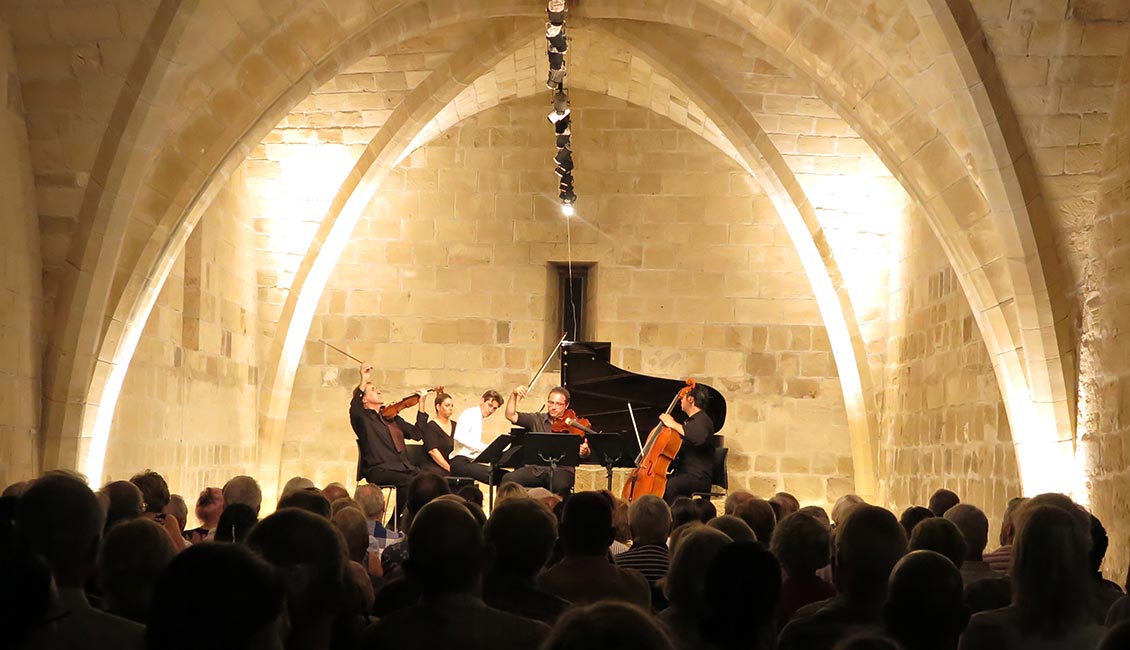 The Royal Manor House, Kouklia is one of the finest surviving monuments of Frankish architecture on the island and an unparalleled venue for intimate chamber music performances. The building also houses an archaeological museum, which records the rich history of human activity in the region from about 2800 BC to the present day.
The Royal Manor House, which is part of the Cyprus Tourism Organisation's "Aphrodite's Cultural Route", is also a UNESCO World Heritage site. Palaipaphos, or Old Paphos, was a city-kingdom of Cyprus and one of the most celebrated pilgrimage centres of the ancient Greek world. It was the site of a famous sanctuary of Aphrodite, the oldest remains of which date back to the 12th century BC.
Η Μεσαιωνική Έπαυλη των Κουκλιών αποτελεί από τα σπουδαιότερα μνημεία Φράγκικης αρχιτεκτονικής στο νησί και μεταμορφώνεται ειδικά για τους σκοπούς του Φεστιβάλ σε μια άριστης ποιότητας αίθουσα μουσικής δωματίου. Το κτίριο επίσης στεγάζει ένα αρχαιολογικό μουσείο, το οποίο καταγράφει την πλούσια ιστορία της ανθρώπινης δραστηριότητας στην περιοχή από το 2800 π.Χ.
Η Μεσαιωνική Έπαυλη, η οποία συμπεριλαμβάνεται στην "Πολιτιστική Διαδρομή Αφροδίτη" του Κυπριακού Οργανισμού Τουρισμού είναι επίσης μέρος του προγράμματος της Παγκόσμιας Κληρονομιάς της UNESCO. Η Παλαίπαφος ή Παλιά Πάφος ήταν πόλη και βασίλειο της Κύπρου και συνάμα ένα από τα πιο σημαντικά σημεία λατρείας στον αρχαίο Ελληνικό κόσμο. Φιλοξενούσε το περίφημο ιερό της Αφροδίτης, τα παλαιότερα ερείπια του οποίου χρονολογούνται από τον 12ο αιώνα π.Χ.