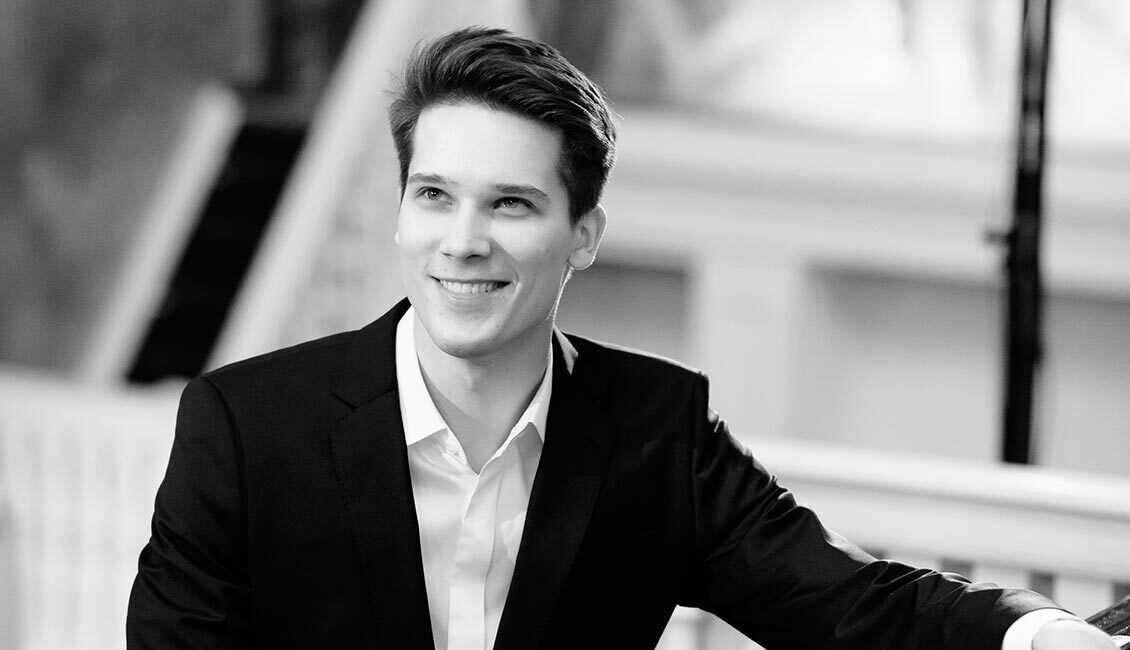 One of the most fascinating stars of the younger generation, Russian pianist Vladimir Petrov returns to The Shoe Factory for a unique piano recital on 27 October 2021. Laureate and Audience Prize Winner at the 63rd Ferruccio Busoni Competition 2021, Petrov is also the First Prize-winner of the V International Piano Competition in memoriam of Vera Lotar-Shevchenko in Russia, the VI International "José Jacinto Cuevas" Yamaha Piano Competition in Mexico, the International Piano Competition "Ciudad de Vigo" in Spain, and the NTD International Piano Competition in New York.
Petrov's brilliant career saw him appearing already in some of the world's most important concert venues, performing with numerous orchestras across the globe under the baton of renowned conductors.
For his recital in Nicosia, Vladimir Petrov will perform an exciting programme of works by Rachmaninov, Shostakovich, Beethoven, Chopin, Bach/F. Busoni and Haydn. The concert is organised with the kind support of PwC Cyprus.
---
Από τα λαμπρότερα νεαρά αστέρια στον χώρο της κλασικής μουσικής, ο Ρώσος πιανίστας Vladimir Petrov επιστρέφει στο The Shoe Factory, για ένα μοναδικό ρεσιτάλ πιάνου στις 27 Οκτωβρίου 2021. Ένας από τους μεγάλους νικητές, και έχοντας αποσπάσει το Βραβείο του Κοινού στον 63ο Διαγωνισμό Φερούτσιο Μπουζόνι 2021, ο Petrov έχει επίσης τιμηθεί με Πρώτα Βραβεία στον 5ο Διεθνή Διαγωνισμό Πιάνου εις μνήμην της Βέρα Λωτάρ-Σεβτσένκο στη Ρωσία, στον 6ο Διεθνή Διαγωνισμό Πιάνου Yamaha 'José Jacinto Cuevas' στο Μεξικό, στον Διεθνή Διαγωνισμό Πιάνου της Πόλης Βίγο στην Ισπανία, και στον Διεθνή Διαγωνισμό Πιάνου NTD στη Νέα Υόρκη.
Διαγράφοντας ήδη λαμπρή σταδιοδρομία, ο Petrov έχει εμφανισθεί σε ορισμένες από τις σημαντικότερες συναυλιακές αίθουσες ανά το παγκόσμιο, συμπράττοντας με αμέτρητες ορχήστρες υπό τη διεύθυνση καταξιωμένων μαέστρων.
Για το ρεσιτάλ του στη Λευκωσία, ο Vladimir Petrov θα ερμηνεύσει ένα συναρπαστικό πρόγραμμα με έργα των Ραχμάνινοφ, Σοστακόβιτς, Μπετόβεν, Σοπέν, Μπαχ/Μπουζόνι και Χάυντν. Η συναυλία διοργανώνεται με την ευγενική στήριξη της PwC Κύπρου.