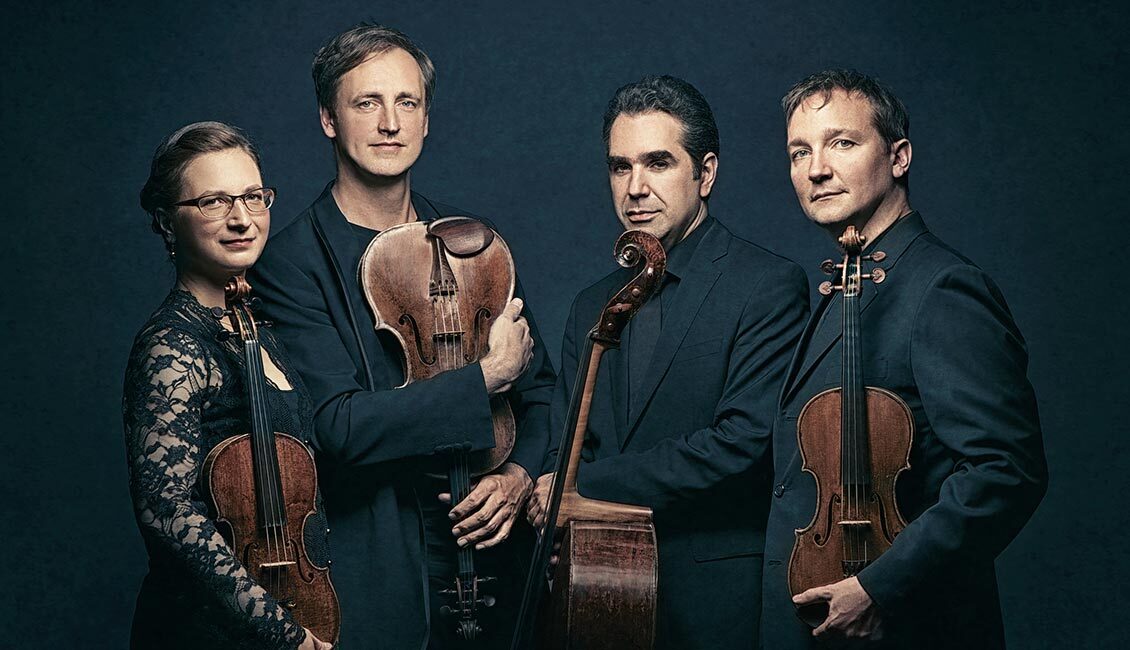 This event is brought to you in collaboration with the Goethe-Institut Zypern
For many people, Ludwig van Beethoven is perhaps the greatest genius music has ever known. His innovations had influenced the course of music, as well as the future generations of composers, so profoundly that the world we now know would have been a different place without him. Year 2020 marked the 250th anniversary of Beethoven's birth, but alas, due to the pandemic, a number of Beethoven festivities had to be cancelled or postponed. The Pharos Arts Foundation and the Goethe-Institut Zypern collaborate in celebrating now – even with some delay – the anniversary of this great master by presenting two special concerts by the remarkable Kuss String Quartet.
With its unique approach to music-making, the Kuss Quartet ranks amongst the world's most renowned ensembles, and their international career has taken them from New York's Carnegie Hall to Amsterdam's Concertgebouw, from London's Wigmore Hall back to the Philharmonie in Berlin, their home city. The two concerts, featuring two different programmes, will take place on Friday 25 and Saturday 26 June 2021, at the Pharos Arts Foundation's magical open-air venue, The Olive Grove in Delikipos / 8:00pm.
CONCERT 1: Friday 25 June 2021
For their first Beethoven concert, on Friday 25 June 2021, the Kuss Quartet will open the programme with what is considered as the epitome of the classical string quartet as it was developed by Haydn and Mozart before Beethoven instilled the genre with his innovative language – Beethoven's String Quartet in D major, Op.18, No.3 (1800). This will be followed by the composer's "Grosse Fuge" in B-flat major, Op.133 (1825) – a single movement piece of exceptional heroic quality and extremely progressive language, that inspired Stravinsky to describe it as "an absolutely contemporary piece of music that will be contemporary forever." The concert will come to an end with the composer's third and momentous "Razumovsky" String Quartet No.9 in C major, Op.59, No.3 (1808)
---
Για πολλούς ανθρώπους, ο Λούντβιχ βαν Μπετόβεν είναι ενδεχομένως η σπουδαιότερη μουσική ιδιοφυΐα που γνώρισε ποτέ η ανθρωπότητα. Οι καινοτομίες του είχαν επηρεάσει τόσο βαθιά την πορεία της μουσικής και τις μελλοντικές γενιές συνθετών, που ο κόσμος, έτσι όπως τον γνωρίζουμε σήμερα, θα ήταν πολύ διαφορετικός αν ο Μπετόβεν δεν είχε γεννηθεί ποτέ. Κι ενώ το έτος 2020 σηματοδοτούσε την 250η επέτειο από τη γέννησή του, λόγω της πανδημίας, αρκετές από τις εορταστικές εκδηλώσεις προς τιμή του μεγάλου συνθέτη έπρεπε δυστυχώς να ακυρωθούν ή να αναβληθούν. Το Ίδρυμα Τεχνών Φάρος σε συνεργασία με το Ινστιτούτο Γκαίτε Κύπρου γιορτάζουν τώρα – έστω και με λίγη καθυστέρηση – την επέτειο αυτής της τεράστιας μουσικής προσωπικότητας παρουσιάζοντας το διεθνούς φήμης Κουαρτέτο Εγχόρδων Kuss σε δύο μοναδικές συναυλίες με έργα Μπετόβεν.
Έχοντας διακριθεί για τη μοναδική του προσέγγιση στη μουσική διαδικασία, το Κουαρτέτο Εγχόρδων Kuss συγκαταλέγεται ανάμεσα στα πιο φημισμένα σύνολα ανά το παγκόσμιο, διαγράφοντας μια εντυπωσιακή διεθνή σταδιοδρομία που το οδήγησε από το Κάρνεγκι της Νέας Υόρκης στο Κοντσερτγκεμπάου του Άμστερνταμ, από το Γουίγκμορ Χολ του Λονδίνου πίσω στη Φιλαρμονική του Βερολίνου, που είναι και η βάση του. Δύο συναυλίες με δύο πολύ διαφορετικά προγράμματα, οι οποίες θα πραγματοποιηθούν την Παρασκευή 25 και το Σάββατο 26 Ιουνίου 2021, στον υπαίθριο συναυλιακό χώρο του Ιδρύματος Τεχνών Φάρος, The Olive Grove στον Δελίκηπο, στις 8:00μμ.
ΣΥΝΑΥΛΙΑ 1: Παρασκευή 25 Ιουνίου 2021
Το Κουαρτέτο Εγχόρδων Kuss θα ανοίξει την πρώτη συναυλία, την Παρασκευή 25 Ιουνίου 2021, με το Κουαρτέτο Εγχόρδων σε Ρε μείζονα, Έργο 18, Αρ.3 (1800) – ένα έργο που θεωρείται η επιτομή του κλασσικού κουαρτέτου εγχόρδων όπως αναπτύχθηκε από τους Χάιντν και Μότσαρτ, πριν ακόμα ο ίδιος ο Μπετόβεν ενσταλάξει την καινοτόμο συνθετική του γλώσσα στην τεχνοτροπία του κουαρτέτου. Θα ακολουθήσει η 'Μεγάλη Φούγκα' για κουαρτέτο εγχόρδων σε Σι-ύφεση μείζονα, Έργο 133 (1825) – ένα μεγαλοπρεπές κομμάτι δομημένο σε μια μόνο κίνηση, εξαιρετικής ηρωικής ποιότητας και πρωτοποριακής γλώσσας, το οποίο ενέπνευσε τον Στραβίνσκι να το περιγράψει ως «ένα απόλυτα σύγχρονο μουσικό κομμάτι που θα παραμείνει σύγχρονο εσαεί». Η συναυλία θα ολοκληρωθεί με το τρίτο, και πιο βαρυσήμαντο, από τα κουαρτέτα «Ραζουμόφσκι» του Μπετόβεν – το Κουαρτέτο Εγχόρδων Αρ.9 σε Ντο μείζονα, Έργο 59, Αρ.3 (1808).