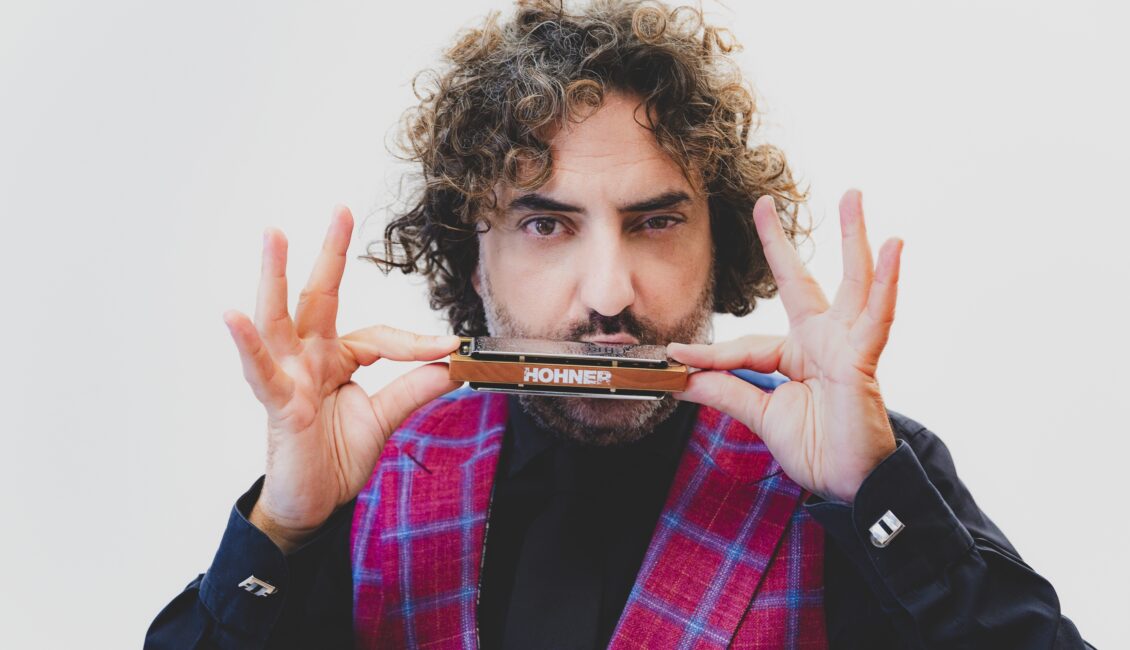 In collaboration with

Major Sponsor

The internationally celebrated Antonio Serrano Quartet makes its debut in Cyprus, in a concert that is organised by the Pharos Arts Foundation, in collaboration with the Embassy of Spain.
Grammy award winning artist, Antonio Serrano has been hailed as one of the great geniuses of Spanish Music, and is considered one of the most important harmonica players of all time. He has become a reference point for Spanish jazz and one of the most highly acclaimed musicians in the world. Serrano's enormous versatility is reflected in the long list of collaborations with major international artists, and in the effortlessness with which he moves in musical fields as distant from each other as jazz, flamenco, tango, and classical music. He has made a hugely important contribution to Spanish music by introducing the harmonica into flamenco, and further consolidated this innovation as a key member of Paco de Lucia's group for ten years.
For his concert in Cyprus, on Saturday 18 June 2022 / 8:30pm, at the Pharos Arts Foundation's open-air venue, The Olive Grove, Antonio Serrano will join forces with Antonio de Miguel (double-bass), Pablo Gutierrez (piano) and Esteve Pi (drums), for a fascinating musical experience with excerpts from two of the Quartet's latest projects: Tootsology – a celebration of the legendary Toots Thielemans, on the 100th anniversary of his birth,  and Clazzical – an innovative fusion of the great melodies of classical music and the daring harmonies and rhythms of jazz.
---
Το διεθνούς φήμης Antonio Serrano Quartet κάνει το ντεμπούτο του στην Κύπρο, σε μια μοναδική συναυλία που διοργανώνει το Ίδρυμα Τεχνών Φάρος, με την στήριξη της Πρεσβείας της Ισπανίας.
Ο βραβευμένος με Γκράμι Αντόνιο Σεράνο έχει επευφημηθεί ως μια από τις μεγάλες ιδιοφυΐες της ισπανικής μουσικής, και ένας από τους σημαντικότερους παίκτες φυσαρμόνικας όλων των εποχών. Αποτελεί δε σημείο αναφοράς της ισπανικής τζαζ, κατέχοντας μια εξέχουσα θέση ανάμεσα στους πιο καταξιωμένους μουσικούς ανά το παγκόσμιο. Η τεράστια ευελιξία του Σεράνο αντανακλάται στη μακρά λίστα συνεργασιών του με καλλιτέχνες παγκόσμιας εμβέλειας, και στην άνεση με την οποία κινείται σε μουσικά πεδία που είναι απομακρυσμένα μεταξύ τους όπως η τζαζ, το φλαμένκο, το τάνγκο και η κλασική μουσική. Η συμβολή στην ισπανική μουσική είναι τεράστια, έχοντας εισαγάγει τη φυσαρμόνικα στο φλαμένκο, και εδραιώνοντας περαιτέρω αυτήν την καινοτομία, ως βασικό μέλος του συγκροτήματος του Πάκο ντε Λουθία για δέκα χρόνια.
Για τη συναυλία του στην Κύπρο, το Σάββατο 18 Ιουνίου 2022 / 8:30μμ, στον υπαίθριο χώρο του Ιδρύματος Τεχνών Φάρος, The Olive Grove, ο Αντόνιο Σεράνο, μαζί με τους Αντόνιο ντε Μιγκέλ (κοντραμπάσο), Πάμπλο Γκουτιέρες (πιάνο) και Εστέβε Πι (ντραμπς) υπόσχονται μια ανεπανάληπτη μουσική εμπειρία, με αποσπάσματα από τα δύο από τα τελευταία πρότζεκτ του Κουαρτέτου: Tootsology –  γιορτάζοντας τα 100 χρόνια από τη γέννηση του θρυλικού Τουτς Τίλεμανς, και Clazzical – μια εικονοκλαστική συνένωση των σπουδαίων μελωδιών της κλασικής μουσικής και των τολμηρών αρμονιών και ρυθμών της τζαζ.